Video creation is quick and straightforward, and video marketing is the rage right now.
If you have a Mac laptop, you already have a screen recorder in the form of a QuickTime player. It does, however, have some restrictions. Because of these drawbacks, we can't call the QuickTime player a comprehensive screen recorder, even though it's an excellent tool for recording the screen.
There are many results if you search for "Top 10 Free Screen Recorder for Mac in 2022" in your search engine. We gave it a shot, and to be honest, only a few of the articles were worth reading. We received the impression, though, that most of them were outdated. Therefore we decided to write this essay.
In the section below, we'll look at the Top 10 Free Screen Recorders for Mac in 2022.
Top 10 Free Screen Recorder for Mac in 2022
EaseUS RecExperts is a simple and straightforward Windows PC screen recorder tool that records the entire screen and the webcam for any occasion. Free screen recorder with many features and a small footprint for making professional-looking videos on your PC.
There are numerous reasons why screen recording software is required. It makes routine chores like conducting training, onboarding new staff, recording video calls, and distributing lectures easier. EaseUS RecExperts, as one of the most powerful screen recorders, is capable of much more.
You may record what's going on on your entire screen or just a few windows, and you can even set up a scheduled recording task to automatically record your screen and camera at a specific time—a simple and effective screen recording tool for getting the best out of your videos.
Features
Any Part of Your Screen Can Be Captured
Make a video and audio recording Simultaneously.
Record Webcam
Mode of Game Recording
Task Scheduler
Advanced Editing
Note that the demo (free version) has limitations such as a 2-minute recording time limit, a watermark, and other restrictions.
Price: It starts $19.95/Monthly.
Compatibility: Windows and Mac
How to Record Screen on Mac?
You may use this guide to record your screen on a Mac with audio, and you can use it to record whatever you need.
Step 1. On your Mac, download and run EaseUS RecExperts. Click the "Full Screen" button on the main interface to capture the entire screen. Choose the "Region" button to adjust the recording region.

Step 2. To record the screen with audio, select the Sound icon from the toolbar's bottom left corner. External sound or system audio can be used as audio resources. Enable the target option based on your requirements.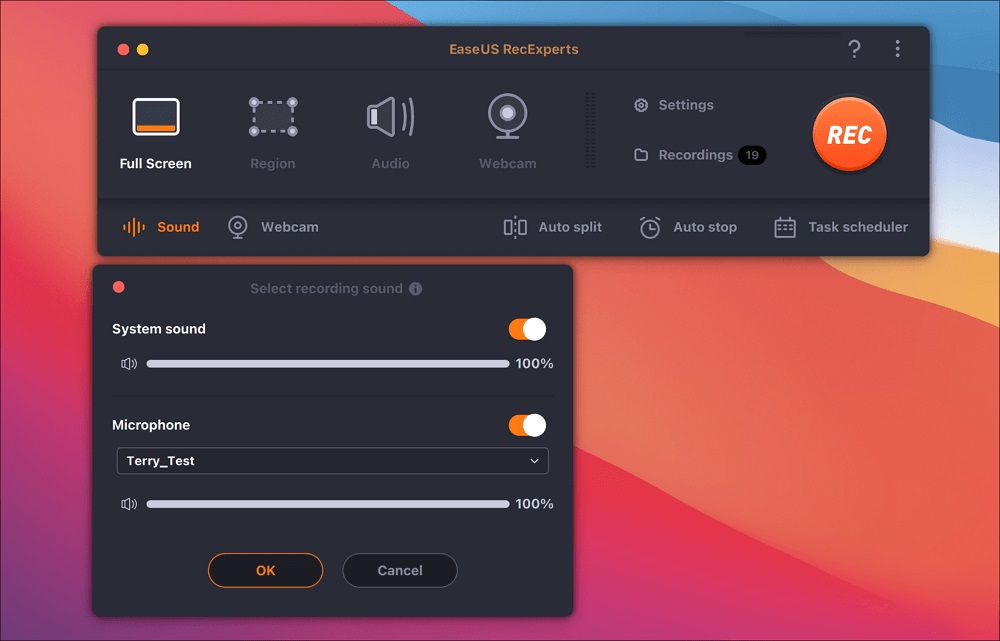 Step 3. By clicking "Settings" from the main interface before capturing, you can alter the output format of the recorded video. Then, in the Output format for the Video menu, scroll down. You can select whatever output type you like.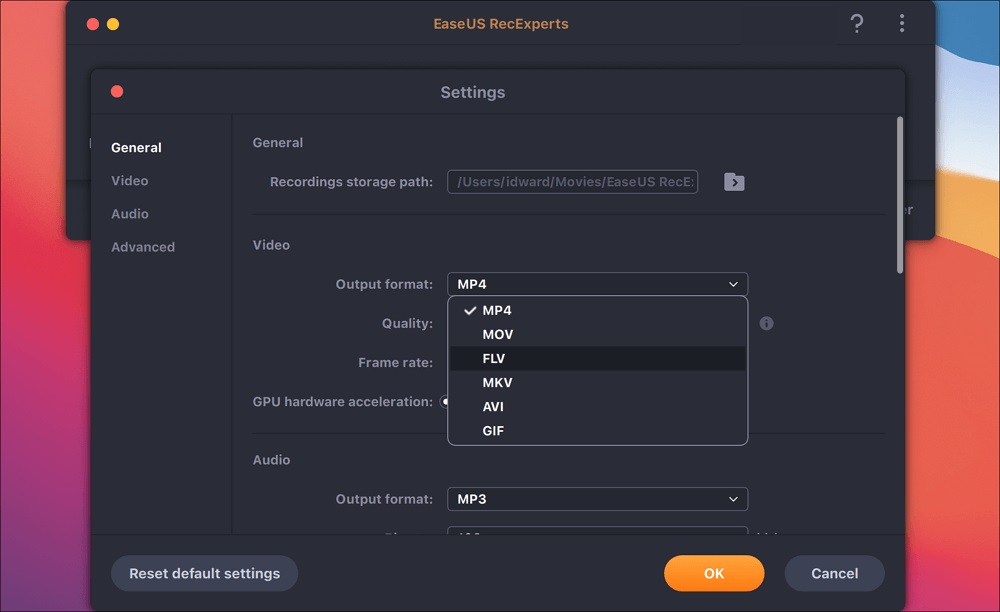 Step 4. After that, press the REC button to start recording. It captures everything that happens on the screen of your Mac. Click the Stop button when you're finished. Then, under "Recordings," you may watch the recorded video.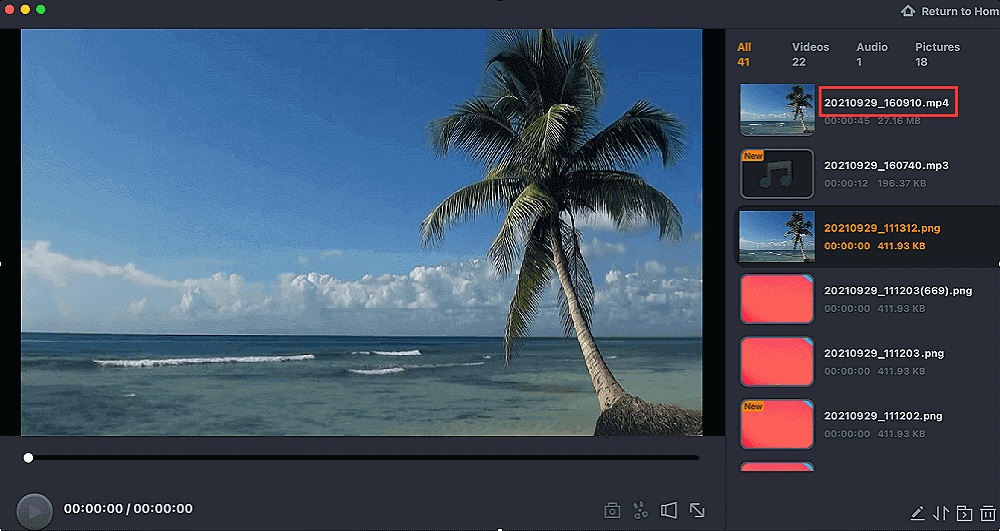 QuickTime Player is the default recording software for Mac, so you should be familiar with it. On a Mac, it can play, record, edit, and share videos. It is possible to record the screen with external audio.
With just a few clicks, you may capture the entire screen or a specific section. You can effortlessly record online meetings, streaming films, and other events on your Mac screen using this screencast app. Most importantly, because of its intuitive interface, it is simple to use for beginners.
Key Features:
The user interface is easy to understand.
Provide options for recording and editing
Allow your buddies to view the recorded videos.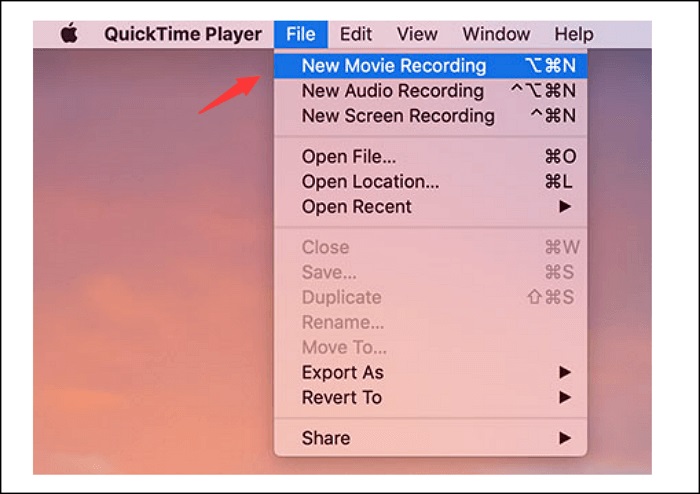 For Mac users, Monosnap is a free screen capturing application. It has the capability of simultaneously capturing your webcam, microphone, and system audio before beginning to record. Using hotkeys, you can capture the entire screen, a specific area, movies, or HIGs.
After recording the video, you can alter it by adding annotations. If you have a Monosnap account, it allows you to upload and share the link with your friends.
Key Features:
Create screenshots that are pixel-perfect.
With only one click, you may record your screen and save it as a GIF.
With the Blur tool, provide editing choices to highlight details and hide critical data.
Directly upload and share the captured video.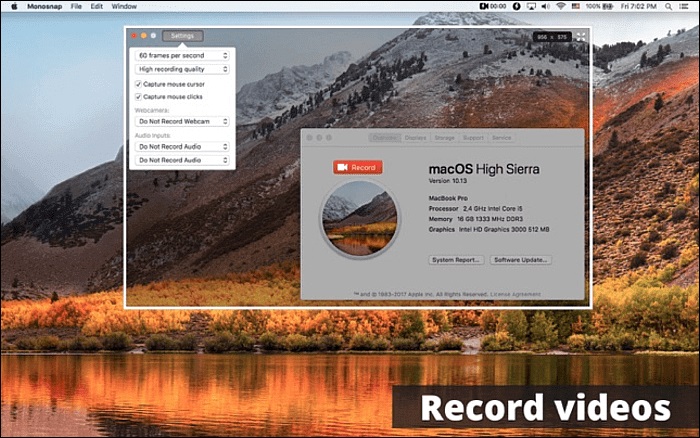 Camtasia for Windows and Mac can let you record and create professional-looking videos. This free Mac screen recorder is simple to use and understand, and it does not require a large budget or advanced video editing abilities.
It is widely used to record anything on your computers, such as an app, a website, a video call, or a PowerPoint presentation. Apart from that, it allows you to capture images on your iPhone or iPad. You may use the iOS device to record the screen and add effects to videos by connecting it directly to your Mac.
Key Features:
Provide choices for the screen, webcam, and audio recording.
Allow callouts, arrows, and shapes to be used to highlight key moments in videos.
Many templates are included to save down on editing time.
Apply device frames to videos in various ways to ensure that they play smoothly on a variety of devices.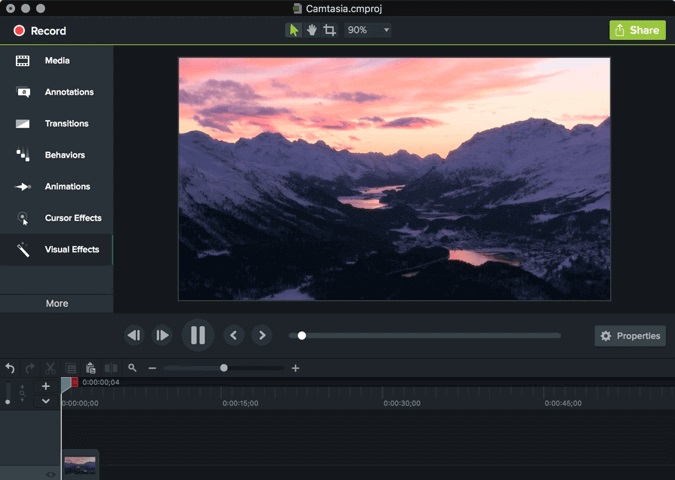 Snagit is a screen capturing program that lets you record video and take screenshots. The entire Mac screen, a section, a window, or a scrolling screen can be recorded with this screen recorder. It allows you to easily extract individual frames from recorded films or save your video file as an MP4 or animated GIF.
As a free screen recorder for Mac, you can use a trimmer after recording to delete any undesirable areas from your screen recordings.
Key Features:
Allow Snagit to take a screenshot of the iOS screen.
Screen, webcam, audio, and other elements on your screen can be recorded.
Convert a video to an animated GIF and post it on your website.
Screenflick is a popular free screen recorder for Mac that is used all over the world. A simple user interface makes it easier to get started recording tasks. It features a clever capturing engine that allows you to capture screen and audio in the finest quality and resolution possible. Furthermore, the video, audio, keystrokes, and mouse actions are all captured separately, so you may easily adjust them.
Key Features:
Record sound from your Mac's system, a microphone, or an external microphone.
To automatically stop or start recording, set a timer.
Make screen recordings of long projects in time-lapse mode.
Free recording software for Mac is available.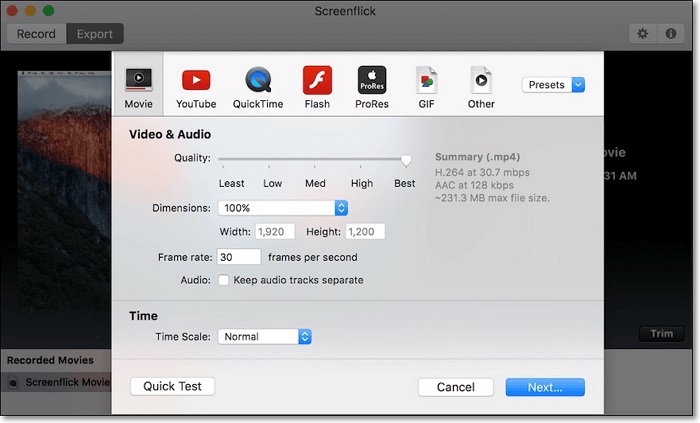 Another free and open-source screen recorder for Mac is VLC Media Player. It works similarly to QuickTime Player in that it allows you to play media files, convert file formats, and capture the screen. It is pretty simple to use. Choose this most exemplary free Mac screen recording program if you wish to do some short screen recording activities on your Mac.
Key Features:
A screen recorder, video converter, and media player in one.
On the internet, you can stream media.
It is entirely free to use and comprehend.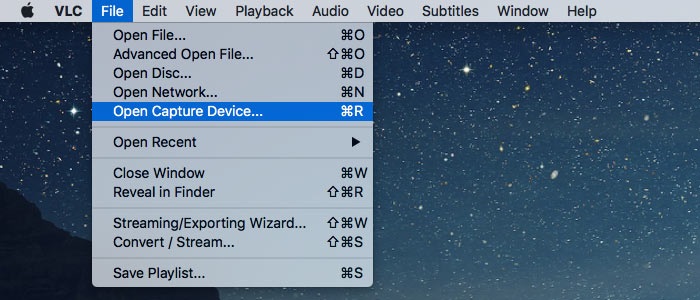 macOS Catalina, often known as macOS 10.15, has a built-in screen recorder that is highly recommended. It's a multi-platform application with a lot of features. With only a few clicks, you can deal with the full screen or a specified section of your Mac with this program. There are a few extra features in this tool.
Key Features:
It's free and simple to use.
You can either record the entire screen or a piece of it.
Allow a visible toolbar to select the best option.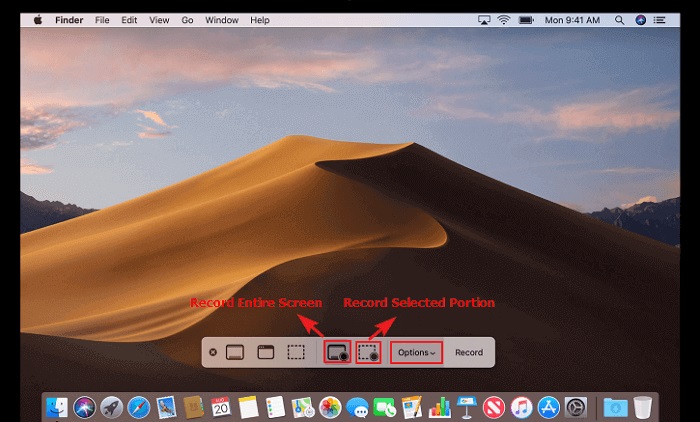 Screencast-O-Matic is a powerful screen recorder and editor for the Mac. You may generate screencast videos for free with this screen recording application. After you've finished recording, use the built-in editor to customize the save. It also enables you to instantly add overlays, text, animations, visual effects, and more to your recorded video.
Key Features:
Users of Windows, macOS, iOS, Android, and Chromebooks can utilize it.
Provide simple but effective video editing tools.
Add a webcam and adjust its size for a picture-in-picture effect.
Upload the recorded films to social media sites such as YouTube.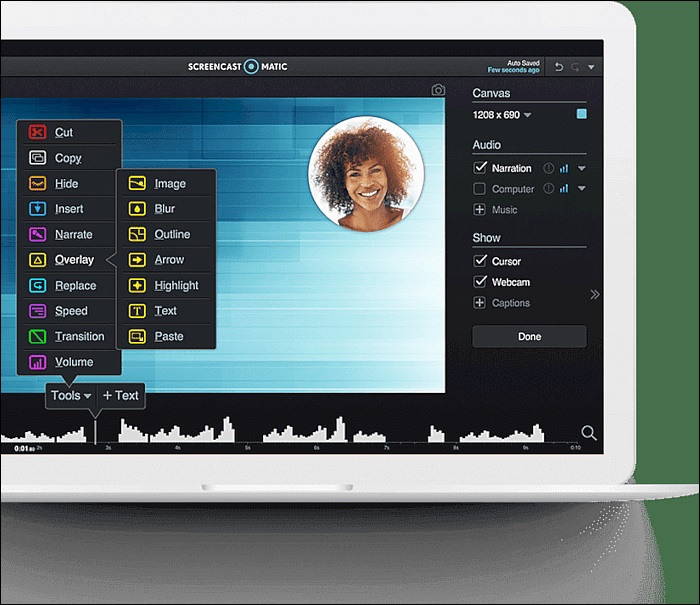 For Mac users, OBS Studio is an open-source screen recorder. It offers powerful and simple configuration options that make it simple to add new sources or change the properties.
Furthermore, this free screen recorder for Mac allows you to flip between an endless number of scenes using custom transitions. It can also be utilized for live streaming, which means you can record streaming audio with it.
Key Features:
For all users, it is completely free.
Allows for the capture of real-time events and high-quality live streaming videos.
Provide an easy-to-use audio mixer with per-source filters.
The operating systems Windows, Mac OS X, and Linux are all supported.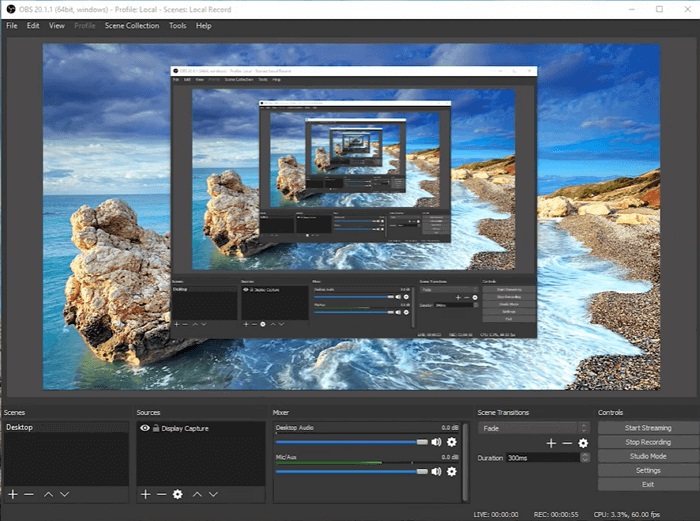 Conclusion
Top 10 Free Screen Recorder for Mac in 2022 is displayed on this page to assist you in recording your screen on a Mac. These free screen recording tools are straightforward to use.
The most user-friendly of the bunch is EaseUS RecExperts. We recommend that you download this program if you are interested in it.
Price: It starts $19.95/Monthly.
Compatibility: Windows and Mac
No more content