What are Manga and Manga Sites
Manga is a Japanese word that represents comics or graphic novels. In Japan, it refers to both comics and cartooning. Outside of Japan, the term is typically used to refer to comics originally published in the country. 
The comics are rich in genres and cover a variety of fields, including action, adventure, business and commerce, comedy, detective, drama, historical, horror, mystery, romance, science fiction and fantasy, erotica, sports and games, and suspense, etc.
Manga is becoming more and more popular, with a wide range of audiences regardless of age, nationality and gender. It is often the case that manga is usually serialized in large manga magazines, containing many story plots, each presented in a single episode to continue the next issue, attracting many loyal fans. So if you are a manga fan, you must be familiar with manga sites. Those websites provide as much as possible comics or novels published in Japan.
There are many manga websites online. However, not all sites offer high-quality content and an excellent user experience. For example, some areas have too many ads, and some sites can only read part of the content. If you want to read the full content, you need to pay for it. Those situations are annoying and troublesome for readers. 
So for the sake of user experience, we will recommend the top 10 best free manga websites which are reliable and user-friendly. You can find almost every comic you want. Meanwhile, all the comics on these sites are free to read.
Top 10 Best Manga Sites for Free
Here I will list 10 manga sites and introduce their features of them.
Site 1: Mangahub.se
Mangahub is a trendy free comic website where users can read any manga without paying. With high update frequency, you are able to read the latest version of the comics. There are many different types of manga to fulfill your requirements.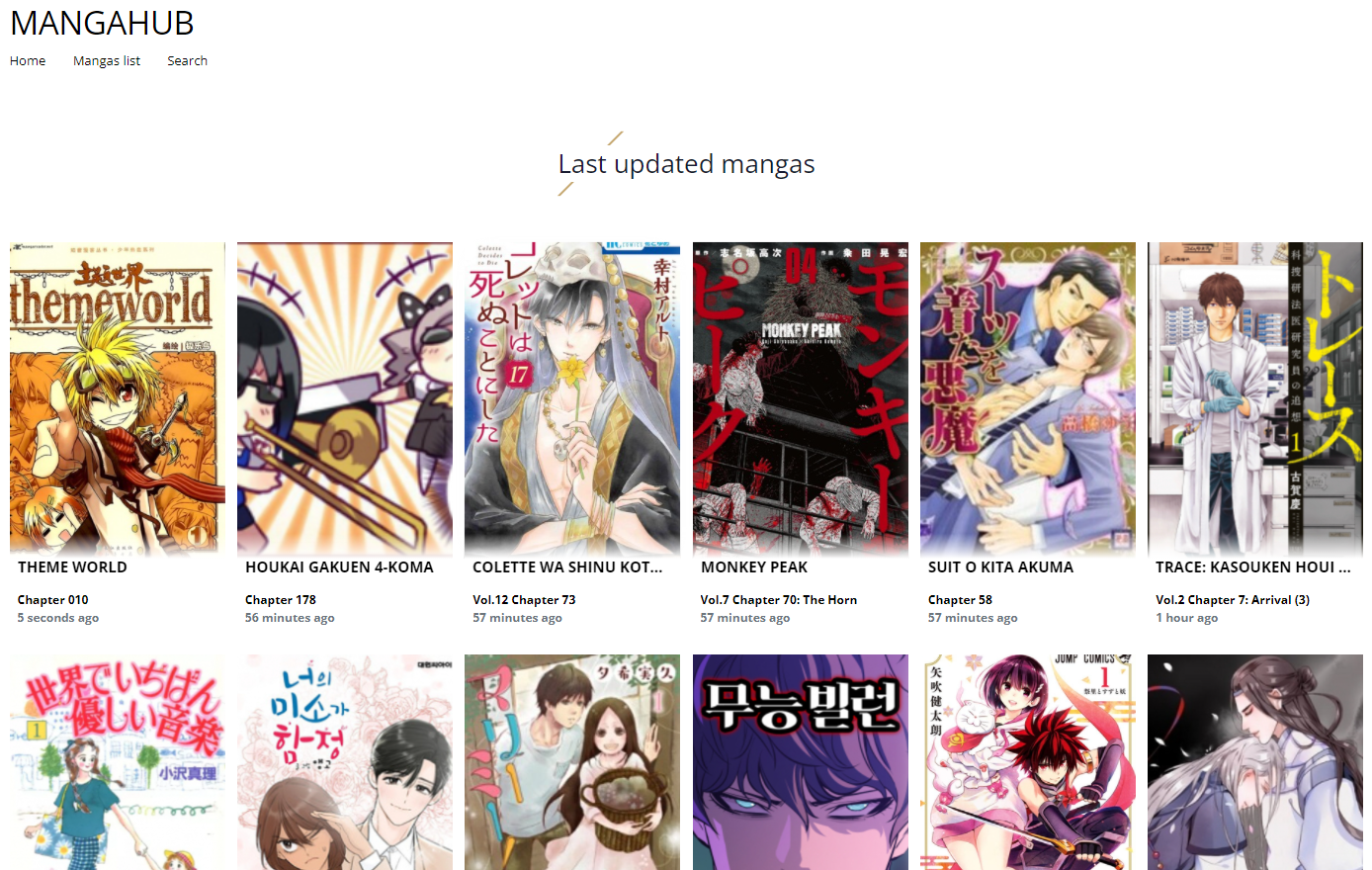 The interface is clear and simple. You can see the newest updated content.  
It also has a disadvantage. There is no other column on the interface except the "Last updated mangas". If you want to find an exact novel, you have to search in the search bar on the upper right corner of the page.
Site 2: Webtoon
Webtoon is a manga site whose aiming audience is Korean. According to official statistics, 6.2 million people in South Korea use Webtoon services every day, revitalizing the Korean comic industry. Different from many traditional manga sites, Webtoon launched a comment function where readers can write their opinions about the manga. So the writers could get feedback from readers, and readers can also communicate with each other. 
Many comics on this website have been adapted into TV series, movies, games, animations, etc., and translated into different languages, so that people worldwide can enjoy them.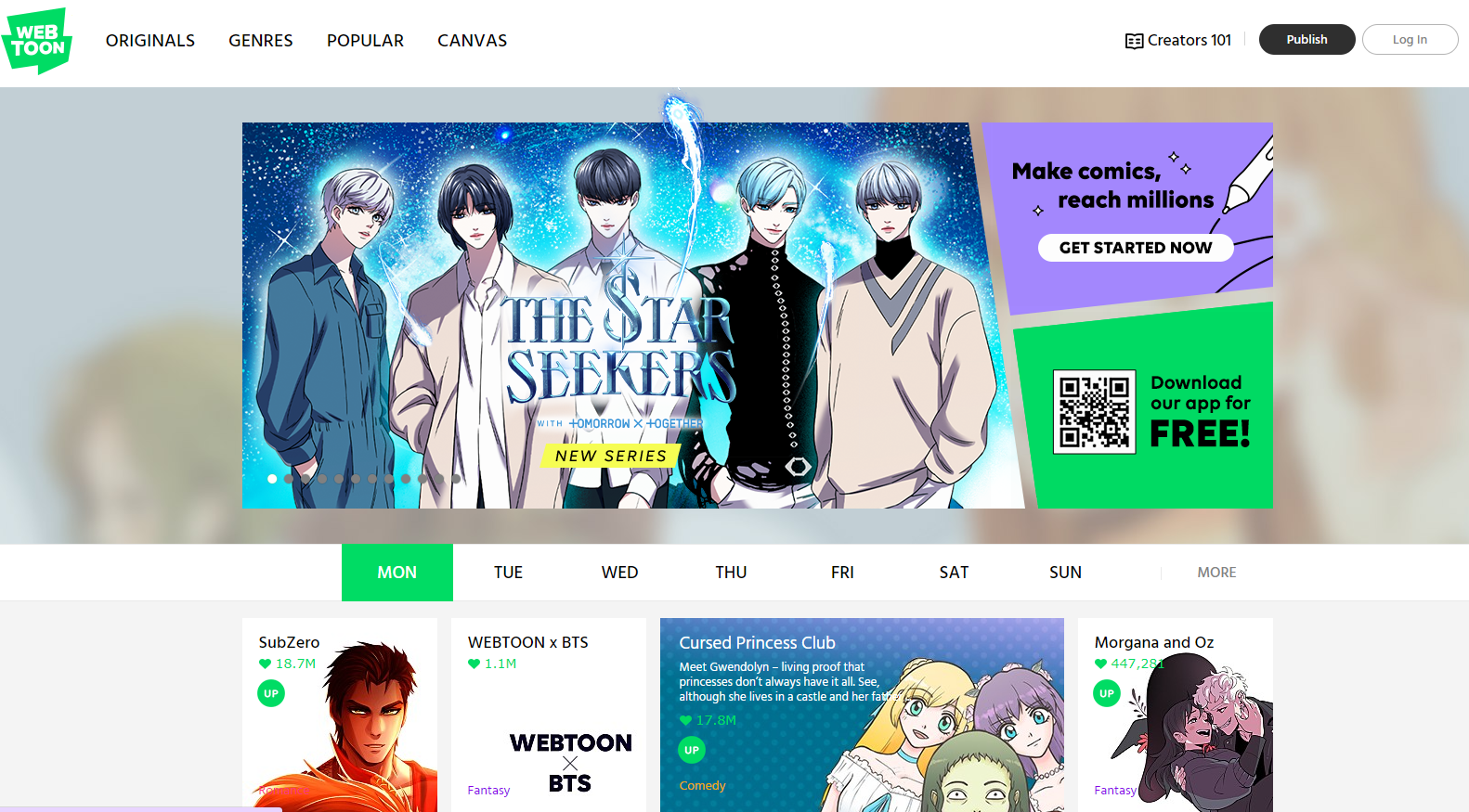 The website's primary color is green, which looks fresh and pleasant. And The classification of the content is rich and complete.
Site 3: Mangatown
Mangatown is also a popular manga site where users can read hot comics online for free. It provides more than 15,000 series of comics and keeps updating every day. Covering a wide range of content, the Mangatown has content like Naturo Manga, One Piece Manga, and other mangas.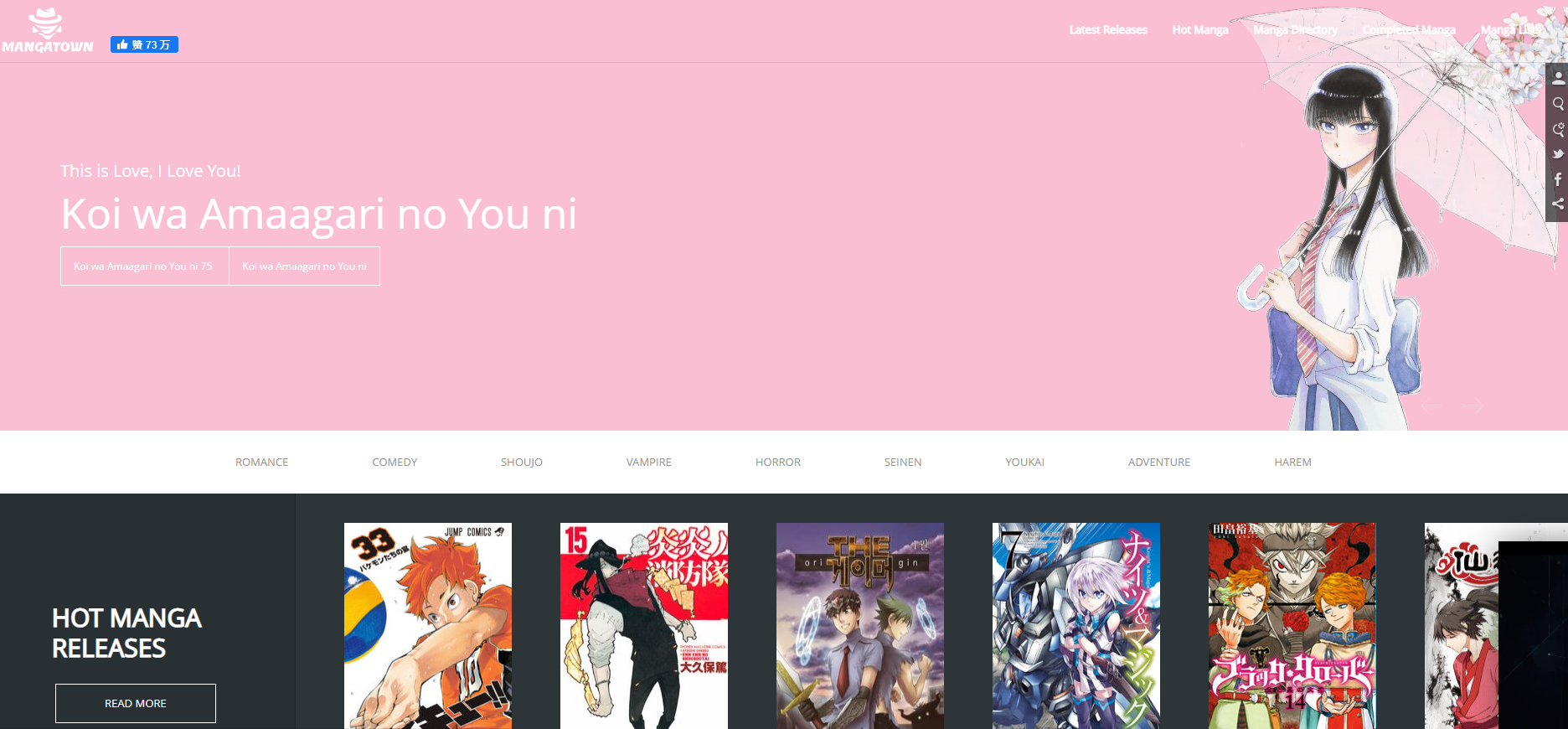 With an awesome front page, the design of the site sketches a wonderful picture combined with romantic elements.
Site 4: Mangasco
The Mangasco constantly adds news content every hour, keeping a high updating frequency. People can read manga, manhua and manhwa online in English for free on this manga site. Mangasco covers romance, comedy, fantasy, supernatural, science-fiction, manhua and manhwa series. No matter what types of comic you like, you will be sure to find your cookies.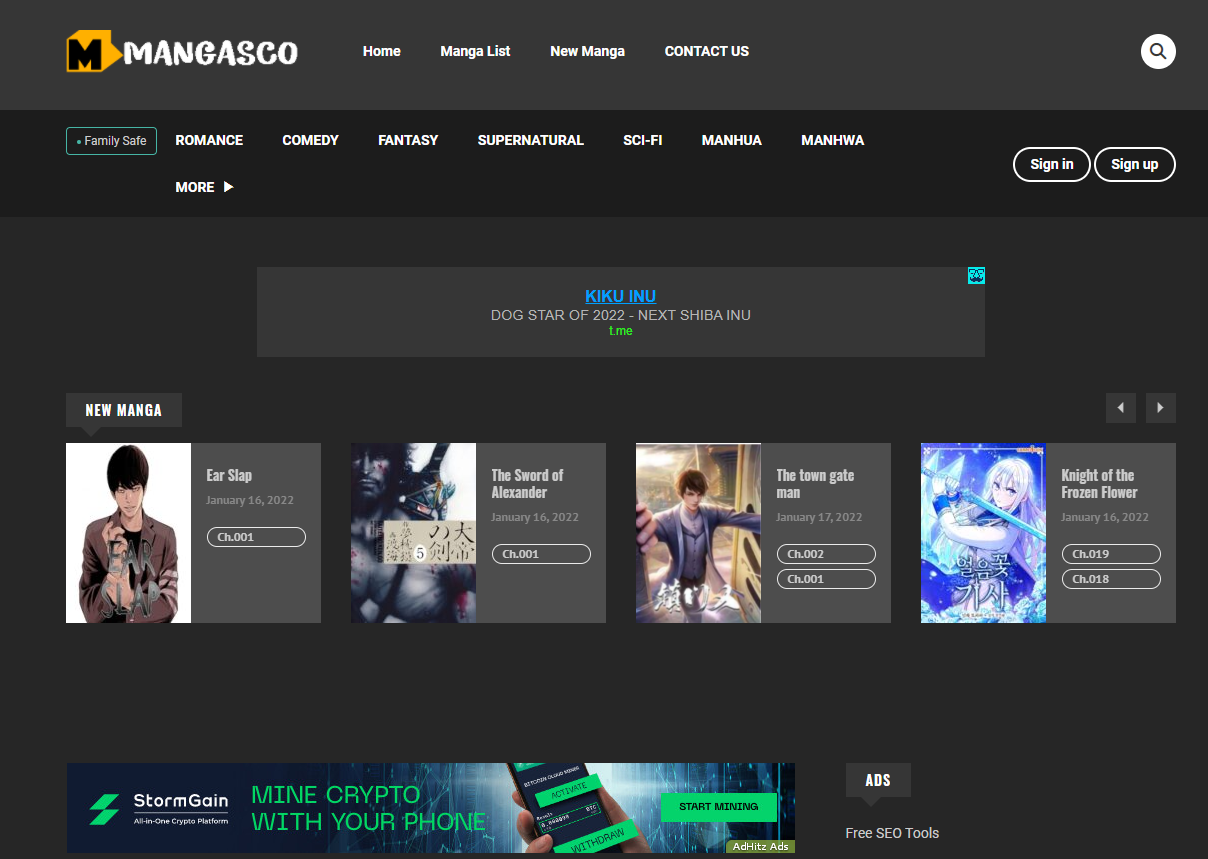 The entire webpage uses a black background, and all content is clearly categorized, so you can easily and quickly find the content you want.
Site 5: MangaJar
Although MangaJar looks very simple from the front page, it is more practical and functional than most other websites. You need to pay attention that most of the features can only be used after signing up. It would be better to sign up for an account and enjoy the complete manga series. 
Featured by its top series, there are about 10,000 top series in the MangaJar.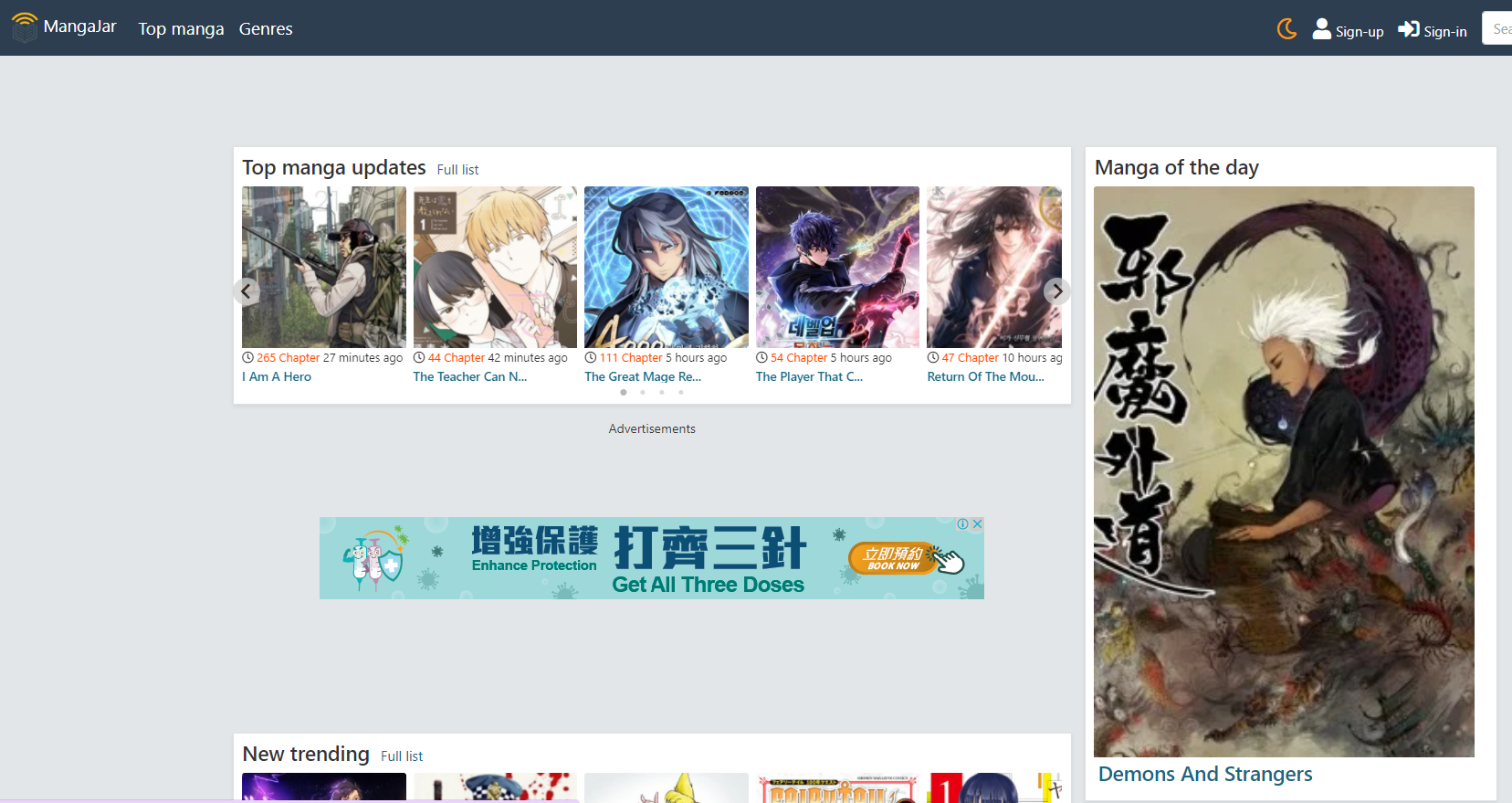 The manga on the sites is displayed in a simple form, giving readers a comfortable using experience.
Site 6: BATO.to
Featured by its update frequency, the BATO updates its contents once an hour, enabling you to read the newest comics online. If you like reading serial comics, BATO is a perfect choice.
Different from other websites, BATO is an open-source website that allows you to upload comics to enrich its categories.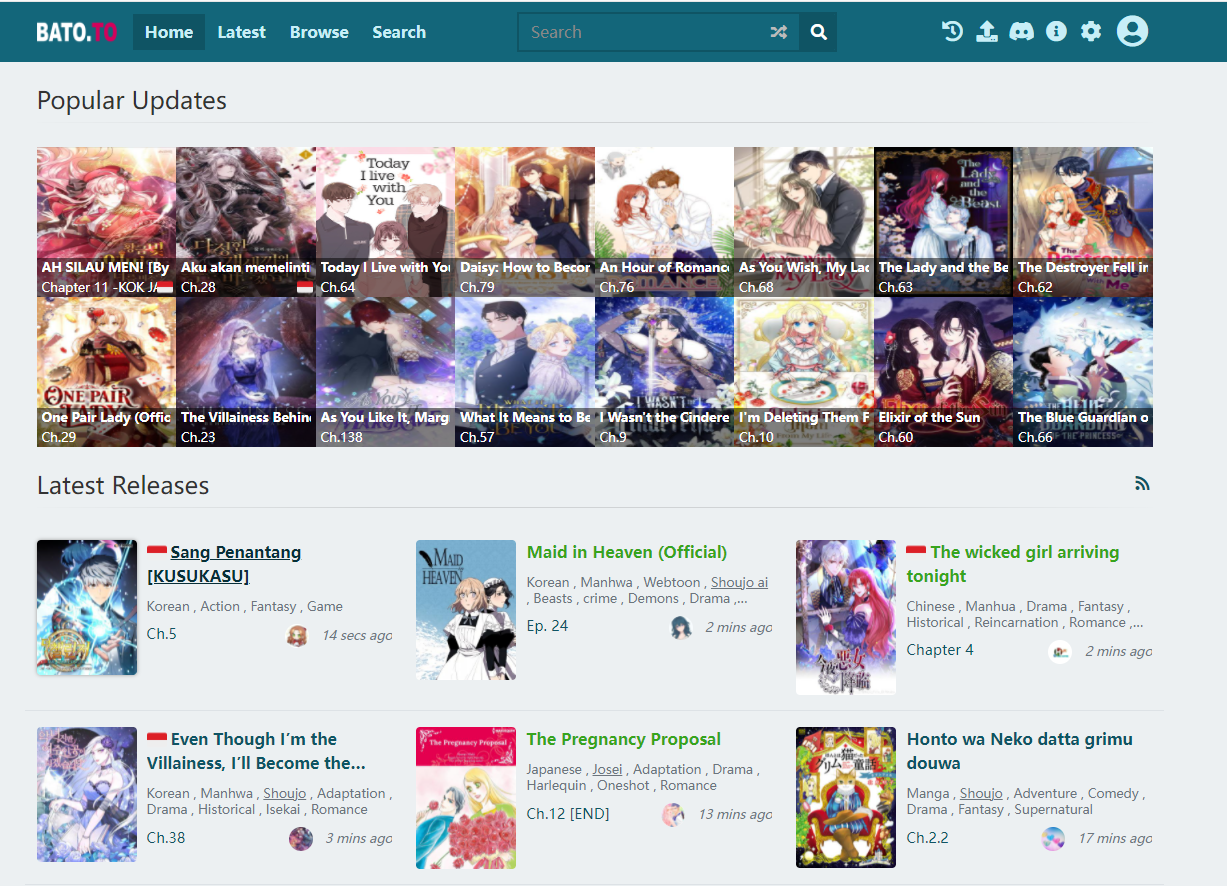 The interface of BATO contains different forms, making it charming and appealing. According to the information on covers, you are able to know the topic and name. The last viewed time is also displayed on the cover.
Site 7: MangaDex.org
MangaDex is one of the world's largest online comic resource websites, where users can read its massive comic resources online for free. Data shows that MangaDex has more than 76 million monthly visitors.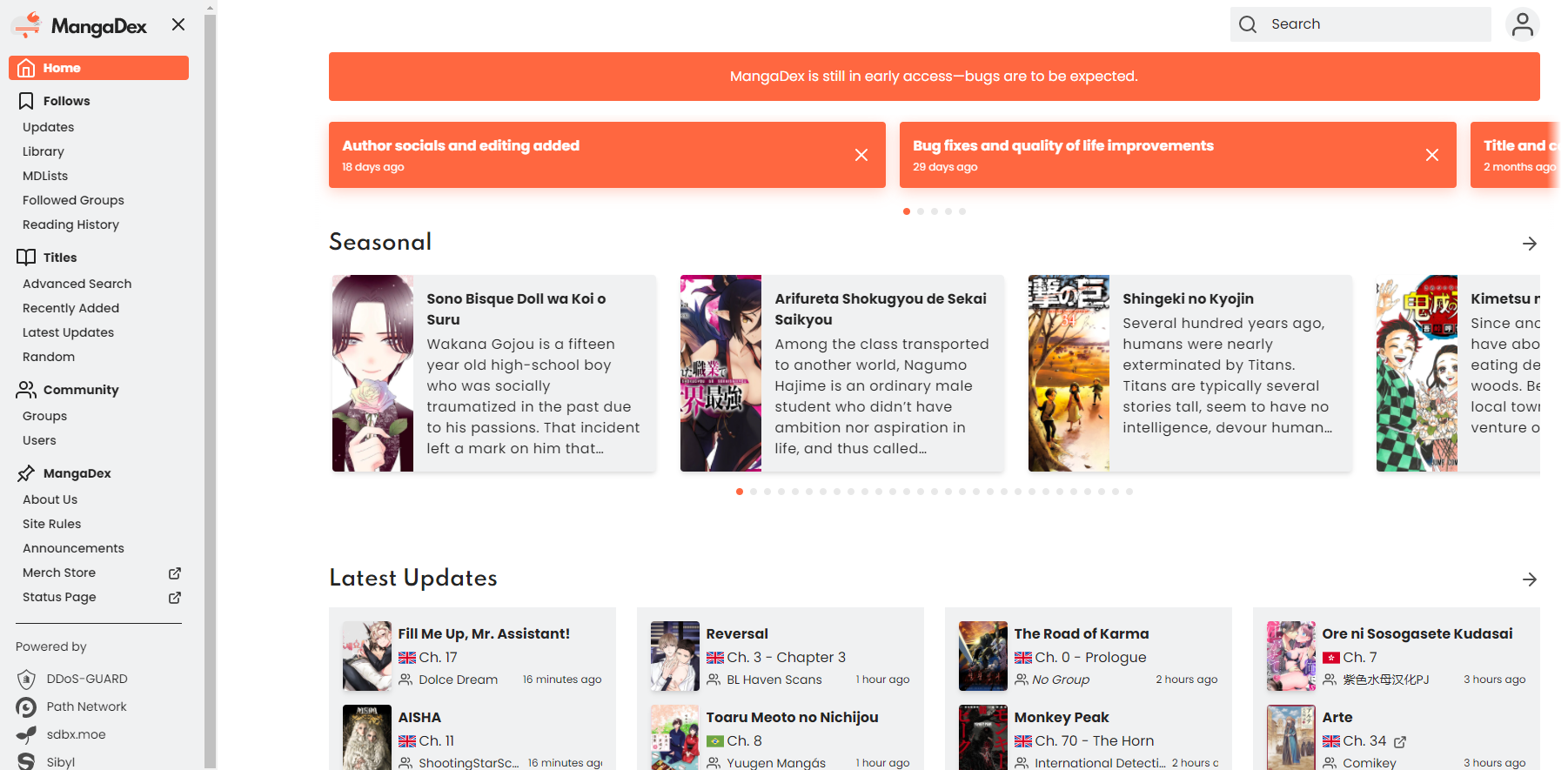 However, according to the news, the MangaDex official site has been attacked by attackers, all the relevant information was stolen. Whether this site can be used again is still an issue.
Site 8: ComicWalker
If you are a professional manga fan, and you can read Japanese. Congratulations! You find your pleasure here. ComicWalker provides local and authoritative manga content, which is the first choice of comic fans in Japan. The website is selling manga books on its platform, but you can also find some free online comics under the "Free" column.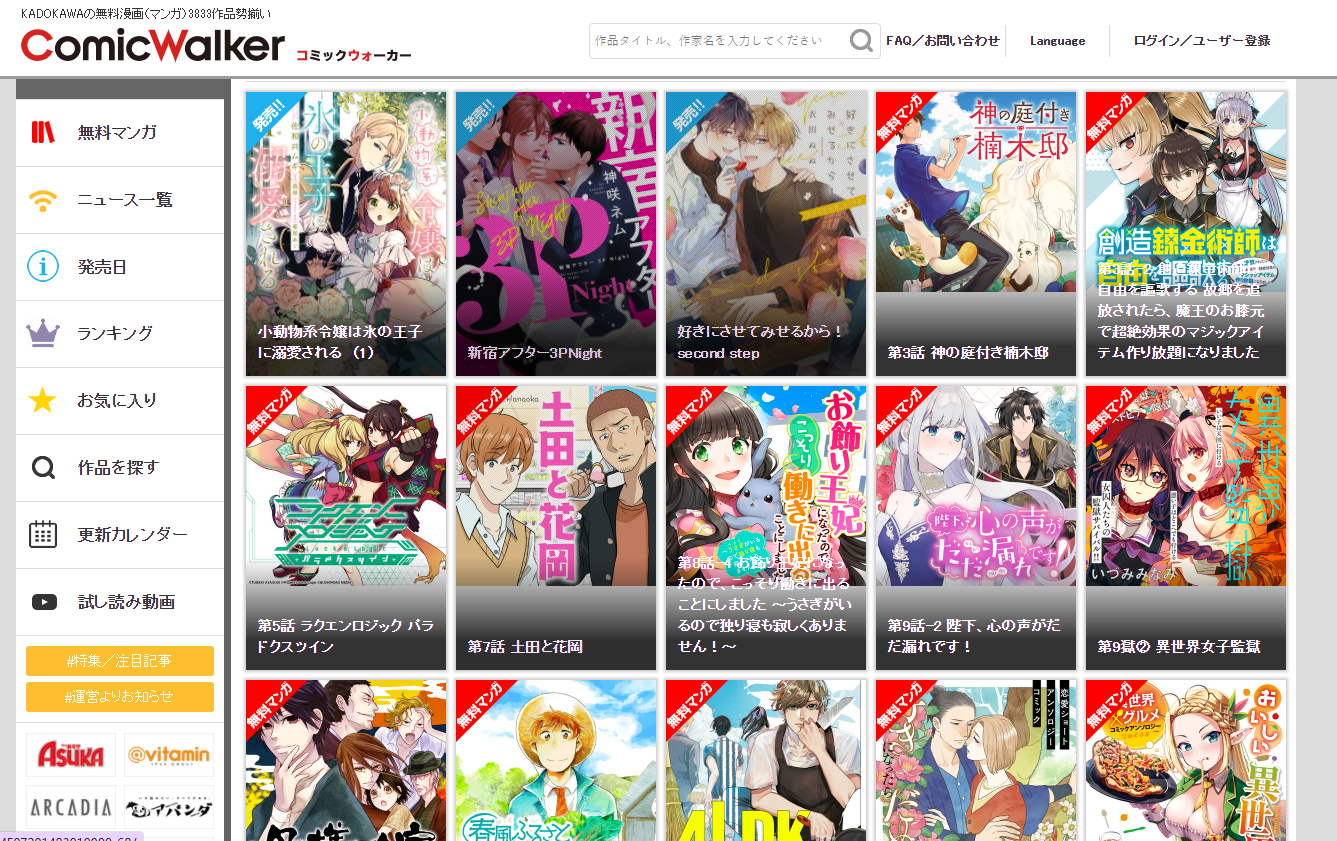 With a simple and clear interface, the site looks comfortable. The comics are divided into different genres on the left column, which helps you find exact locations.
Moreover, users can preorder new comics that are coming soon. All the comic novels can be downloaded in different formats. 
Site 9: Mangaeffect
Mangaeffect is a very simple-designed website where you can find different types of comics. However, the site doesn't have many collections, so it may happen that you can't find the ones you desire.  
With the simple interface, the page layout is very clear. People are impressed by its well-organized design. Besides, the rating of the manga is also displayed on the page. You can choose according to the recommendation.
Site 10: Mangabox
Lastly, we would prefer to recommend Mangabox, which is famous for its weekly serialization of works by popular manga artists of Kodansha and Shogakukan. All the works are free. If you want to read the Japanese version, the Mangsbox is definitely a good choice.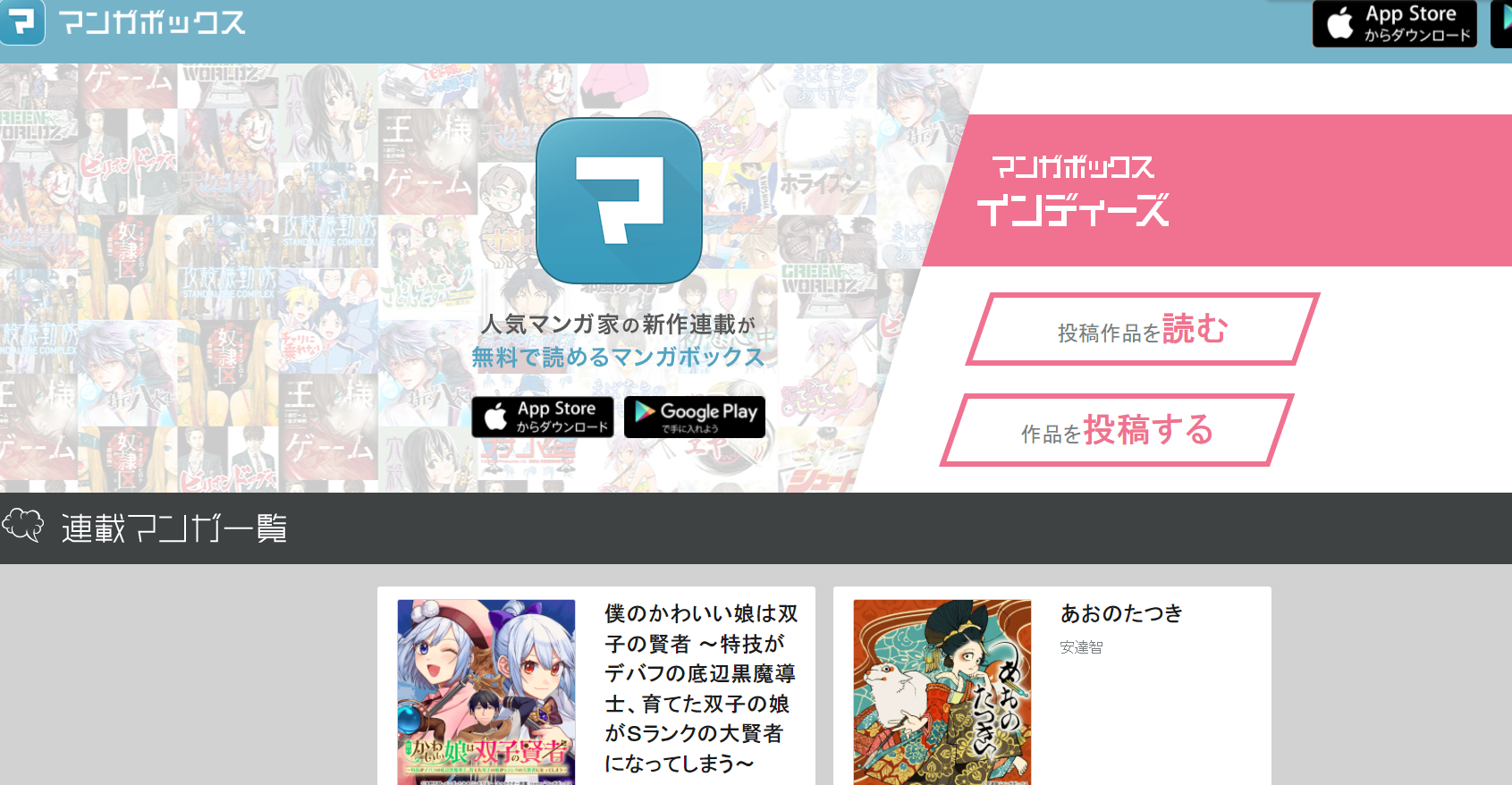 The manga sites above all have their own characteristics. You can choose the sites according to your preference and needs in different situations. Although there are still many other websites, we are more inclined to recommend these convenient and practical sites to satisfy your daily needs.
No more content