iPhones are growing increasingly powerful and capable of doing complex tasks. As a result, the cameras on these devices have advanced to the point where we can now record 4K footage. These features make iPhones extremely efficient at filming and editing videos. In addition, the A15 Bionic processor in the new iPhone 13 series rivals the capability of Intel processors in modern computers. You can now use your iPhone to film, edit, and upload videos with the best video editing apps for your iPhone.
We've compiled a list of video editing apps for iOS that cater to a wide range of preferences. While some are primarily dedicated to providing expertly-crafted resources for pro-level video editing, others have been designed to make the video-editing process as simple as possible by including a plethora of eye-catching overlays and real-time effects.
5 Free Videos Editing APP for iPhone
1. iMovie
For iPhone and iPad users, iMovie is the app of preference. YouTubers who wish to edit videos on their phones often use the iOS video editing app. It integrates a user-friendly interface with high efficiency, ensuring that video quality is never compromised when using a mobile video editor. If you want to try out new apps, iMovie has a terrific function that allows you to create Hollywood-style movie clips complete with visuals and music.
iMovie's suite of themes is among the most notable features; the pre-installed themes comprise Collection Of photos, Sports, Adventure, Comedy Book, and Neon. Each feature includes music, transitions, and textual overlays, allowing you to save time and energy when editing. It also enables 4K and multi-track editing, a variety of effects, and the ability to incorporate free music that adjusts to the runtime of a video.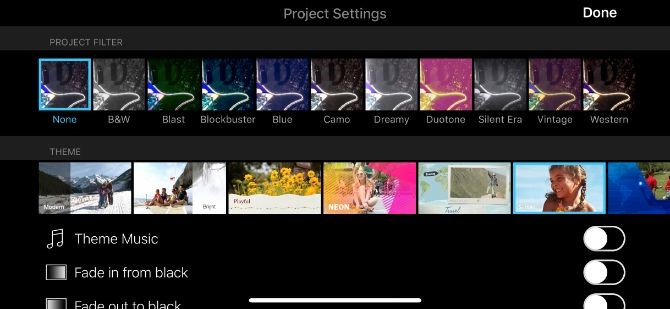 Pros:
Customers of Apple get it for free.
The user interface is straightforward.
It works without the use of any Apple devices.
Cons:
It is missing features that would be useful in a professional setting.
2. PowerDirector
The phone app combines all of the features of the pc version into a single, easy-to-use interface. Multi-track and 4K editing are included, affording your videos a sophisticated look that will make them stand out on various social media platforms. The application has a comprehensive variety of visual effect options, from blending to speed tweaks intro and outro themes for YouTube. You can use a linear timeline to connect your clips. The audio mixer has a library of motion subtitles and styled transitions to help you sonically create your productions.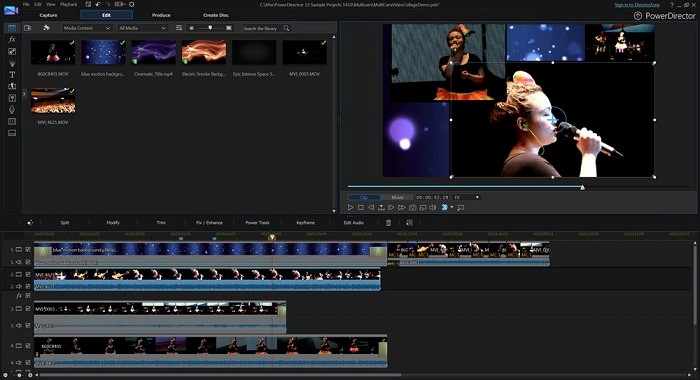 Pros:
The user interface is easy and navigates smoothly.
Multi-track editing in high quality.
With a few taps, you can trim, splice, as well as rotate videos.
With accuracy, adjust the brightness, tone, and saturation.
Drag and drop to create jaw-dropping visuals and transitions.
Cons:
On the free app, there are advertisements
3. Splice
Splice began as the idea of GoPro, an adventure travel firm, but Bending Spoons purchased the app in 2018. The highly regarded software works with both iOS and Android smartphones and offers a variety of basic video editing options. With Splice's extensive free soundtracks effects library, you may add extra musical flair to your project. Drag the song you want from the desired location on the timeline by tapping and dragging it. Integrate transitions, add video effects, and post directly to social platforms using Splice.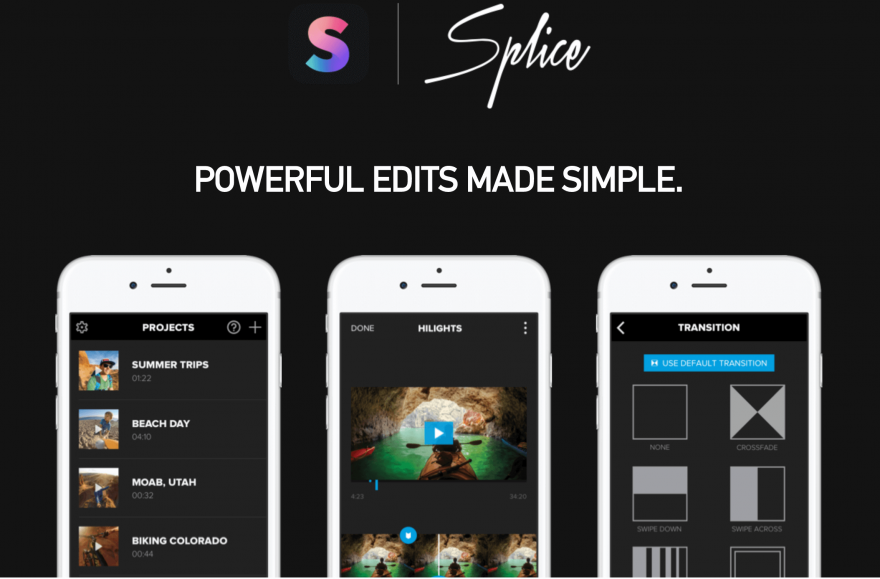 Pros:
Directly uploads to social media.
This program introduces all of the fundamentals of video editing.
Cons:
There isn't enough room for huge video files.
4. KineMaster
KineMaster is worth trying if you're a pro video editor. This program enables you to record, modify, and export video using a multi-layer interface from your smartphone. Blending styles, chroma-keying, and audio blending are among the high-end functions.
KineMaster allows you to edit videos in 4K and export them to YouTube. You can edit, cut, and adjust clips on a frame-by-frame approach. This also applies to audio tracks. These advanced editing tools guarantee that the clips turn out just how you want them to. Transitions, compositing, chroma key, and lighting tweaks are among the other KineMaster capabilities. All of these technologies are accessible through a simple interface.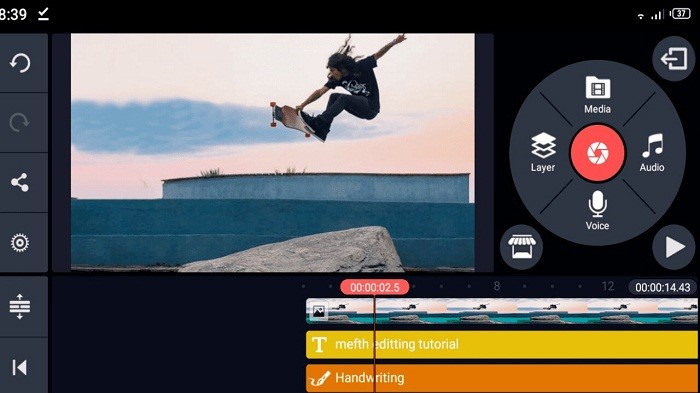 Pros:
Pretty precise editing options.
Download it for free.
Professional-grade technology
Cons:
The free edition has watermarks.
There isn't a standard timeframe.
5. InShot
InShot links itself with the creation of social media content. Basic editing applications and a good learning curve are available on the iOS platforms. It also has additional options that you won't find in many other editing tools, such as speed settings. The all-in-one program may be used to edit both video and images. It comes with pre-made themes for several social media platforms, particularly TikTok and Instagram. Even if you don't have video editing software, the user-friendly interface makes it simple to upload, edit, and customize your videos.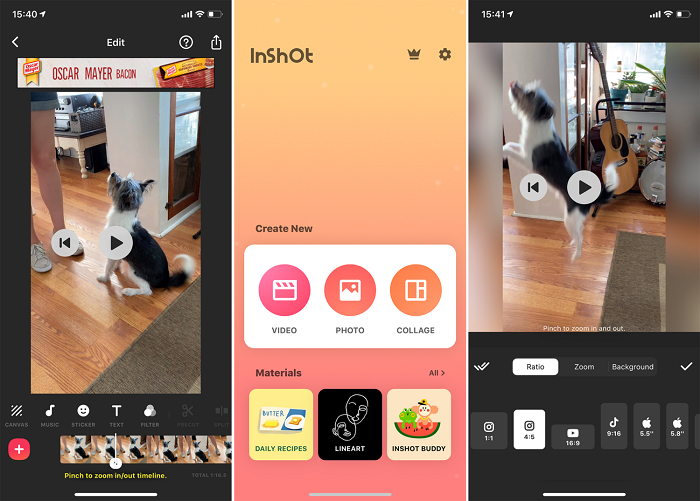 Pros:
Simple to use
Free download
Suitable forTikTokaswellasInstagram
 Cons:
There are no advanced editing options available.
5 Paid Videos Editing Apps for iPhone
1. LumaFusion
LumaFusion is a professional tablet and mobile video editing program with a significant price tag that complements it. LumaFusion is a feature-rich app aimed towards mobile journalists, filmmakers, and pro video editors.
LumaFusion can handle up to six video and audio files for photographs, movies, audio, titles, graphics, and six audio tracks for voiceover, music, and audio effects. You also receive a magnetic timeline, which makes manipulating clips once they've been imported a breeze. There are several effects and transitions to select from, layered. It also includes a slew of royalty-free music, sound effects, and other goodies. LumaFusion is the program to get if you do need a professional-grade video editing application for your iPhone.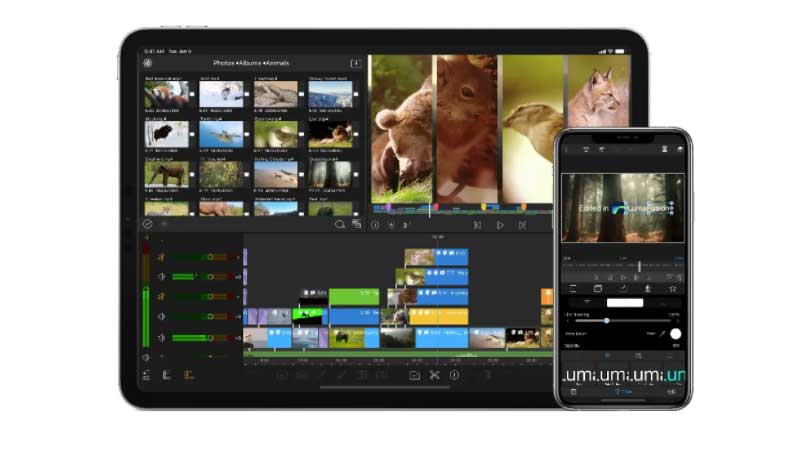 Price: $29.99
Pros:
Expert features abound.
Customer service is outstanding.
Cons:
Audio synchronization issues have been reported.
For an app, it's on the pricey side.
2. VideoGrade
If you enjoy filtering and recoloring your images while on the go and have always wanted to do it with your vids, VideoGrade will satisfy your needs. This is one of few video editing tools that can easily recolor a poor lighting video or add a bit more black and white gloom to the sessions. Realtime histograms of your color channels give you complete control over your filters, as well as the split-screen preview option allows you to compare your altered clip to the original.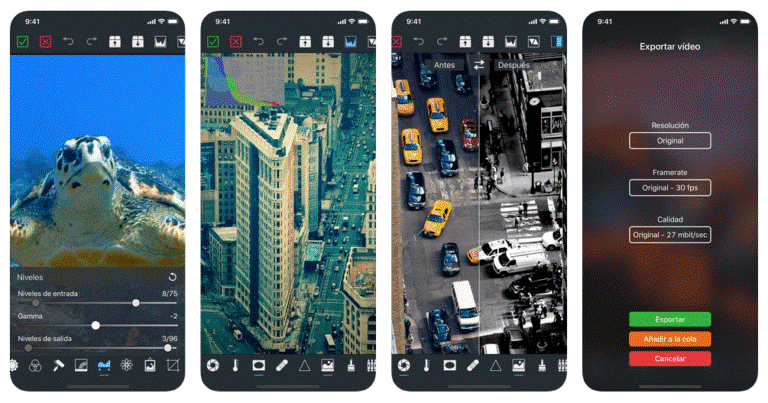 Price: $5.99
Pros:
Simple and straightforward to use
A user interface that is both friendly and attractive.
Cons:
Niche feature supports iOS 12 or higher.
3. PinnacleStudio
Pinnacle Studio is a mobile video, music, and photo editing app. Arrange your videos on the layout, make accurate timeline edits, and finish with high-quality transitions, effects, as well as a soundtrack. Pinnacle Studio allows you to create a high-quality video in resolutions ranging from 720p to 4K and then export your movie to Pinnacle Studio for Windows, where you can resume editing using the desktop version's powerful capabilities. You'll begin videos editing and other activities in no time, thanks to a straightforward UI and 'how-to' videos.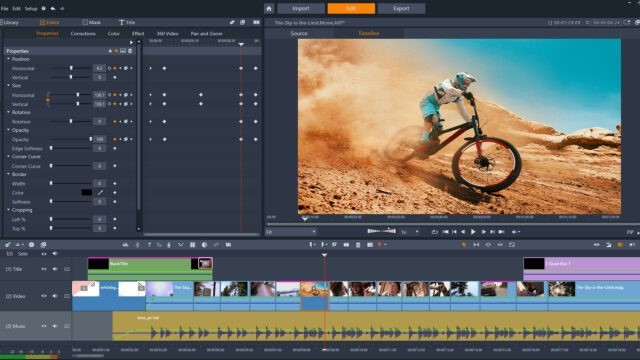 Price: $2.99.
Pros:
Navigation is simple.
Gestures are intuitive.
A good selection of features.
Cons:
When transferring videos, there is some lag
4. Videoshop
Another essential video editing tool with a startling amount of features is Videoshop. You may do all of the standard clip cutting, as well as add text transitions, including sound effects, and also incorporate music from your archive. Aside from that, there are a few interesting additions. Videoshop, for instance, allows you to alter the runtime of your clip. You can slow it down to a halt, initiate stop-motion animations, or even play it backward. You could also apply Insta-inspired effects and resize your images within the video frame, which would be a lovely touch.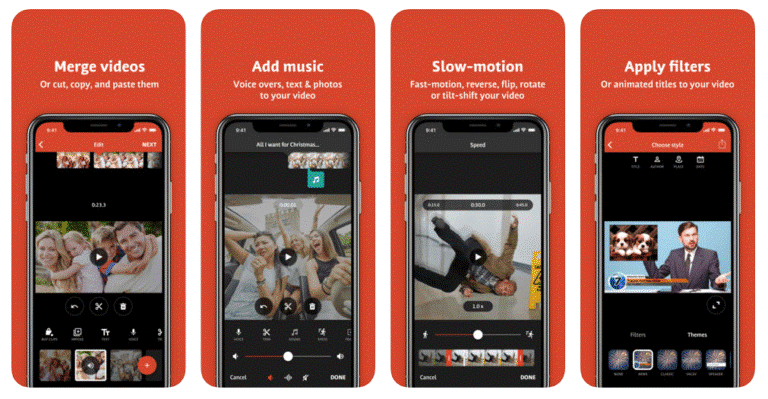 Price: $3.99
Pros:
It's ideal for animation.
Features are unique.
It's simple to use.
Cons:
Unlimited access to features requires a subscription.
5. Funimate
Do you want to be the next Ariana Grande or Justin Bieber? Funimate, on the other hand, is aimed primarily at budding bedroom popstars eager to create amusing videos to post on social media. You may add all kinds of FX embellishments to your video with very few taps of your device screen, such as hearts as well as glitter and stylized texts and sound effects. You may even cooperate with friends by superimposing your co-star to give the impression that they're in the same room as you. If you're facing "creative differences," this is the place to be.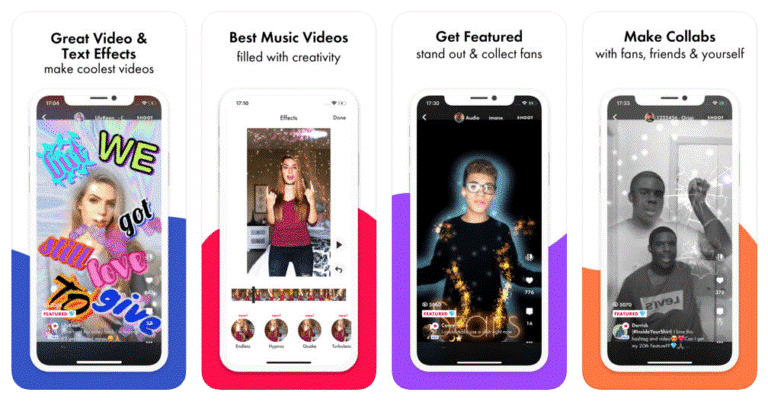 Price: $2.99
Pros:
It's simple to learn.
Collabs add a lovely finishing touch.
Cons:
Functionality is limited.
Many effects require a pro subscription.
Conclusion
Even when you're editing 4K footage captured using your smartphone, the newest iPhones are equipped to handle video editing. You can effortlessly edit your clips with iMovies or Lumafusion, or any of these applications and make the best video to share on social media.
No more content