Love reading books on Amazon Kindle or other ebook reading platforms but wish to convert them to a convenient format? As you may know, the most convenient and readily available ebook format is EPUB, and most e-readers also support it. However, sometimes, if you create a paper book, you may need to convert your EPUB book to PDF. In other cases, if you have many ebooks at your hand and wish to read them on non-Kindle devices, you may not be able to do so without a converter.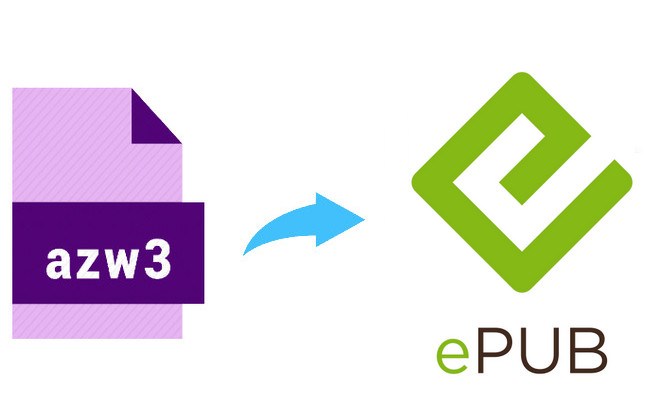 So, if you have an ebook in the AZW3 format, you may require an AZW3 to epub converter to have a seamless reading experience. Check out the best options for conversion of AZW3 to the epub format here.
Best 5 AZW3 To EPUB Converter
1. Epubor Ultimate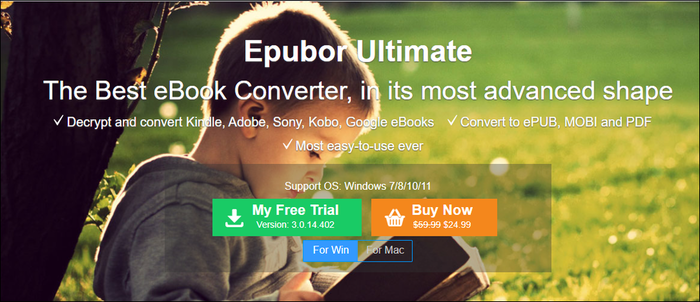 Epubor Ultimate is an efficient AZW3 to EPUB converter that also assists in modifying any metadata to make the book look perfect according to your preference. The software also detects the device automatically and loads the books conveniently to display them on the screen. You can easily use it for Windows and Mac OS to make reading available anywhere. For example, with a drag-and-drop feature, you can convert the ebook formats quickly into PDF, EPUB, or Mobi formats along with DRM-protected ebooks.
Price: Its Lifetime license costs $49.99/1 PC, $54.99/1 MAC.
Compatibility: Windows and Mac
Step By Step Guide:
Step 1: Download the latest version of Epubor Ultimate software and complete its installation. Then, you have to run this tool.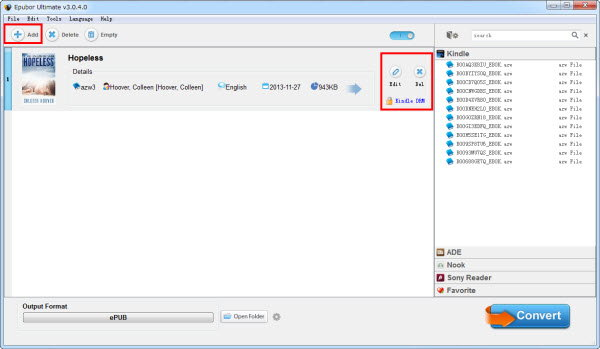 Step 2: After launching the software, connect your PC to Kindle. Now you have to locate the documents folder for finding your ebooks in AZW3 format.
After this, you have to make a selection of the books to convert them to EPUB format and then proceed with dragging them onto the converter. If you wish to import the ebooks, click the 'Add' button.
As soon as you do this, you will be able to see Kindle DRM protection on your AZW3 format of files. To remove this limitation related to DRM, you have to enter your Kindle Serial Number, also known as KSN. Once you enter the serial number, the decryption process will start automatically to make your AZW3 format DRM-free.
Pro Tip: If you see that the AZW3 files are DRM free, you can simply proceed with dragging them to the area on the left, and conversion will start. Moreover, if you have the updated software, you do not have to enter the KSN manually, as the software will detect it on an automatic basis.

Step 3: Now, you have to select EPUB format from the 'Output Format' list and proceed by clicking on the 'Convert' button. Your ebooks will automatically convert from AZW3 to EPUB format. So, now they are ready to be transferred and run on devices like Sony, Blackberry, iPad, etc., without any hassle.
2. Calibre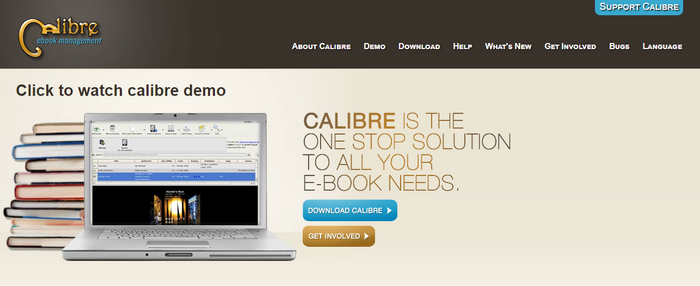 Calibre is an open-source, free cross-platform utility that assists the users with proper organization of their existing books into a virtual library where they can easily create and manage ebooks. The software supports AZW3 and EPUB formats and helps edit books, fetch news from all over the world and keep it safe in ebook formats.
Editor's suggestion:
Calibre can become one of your favorite software as it gives a quick conversion from Azw3 to EPUB format. The modification also provides the users with valuable features, including a metadata editor, ebook editor, eBook downloader, and ebook reader.
Pros:
It helps convert readable ebooks into various formats, including Docx, AZW3, CBZ, DJVU, and many more.
It allows easy conversion along with modification of numerous parameters of input.
You can use it on Windows, Linux, and macOS.
Cons:
If you are a beginner, then you may find this software to be a complex piece that needs an expert to set it upright.
Step-by-step guide:
Step 1 - First, you have to launch Calibre software and click on the 'Add Books' button, which will allow you to load one or more AZW3 format files.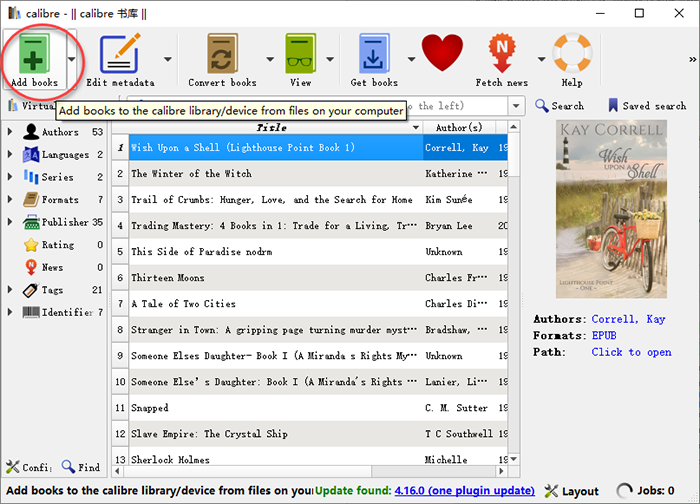 Step 2 - After that, from the software interface, you need to select loaded files and proceed by clicking on the button for 'Convert books.' Now you will see a new window for converting books where you have to select the output format of EPUB. You will get it on the right side of the software's interface.

Step 3 - You may also see some options for editing an ebook's meta-data, table of contents, and various other tools to make their use. Once the changes are made, you can start the conversion from AZW3 to EPUB format by proceeding by tapping on the ok button.
3. Zamzar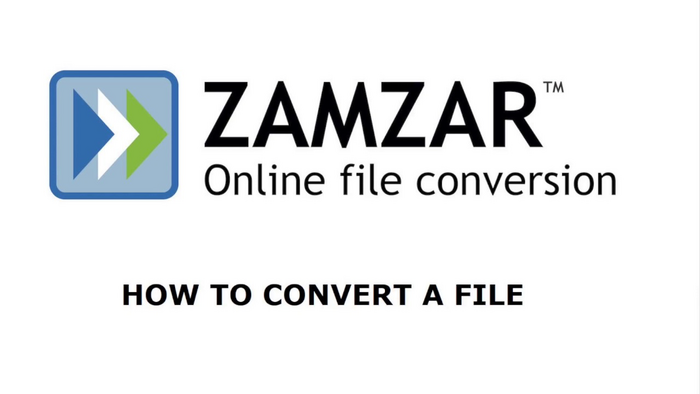 Zamzar is a valuable file converter available online and allows the user to convert various ebooks easily and does not need software installation onto the device. There are more than 1200 modes available for conversion to a suitable format for the user, and you can utilize it as a converter for audio, video, and images.
Editor's suggestion:
It is a comprehensive software that you can utilize for ebooks, videos, audio, and images and can work on any device with its online availability. It also offers users more than 1200 modes and does not require any registration by the user.
Pros:
It helps the users with easy options for file compression.
It assists the users with converting files even from the URLs and supports batch conversion.
There are many features available for API that are useful for developers.
Cons:
Unlike other online tools, Zamzar does not have an OCR facility.
Step-by-step guide:
Step 1 - First, you need to open Zamzar online and proceed with selecting the files you wish to convert. You can conveniently drag-and-drop the ebooks you want to convert from Azw3 to EPUB format from the 'my computer' or 'my device' option. You can also load files from Google OneDrive, Dropbox, and Boxor from the URL.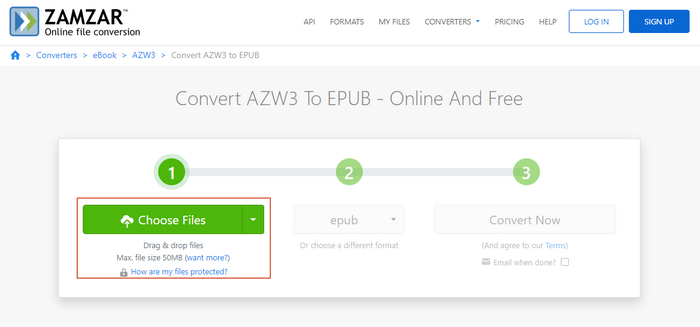 Step 2 - Now under the convert now option, you need to select EPUB format. Next, you have to proceed by clicking on the convert now button to start the conversion for your file.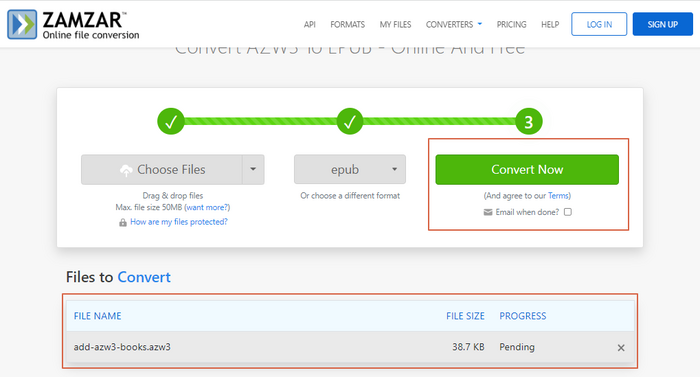 4. Any eBook Converter

Any eBook Converter is a fantastic free software available on Windows PC to convert your ebook from azw3 to epub format. You can use it to remove DRM information from an ebook, create an ebook library, edit eBook metadata, etc.
Editor's suggestion:
It is an excellent azw3 to epub converter that is available as a free version and can easily be used by those who do not wish to lock their bucks in paid software. However, the free version does not let the users convert more than one ebook, wasting their time. The software is also limited to Windows users.
Pros:
It is effortless to use.
Beginners can make use of its free version.
It assists with removing DRM, providing metadata editors, etc.
Cons:
It is available only for Windows devices.
The free version allows the conversion of only one ebook at a given time.
Step-by-step guide:
Step 1 - Start with launching the software and loading either one or more AZW3 files. For this, you can click on the Add ebook option. The software will automatically remove any DRM information as soon as you do this.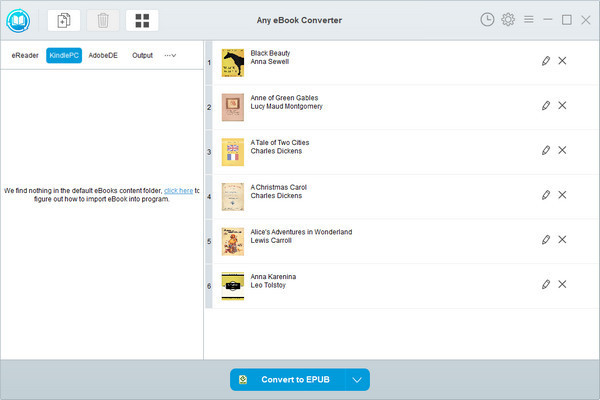 Step 2 - Then you have to locate a pen icon that will be present on each loaded file for editing of metadata that includes author, title, date, book cover, etc. After this, from the interface of the software, you have to make a selection of one ebook and proceed with choosing the EPUB format. You will get it in the menu for the output format.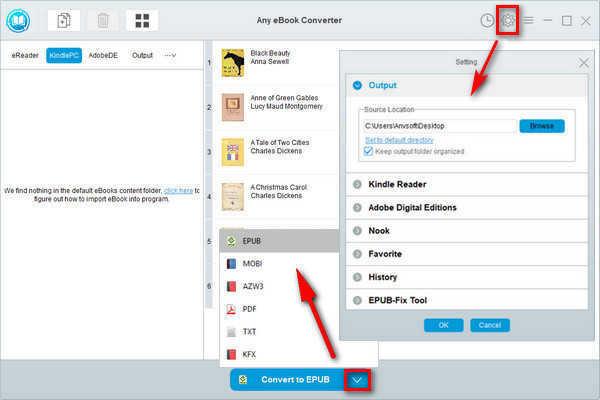 Step 3 - Then you have to proceed with Settings and make specifications for the location of the output directory. After this, you have to locate the button for Convert to EPUB and press it to start with the conversion.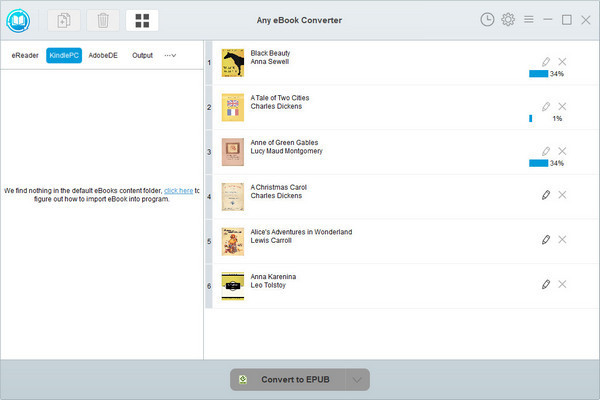 5. Convertio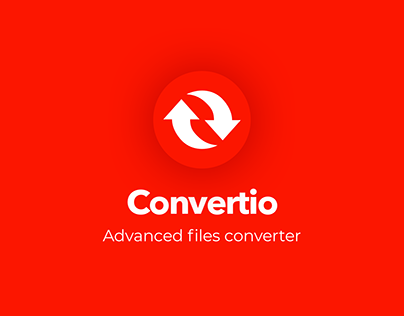 If you do not wish to load your PC with bulky software but with the one that is convenient to use and is available as an extension, then Convertio can help you out. It does not hide like other file converters and helps you convert numerous ebooks according to your requirement.
Editor's suggestion:
Convertio is pretty simple to understand and use. If you do not wish to load your PC with extra software, this extension can free you from any burden. However, there are limited formats to work with in this extension.
Pros:
It helps in saving files to Dropbox and Google Drive.
The chrome extension for the software makes it easier to use.
Cons:
You cannot customize the output files with the software.
The maximum file size that can upload with this software is 100MB.
Step-by-step guide:
Step 1 - First of all, you have to upload the azw3 format of the file from Google Drive, Dropbox, URL, or Computer. You can use the drag-and-drop facility for ebooks from the page as well.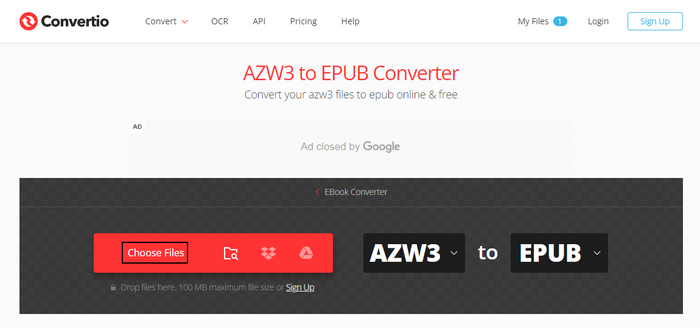 Step 2 - Now you have to choose the EPUB option for the conversion of files. Next, you can complete the download of the resulting EPUB file.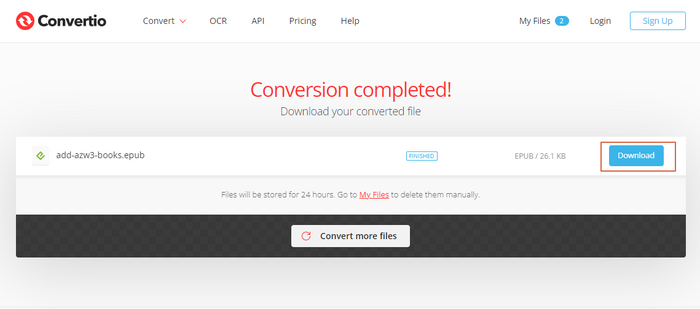 Conclusion
We have listed five useful options for an azw3 to epub converter that will help you convert your ebook to give you an added-on experience with your reading. Calibre is available as a cross-platform utility for all devices, while Zamzar is known as an online option to help you with various formats for ebooks. Any ebook converter enables you to edit metadata and convert ebooks from azw3 to epub format. Convertio is available as an extension for you to keep extra space on your system.
Lastly, we suggest you use Epubor Ultimate if you wish to make the most of your conversion experience. It works for you even if your ebooks are DRM protected and are available for both Windows and Mac devices.
Price: Its Lifetime license costs $49.99/1 PC, $54.99/1 MAC.
Compatibility: Windows and Mac
No more content