Our Verdict
AOMEI Backupper is a server backup and business continuity solution aimed at assisting businesses at all sizes in scheduling differential and incremental backups to recover data across the partition, system, and hard disks.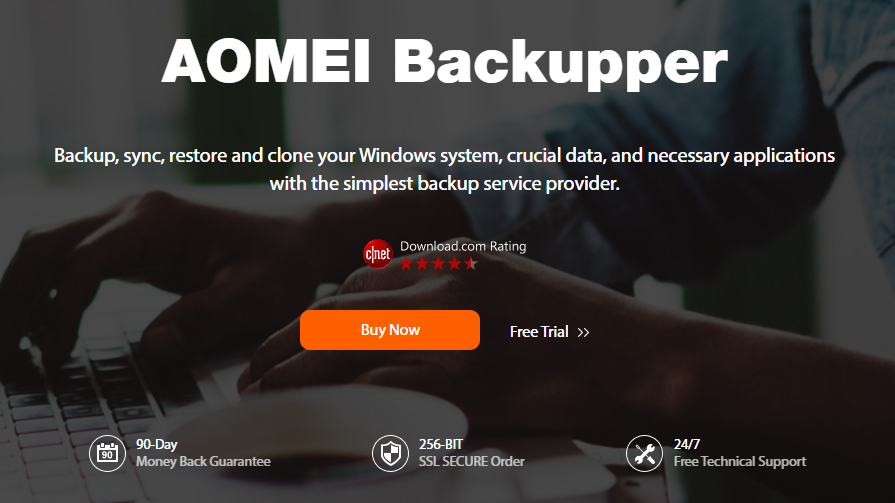 It comes with a universal restore module, enabling teams to migrate files across computers with diverse hardware. Also, AOMEI Backupper comes with real-time file synchronization, which enables administrators to instantly track modified or deleted files.
| Parameter | Score(10 Points) |
| --- | --- |
| Clone Capability | 9.5 |
| Overall Performance | 9.5 |
| Features | 9.5 |
| Pricing | 9.0 |
| Interface | 9.0 |
| Support | 9.5 |
In today's review, we'll explore more details about this fabulous software. Without further ado, here we go.


Start from$19.95

Table of contents
Parte 1. AOMEI Backupper: Main Features
Parte 2. AOMEI Backupper: Pricing
Parte 3. How to use AOMEI Backupper
Parte 4. AOMEI Backupper: Alternative software
Parte 5. Final verdict

Main Features
AOMEI focus on securing user data, and its backupper is less a simple backup tool than an all-in-one utility that allows you to create a PC backup in a host of different ways.
1. User-Interface
AOMEI Backupper offers a fairly clean and intuitive interface with the core functions listed proportionally in prominent icons down the left side of the app window. The software is ideal for novice users, with very few steps required to finish tasks.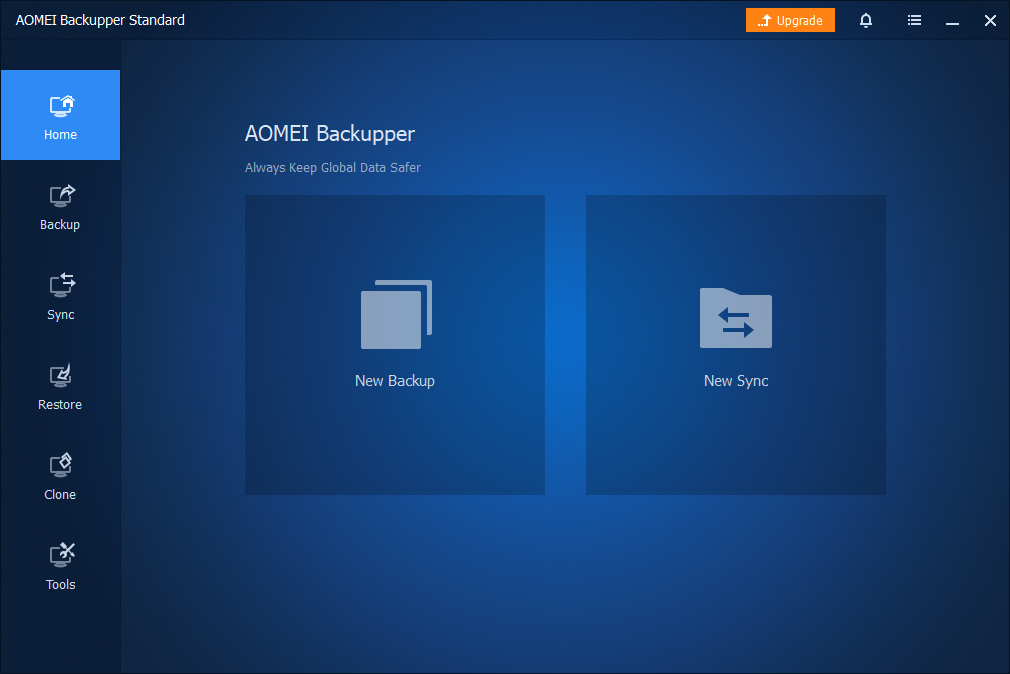 2. Backup Features
As the name denotes, the critical function of AOMEI Backupper is backing up data. The utility employs multiple back-ups and restores ways, supporting both PCs and smartphones.
All backups can be subsequently transferred to another internal HDD or SSD, NAS, USB drive, uploaded to cloud storage, or shared over the network.
System backup: AOMEI Backupper can perform Windows Server backup on the whole system drive, including OS, settings, applications, and so much more.
The tool allows you to detect and back up all of the hidden files and folders, leaving the recovery process as simple as hitting a button. This is recommended during Windows installation to avert backing up any trivial, temporary, or junk files.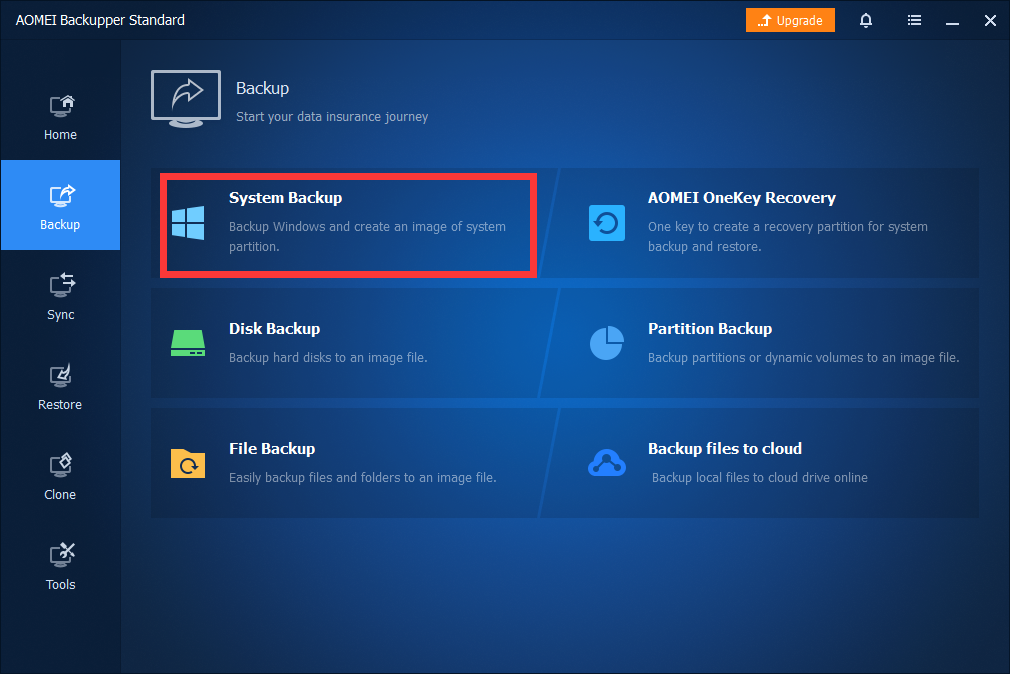 3. Disk and Partition backup
You are allowed to create a replica of the whole disk or one of the partitions within a few clicks.
File backup: You'll be able to back up all sorts of files via this fantastic utility, including multimedia, system files, or documents. AOMEI Backupper provides automated backups, either scheduled or on a recurring basis, and backups solely for the files that do not match the backup copies.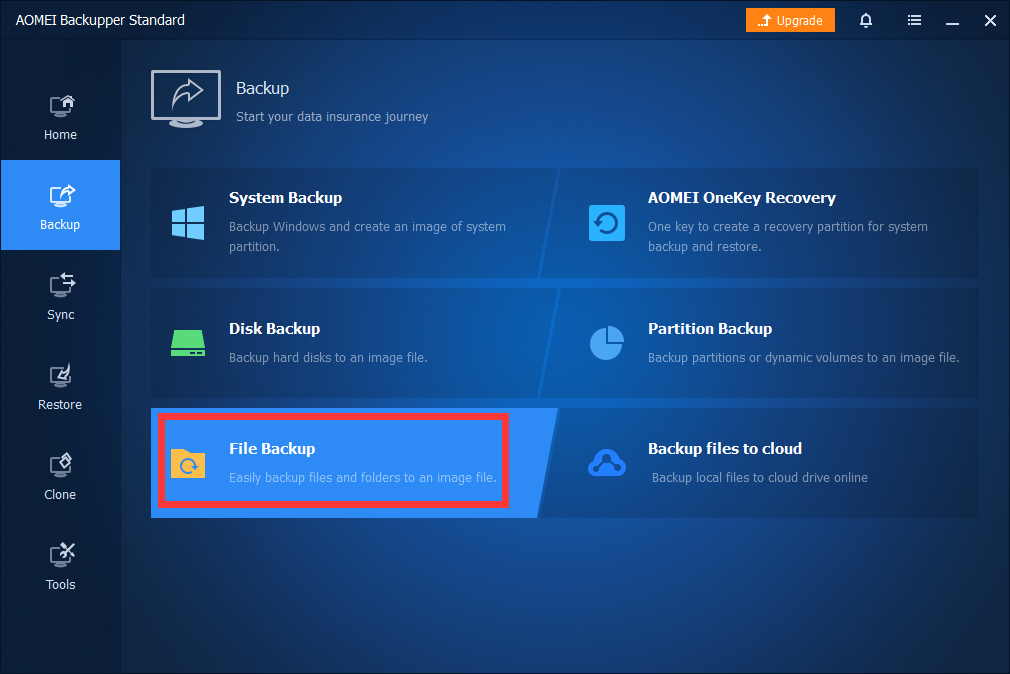 4. Create bootable media
In addition to the above-mentioned system backup, the software can also make a bootable drive that covers any additional files and apps installed on your device. It can then burn the data to a CD/DVD, save the image file anywhere as per your needs, or alter a USB into a bootable drive with that data.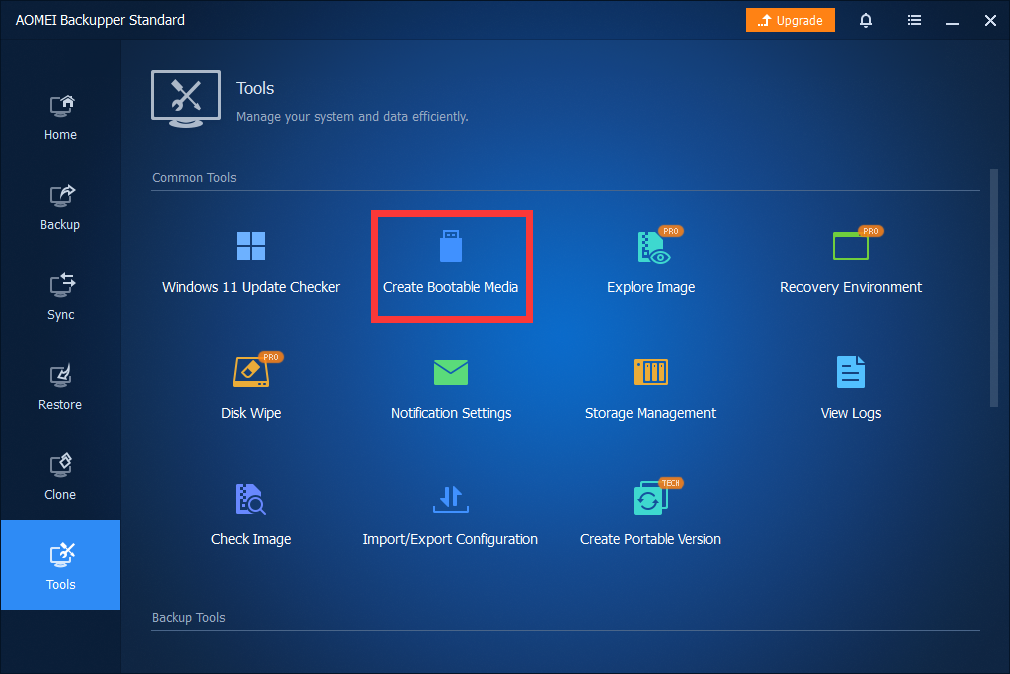 5. Clone Tools
With the AOMEI Backupper, you can clone a hard drive for upgrading or replacing, migrate OS and all applications in the system drive to a new SSD or HDD, and create an exact copy of your partition or dynamic disk volume to move data.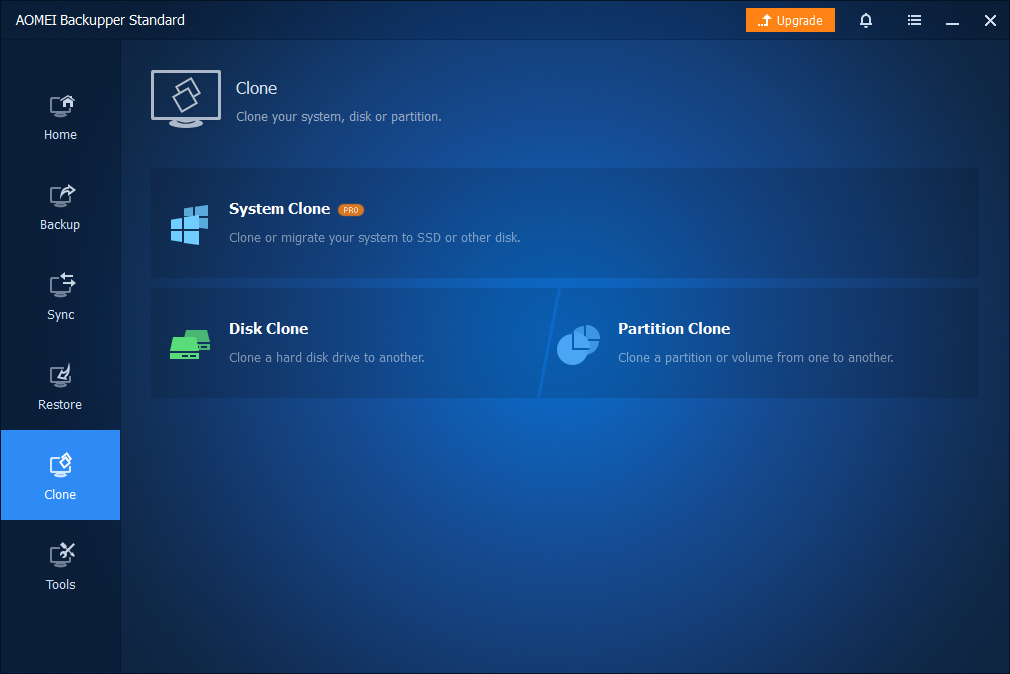 Pricing
AOMEI's Backupper comes in several plans based on Windows PCs and Servers. The details of pricing options are as follows:
Version
Price
Limitations or Perks
Primary usage scenario
Standard
$Free
A free trial that lasts 30 days with basic features.
Testing the application's features and small data recovery tasks.
Professional

$49.95

Comes with lifetime upgrades and all features (1PC/license).

Personal use

Server

$199

Support Windows server systems
No unlimited PCs or servers

Business use and a PXE boot tool.

Technician

$499

Unlimited PCs
No charged technical services

Business use, image deploy tool, PXE boot tool, and the Profitable Toolkit.

Technician Plus

$899

Provide charged technical services
Create portable version

Business use, image deploy tool, PXE boot tool, and the Profitable Toolkit and Portable Versions.
If you have a network of computers where you want to backup data and do restoration. In that case, your best bet is the AOMEI Backupper Technician, which comes with loads of exclusive options, unlimited PCs and licenses, charged technical services, and lifetime upgrades.
Individual users can benefit from the Standard and Professional plans, which can practically gratify all the backup requirements.
If you are a server user, there are two packages for you - AOMEI Backupper Server charges you per license and AOMEI Backupper Technician Plus. The first one charges you per license, while the second puts one cost for an unlimited number of PCs and licenses.
Step-by-Step Guide on How to Use AOMEI Backupper
Full Disk Image Backups
Aomei Backupper's ability to take advantage of full system image backups can be a decent way of ensuring everything on your PC, covering all vital data, files, applications, and the OS itself. Here's how to do that:
Step 1. Click the "Backup" icon located on the left side of the screen. Then select "System Backup."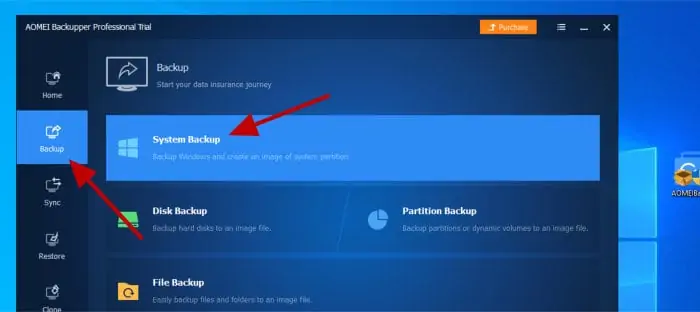 Step 2. Once you start working within the entire system image wizard, you will notice the tool has automatically worked out all of the disks and partitions which make up the underlying Windows system and added them to the backup set for you.
This denotes that the only thing you need to specify here is the disk or network share to be used as the target storage for the backup.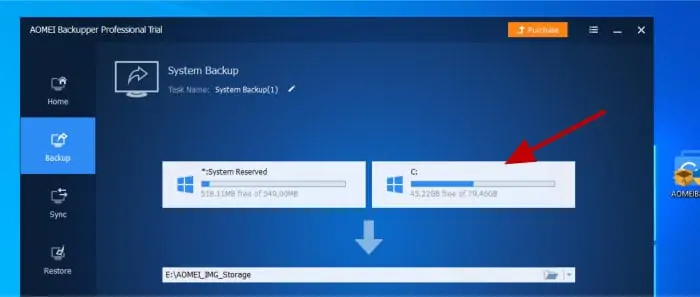 Step 3. You are allowed to choose whether to utilize intelligent sector backups or not. When turned on, this option will ensure that only the actively used portions of any partitions and disks are added to the image thus.

Once you set the advanced configuration, the image backup will then be run immediately or left for the schedule to pick up.
Alternative Software
There are loads of alternatives to AOMEI Backupper out there. We don't pretend that any application is right for every user, so you might want to check this chart and see how AOMEI Backupper stands up to these rival solutions.
Parameter
AOMEI Backupper
EaseUS Partition Master Professional
O&O DiskImage 17
Pricing

Start from $49.9(Lifetime Upgrades)

Buy Now

Start from $19.95(Monthly)

Visit Site

Start from $49.95

Visit Site
Cloning capabilities
9.5
9.0
8.5
Encrypt Backup


WinPE bootable disk


Incremental & Differential backups

Backup to Cloud


VSS


Support
Windows 10/8.1/8/7/Vista/XP
Windows
Windows 11/10/8.1
Final verdict
AOMEI Backupper is a top-notch and easy-to-use backup utility featuring full system image backups, disk, partition, and file-level backups, plus the ability to clone existing hard drives and SSDs and create bootable media.
Thanks to its minimalist design, easy-to-use interface, and lack of technical language, you can start using AOMEI Backupper immediately, regardless of your technical knowledge.
Should I buy AOMEI Backupper
Expert's Rating: 

Pros
PXE Boot Tool.
Create Bootable Media.
Backup to Cloud.
Automatic Partition Alignment Restore.
Intelligent Sector.

Pros
The backup set is not readable in file explorer.
Our Verdict
AOMEI Backupper is a perfect utility to backup, sync, restore and clone your Windows system, vital data, and crucial software.

Start from$19.95

Start from$19.95
FAQ
Is AOMEI Backupper safe?

AOMEI Backupper is safe. It does not make any changes to your computer or media storage.
Is AOMEI Backupper free?

Yes, the Standard version of AOMEI Backupper is utterly accessible for personal usage. A Professional version retails at a reasonable price of $39.95 per PC, featuring more backup, synchronization and disk cloning functionality.
What can AOMEI Backupper do?

AOMEI Backupperis a marvelous tool for backing up and restoring Windows computers and is available for both home and business use.
Which Windows versions are supported by AOMEI Backupper?

AOMEI Backupper Professional supports Windows 10/8.1/8/7/Vista/XP. For Server, Technician, and higher version, they can support Windows Server 2003, 2008 (R2), 2011, 2012 (R2), 2016 (32/64-bit).
Does AOMEI Backupper support cloud backups?

Yes, now you can avail yourself of AOMEI Backupper to backup your data to the cloud.
How do I restore from AOMEI Backupper?

To restore your files, you need to download, install and launch AOMEI Backupper in the first place. Upon that, open the program and enter the BIOS and set the CD-ROM as your first boot device. Now, click on "Restore" and choose the Image File item to browse a path and select the file that you want to restore.
AOMEI Backupper

Start from$19.95
30-Day Money Back Guarantee