If you don't have an account on Instagram, but you wish to have a look at someone's account, you could still stalk their account without making an Instagram id. Although the features are quite limited without making an Instagram account, you can view Instagram without account and overlook their posts if you know the right methods.
Visiting Instagram.com and browsing the platform without registering your account would lead you nowhere. You would only encounter a blank login screen asking you to sign up or log in. The familiar ones know making a profile is the only way to enjoy every feature on the platform.
Without the sign-up process and login information of a profile, it's not easy to use Instagram like real users. Irrespective of using Chrome or a smartphone. But there are several ways to view Instagram without account: directly visiting profiles or taking the help of third-party websites.
2 Ways to View Instagram without Account:
Method 1: Use Instagram Website to View Profiles
Instagram is the highly used online photo-sharing social media platform that allows users to take, share and apply filters to their pictures differently. It's the best platform to check out the photos of your loved ones and interact with them. However, if you don't have an Instagram profile and wish to see someone's profile without an account, follow the guide below.
Step-by-step guide
Step 1: Search for the Instagram username that you wish to view. This method allows users to see a specified account, so ensure to search by the profile's username.
Step 2: Open up the suitable web browser on your device. You can't use the phone app without your account, so using a PC/laptop is important. Use private mode since you would certainly run into a few website blocks.
Step 3: Enter the URL of the profile into the address bar. The only method to view Instagram without account is directly visiting the profile. Enter profile-specific URL. Type the desired username after instagram.com/
Now you can freely scroll through their account. You can check their posts. It's important to be aware that you have limited access. You don't have access to view captions, likes, stories, likes or comments. Read further to discover two more methods to gain more access.
Method 2: Use Third-Party Websites 
1. Watchinsta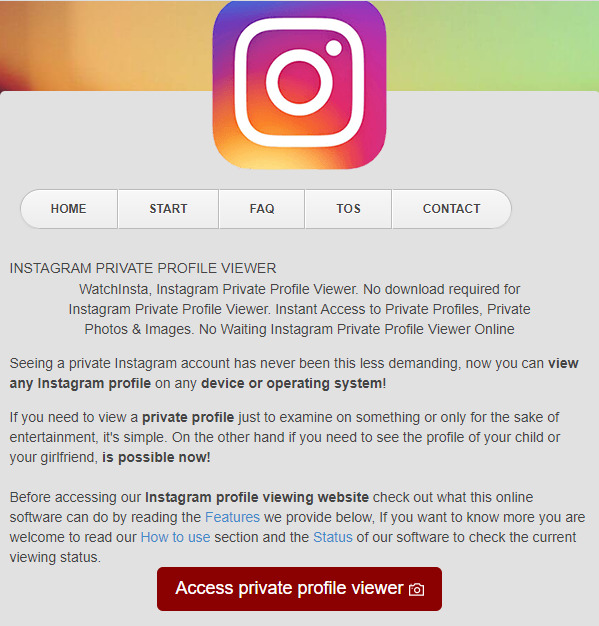 Watchingsta is one of the best websites to view Instagram without account and download the application. With the assistance of this software, you can easily look at anyone's account. The attractive functionality of the software is that it facilitates easy monitoring of private Instagram profiles on every operating system. You can also access account information on your Zip files.
Pros
Doesn't require a specified username for watching a private profile
You can watch the account on anonymous mode
Easy user interface
Cons
At times, the survey includes a several tricky questions
Less reliable.
Applicable scenarios/users
Get rid of sending follow requests anymore
Auto check features enable the latest updates automatically
Saves data into your zip folder
Step-by-step guide
Step 1: Download Watchingsta and tap on start. Visit site. 
Step 2: Enter the Instagram profile username on the given space, then press on to view the profile. You might be asked to answer a survey before proceeding further.
Step 3: Go further to watch private Instagram id online. Watching allows viewing private photos, messages as well as files.
2. eyeZy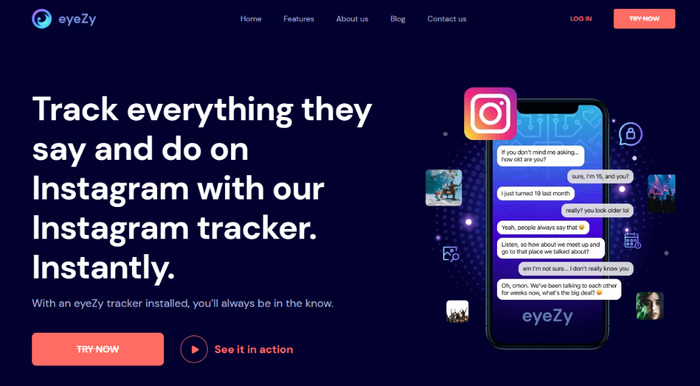 eyeZy is recognized as one of the finest spying apples on the market. The features eyeZy offers are unique to other applications. This software allows users to spy on specified devices. Moreover, many parents also use this to monitor and control kids' activities on smartphones.
Pros
It's very easy to set up eyeZy as it provides friendly UI
Offers in-built screen recorder function
Use of a sophisticated keylogger in eyeZy
Cons
Limited additional tracking features
Doesn't offer a free trial
Applicable scenarios/users
Help keep an anonymous track of someone's online presence without consistently hovering over them.
Easy access to their chats, including secret messages 
View time and date info about the sent or received content on Instagram.
Step-by-step guide
Step 1: Download eyeZy, visit site and look for the subscription as per your preference. Ensure the overall process by entering the payment details. Proceed further.
Step 2: Once you have access to your active subscription, you will know the details regarding the app installed on your device. If you use Android, then you would require a dedicated tool to root it.
Step 3:  Head over to settings>security and then approve the permission to install the app from third-party sources. Then go to the website, and launch the app. Enter the login credentials. You're good to go.
Step 4: After granting the app permissions, activate the account by the authentication code you have received.
Step 5: Go to the Instagram section, and you can view all the texts and pictures of the account you wish to view.
Conclusion
This article introduces the 2 best third-party apps to view Instagram without account. These apps provide an easy way to scroll through someone's profile without making your profile there. Both the applications Watchinsta and EyeZy are full of useful features along with a user-friendly interface. You can check the inside details of both applications. Go for the one which suits your preferences the best.
No more content