While cloning Windows 10 to another computer or installing Windows 10 on a new computer, recovering your Windows 10 product key may be a significant problem. Here are four ways to recover your Windows 10 product key. If you want to get your Windows product key or license, follow the tips below.
Recover Windows 10 Product Key via EaseUS Key Finder
EaseUS Key Finder, also known as a Windows product key finder software, is equipped with a powerful tool for locating product keys for Windows operating systems and installed software. Anyone with a Windows computer can use this tool to locate their product key, serial number, or license code. With this product key finder, you may quickly and easily recover a lost product key on a Windows PC.
You may find the license key for any installed software on a dead or healthy computer using a professional tool like EaseUS Key Finder. This software also includes some fantastic features and functions, such as:
Features and functions:
This handy tool allows you to see the accounts and passwords stored in Edge, Mozilla Firefox, Google Chrome, and Internet Explorer.
Because computers connect to wifi networks automatically, most of us will forget our wifi passwords if we don't have a backup. EaseUS Key Finder may quickly expose your wireless network password on a Windows computer.
It allows you to look up serial numbers for Adobe and Microsoft Office products and store them. You can save the number in a secure location by exporting or copying it with a single click.
It can save both your account credentials and app preferences. You can then use it to retrieve your data on a new device, preventing you from being locked out or having to re-create accounts.
It offers a user-friendly interface that allows it to assist consumers fast and effectively.
Price: It starts $19.95/Monthly.
Compatibility: Windows 11/10/8.1/8/7/Server
How to use:
Step 1: Download and install EaseUS Key Finder on your computer.
Step 2: Launch EaseUS Key Finder and select Windows under the Registry Key tab.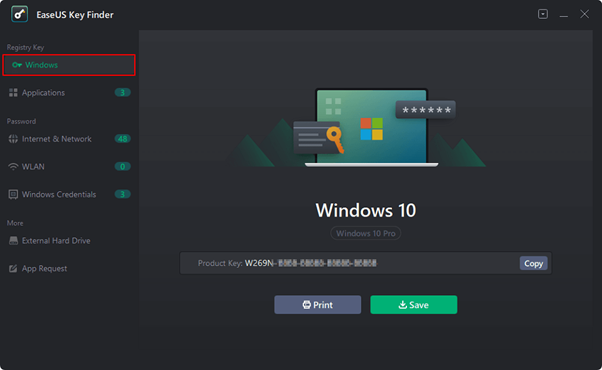 Step 3: Check the product of the Windows on the right side. Hit the Copy option to copy the product key.
Note: You can also save or print the product key.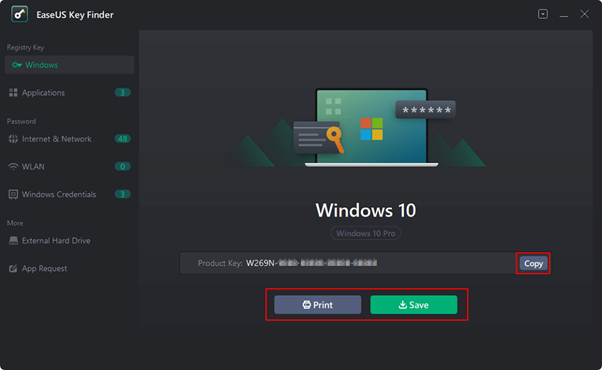 Recover Windows 10 Product Key via Product Key in Registry
The Windows registry is another option for locating your product key. Because Windows maintains the key in the registry, you can only restore it if you haven't formatted your machine. To recover the Windows product key from the registry, follow these steps:
Step 1: Right-click anywhere on your desktop, pick "New," then "Text Document."
Step 2: Paste the following code into Notepad.
Set WshShell = CreateObject("WScript.Shell")
Step 3: To save, select Save As from the File menu. Set the name of the file to "productkey.vbs."

Step 4: Close Notepad and open the .vbs file with a double-click. After a few moments, a popup with your product key will appear.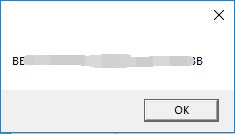 Recover Windows 10 Product Key via COA Sticker
COA Stickers, also known as Certificates of Authenticity Stickers, are commonly found on computers that come pre-installed with the Windows operating system from various manufacturers. The COA sticker attests that the laptop or desktop computer came with a legitimate copy of Windows. A product key for the current computer operating system is also printed on the stick.
If your computer is running the original version of Windows, you can check the Windows COA stick for the lost product key:
Step 1: Examine your computer's rear case or keyboard region.
The majority of COA stickers are currently stuck to the back of the machine.
Step 2: Locate your Windows computer's misplaced product key.
The COA sticker usually has a series of digits printed beneath the Product Key area.

4. Recover Windows 10 Product Key via Microsoft Store
If you purchase a Windows 10 license through the Microsoft Store, your key is saved to your Microsoft account. Take the following steps:
Step 1: Go to Microsoft Store > Downloads > Product Keys > Subscription > Digital Content to get started.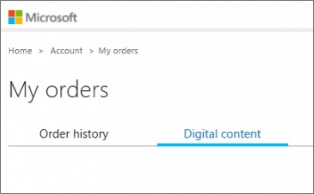 The product key is also included in the confirmation email from Microsoft. You may go to your mailbox and see what's there. If you've already deleted it, check your spam folder or look for a different means to obtain the product key.
Bonus Tip: How to Find wifi Password on Android and iPhone
1. Find wifi Password on Android Phones
Android 10 now allows you to view the saved wifi password from the settings app without rooting. Here's how to go about it.
Step 1: Select Settings > Network and Internet > wifi from the drop-down menu.
Step 2: Tap the wifi network you're looking for the password for.
Step 3: There are two blue options: "Forget" and "Share." Select "Share" from the menu.
Step 4: After that, you must authenticate your identity using a fingerprint sensor, facial recognition, or a password.
Below the QR Code, you'll find the wifi password.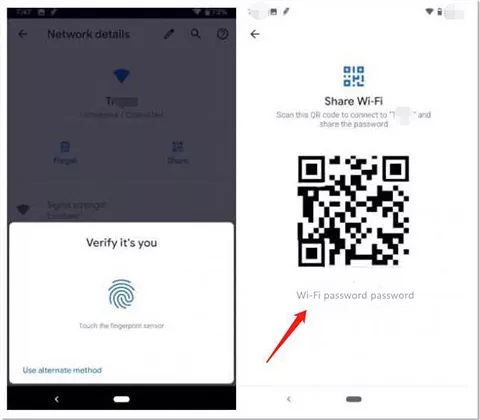 2. How to Find wifi Password on iPhone via Router Settings
This method tries to locate the wifi router's IP address and log in to its settings section to view the router's password. Even if this strategy isn't 100 percent effective, it's still worth a shot.
Step 1: Go to Settings > wifi, identify the wifi name you want to check the password for, and then click the I icon next to it.
Step 2: Copy the IP address from the router area, then paste it into the Safari browser. When you press enter, a login panel page will appear.
Step 3: Log in with your router's default username and password.
Step 4: To view the iPhone wifi password, go to "wireless setup" or "wireless settings" after logging in.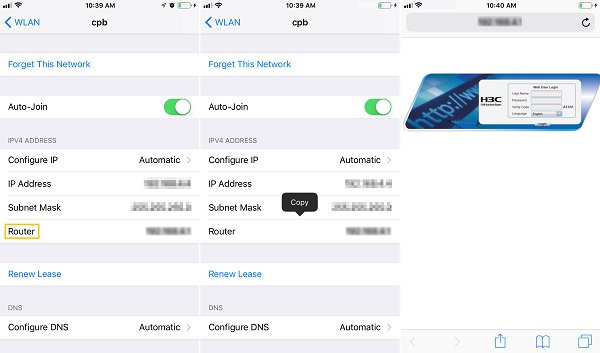 Conclusion
On this page, we've included four techniques for recovering lost Windows 10 product keys and some additional suggestions for finding WIFI passwords on Android and iPhones. We strongly advise you to use EaseUS Key Finder to quickly and easily retrieve your Windows 10 product key.
Price: It starts $19.95/Monthly.
Compatibility: Windows 11/10/8.1/8/7/Server
No more content