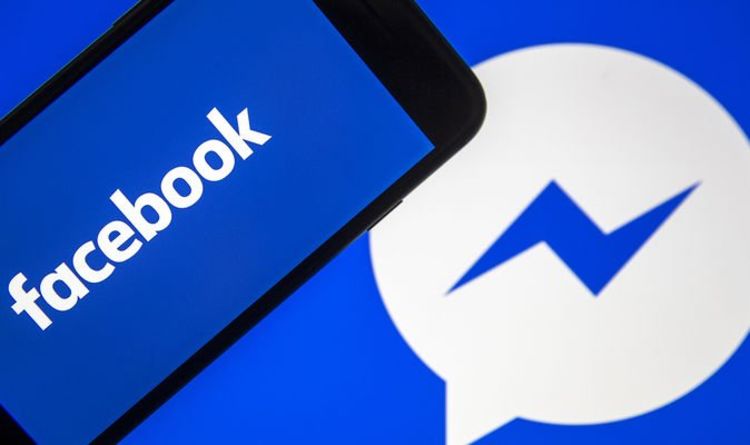 Have you ever mistakenly deleted any of your critical Facebook conversations and regretted that later? Losing a vital Facebook conversation could be fairly annoying and frustrating, especially when it comes to those you meant to retain. Thankfully, there are loads of options to recover your deleted Facebook messages.
In this guide, we will offer you a bunch of the topmost workable solutions to help you out. Read on and find suitable methods befitting your situation.
Note: Facebook stores all your deleted data for a grace period of 90 days. The chance of restoring your deleted messages will turn quite slimmer if you miss the duration. For more help, you can resort to their Messenger Help Center. 
How to Check Deleted Messages on Facebook Archive
The first step toward restoring your deleted Facebook chats is to confirm that you have actually deleted them. There is a high chance you have accidentally archived the message rather than deleted it, as the buttons on the app are one right below the other. 
On Your Android, iPhone, or iPad
1. Launch the Facebook Messenger App on your device and ensure you're logged in.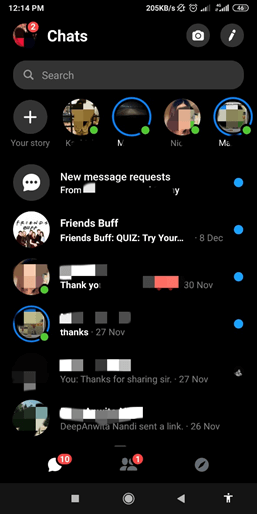 2. Tap your profile photo. It's at the top-left corner of Messenger.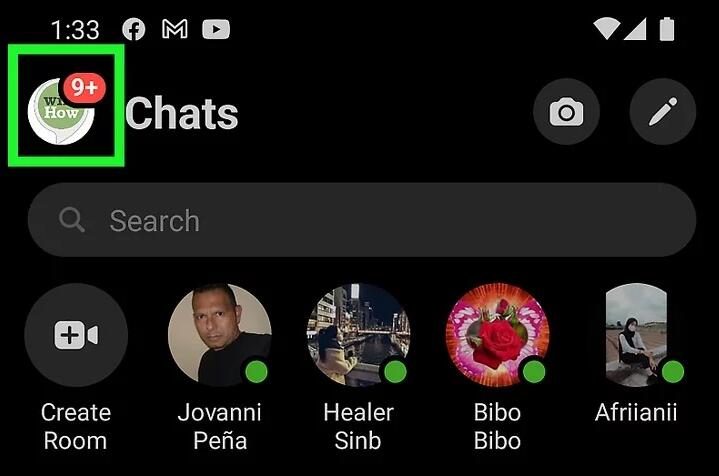 3. Tap Archived Chats. With that, a list of chats you've archived will show up.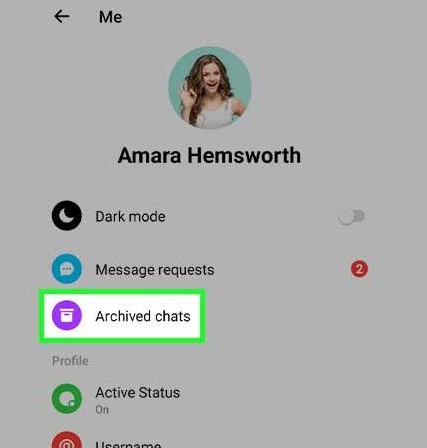 4. Swipe left on the deleted conversation. 
5. Hold the chat you want to recover and tap Unarchive. The option you see will vary in diverse platforms. 
On Your Computer
1. Navigate to the Facebook page and click on the Messenger icon in the top right.
2. Pick See all in Messenger.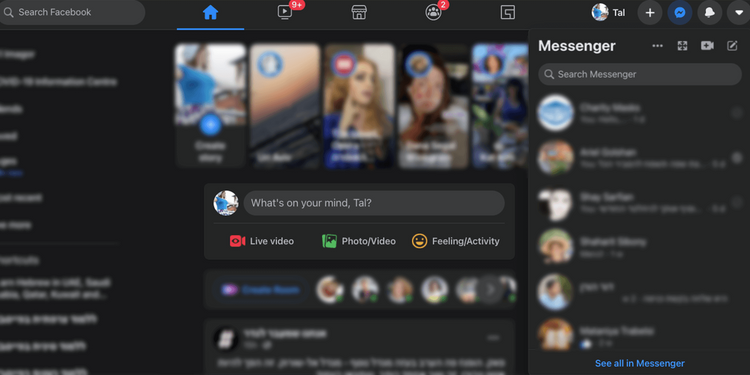 3. Click the … icon next to Chats.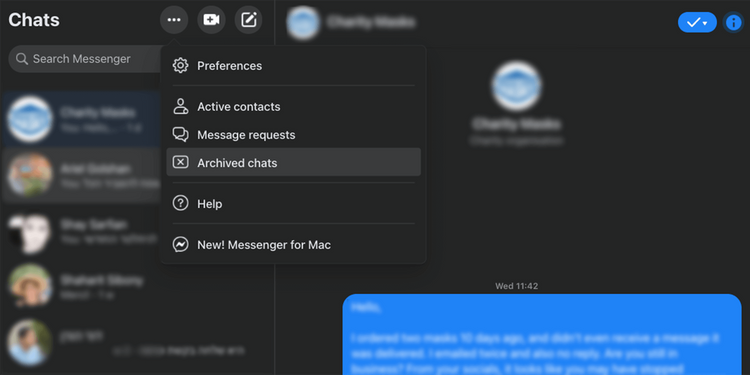 4. Pick Archived chats from the dropdown menu.
5. Scroll down to see if you can find the message you need.
How to Get Deleted Facebook Messages From the Other Recipients
Your messages will be wiped off permanently on your side if you choose to delete them. However, the person you contacted probably still owns a copy. The most straightforward thing to restore your deleted messages is to directly ask them to give you a screenshot of the chat or resend it to you via copying and pasting.
You can also ask your friends to download a copy of their Facebook data if the information for official purposes is required.
To do so, follow the guide as below:
1. Scroll through your messages. You should try scrolling through your Facebook Messenger inbox and search for the conversation you want to recover before you embark on a mission to find your deleted messages. It's possible that your messages just got buried under a host of newer ones.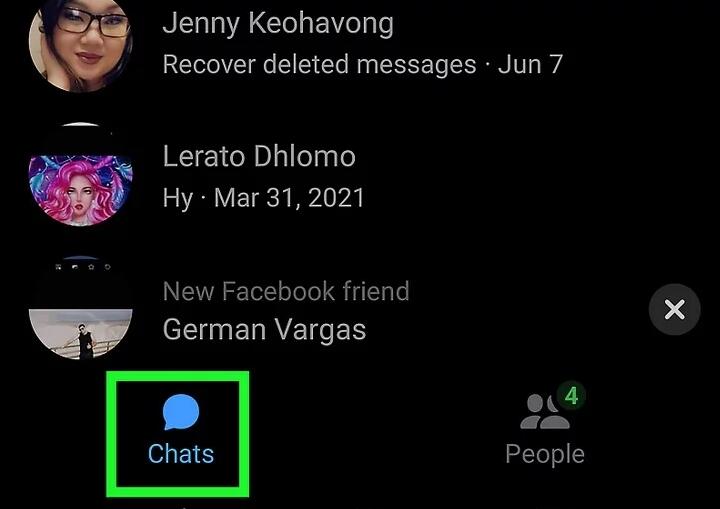 2. Search for a name or keyword. Click the search bar and look for anything you remember about the chat if you have no idea what you're finding in the inbox. You may find your message this way if you accidentally skipped over it while scrolling.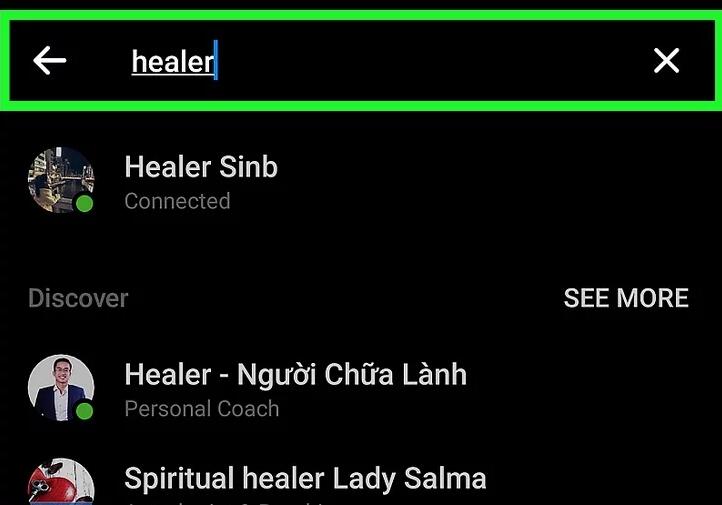 3. Ask the people you talked to for a copy of the message. Fortunately, deleting the message will remain in the inboxes of another one even though you have deleted it, which grants you a chance to recover your conversation by asking them to take a screenshot for you.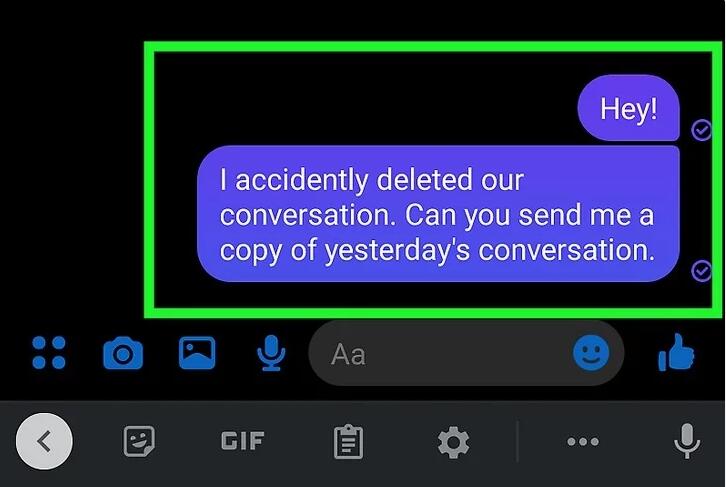 How to Get Deleted Facebook Messages by Checking Your Downloaded Data
The messages will get removed permanently once you delete your Facebook chat. Still, your messages data will be retained for a while on the Facebook servers, whereby you can possibly find your deleted messages via downloading the Facebook data.
Step-by-Step Guide to Download Facebook Data:
On Your Android
1. Launch Facebook and click the three horizontal lines to open the menu.
2. Scroll down and tap the option Settings and Privacy. With that, choose Settings. 
3. Keep on scrolling and tap Access Your Information once you find Your Facebook Information section.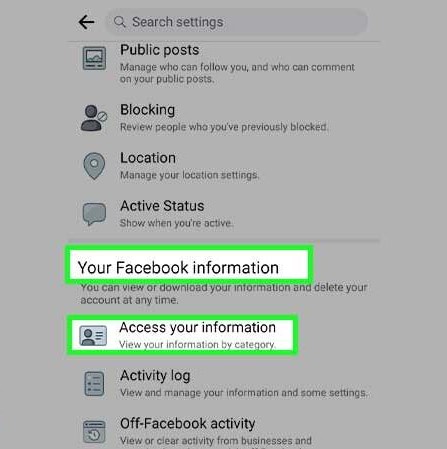 4. Press the button of Download your Information at the bottom and then opt for the Message category.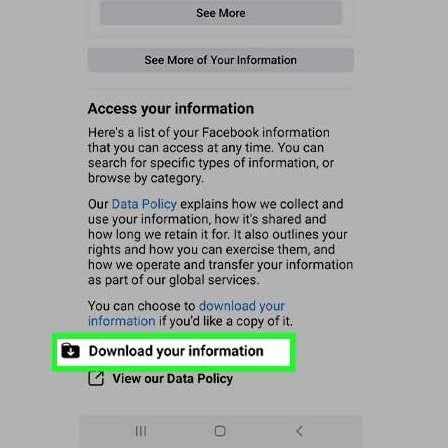 5. With that, scroll to the bottom of the screen and tap Create File to get the whole message on your Facebook Messenger.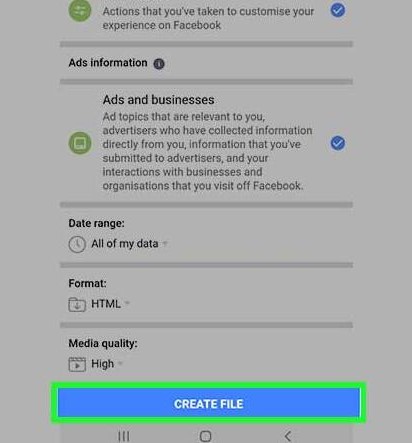 On Your iPhone
1. Open your Facebook Messenger and tap your profile picture. 
2. Scroll down and tap Account Settings. 
3. Keep scrolling and choose the option of Downloading your information.
4. Once you press the option, you shall see a new screen where you must opt for the Message category.
5. With that, scroll to the bottom of the screen and tap Create File to get the whole message on your Facebook Messenger.
On Your Computer
1. You may have copies of your messages in the archive if you have used Facebook's feature named "Download Your Information" for storing personal data on your computer. The name of the downloaded ZIP file will alter from "Facebook-yourusername.zip" to "Facebook-your username" once you unzipped it.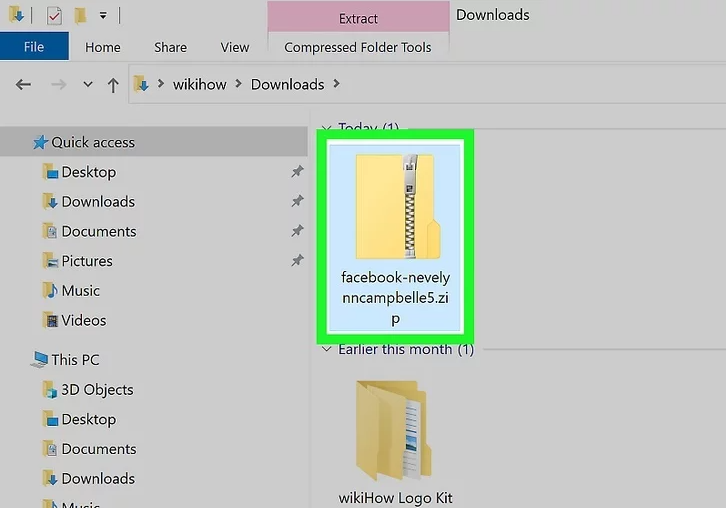 Note: you will fail if you download your archive now since the deleted message won't be incorporated in a new archive. Whereas, you'll at least own 
record of the chat from the moment you deleted it if you downloaded your data before removing the message. 
2. Unzip the archived file. You can easily unzip the file if you haven't already. For a Mac, you just need to double-click. For Windows, follow the steps as below: 
Double-click the file whose name starts with "Facebook" and ends with ".zip."
Click Extract all at the top of the screen.
Ensure that there's a checkmark in the box right next to "Show extracted files". With that, click Extract.
Double-click the file named your_messages.html for opening the messages in your default web browser.
3. Double-click the Messages folder. You didn't opt for adding messages to your archive before downloading if no Messages folder appears in your archive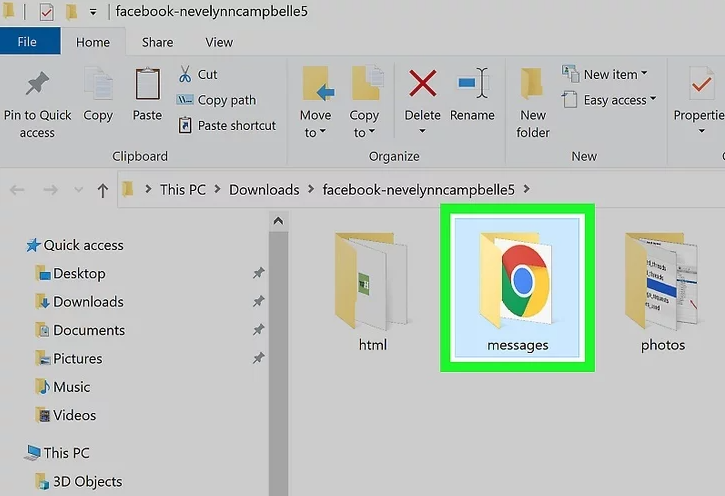 4. Double-click your_messages.html. This opens a list of the whole of your messages in your default web browser.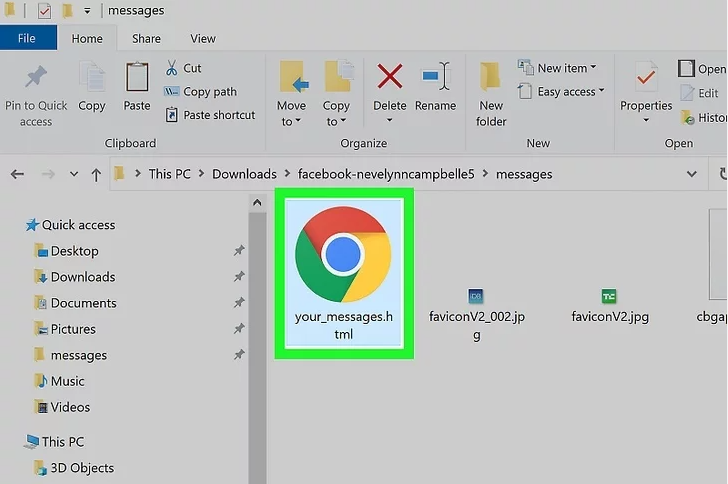 5. Click the conversation you're searching for.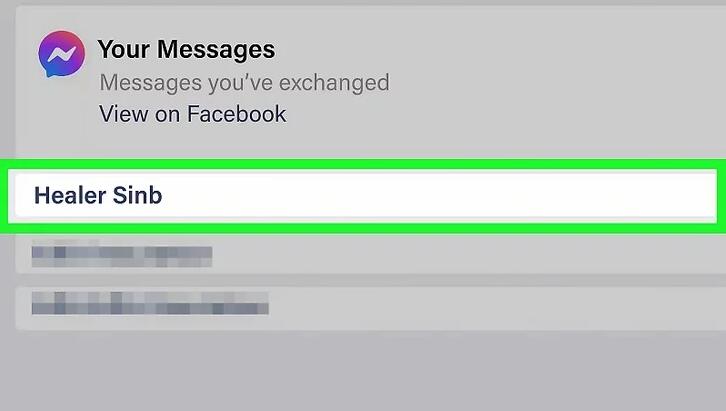 No more content