Amazon Kindle brings you an easy-to-carry book library with you anywhere you go. Books, journals, magazines are now accessible even outside the home. Since its launch and several updates, Kindle still does not access a few major ebook formats, including Kindle epub. But that does not let you stop reading your favorite books on Kindle. Our current post will highlight how you can read Kindle epub format conveniently. 
Before jumping to know how to kindle epub to Mobi format conversion process, let's have a round-up about Amazon Kindle.
Amazon Kindle: A storehouse of E-Books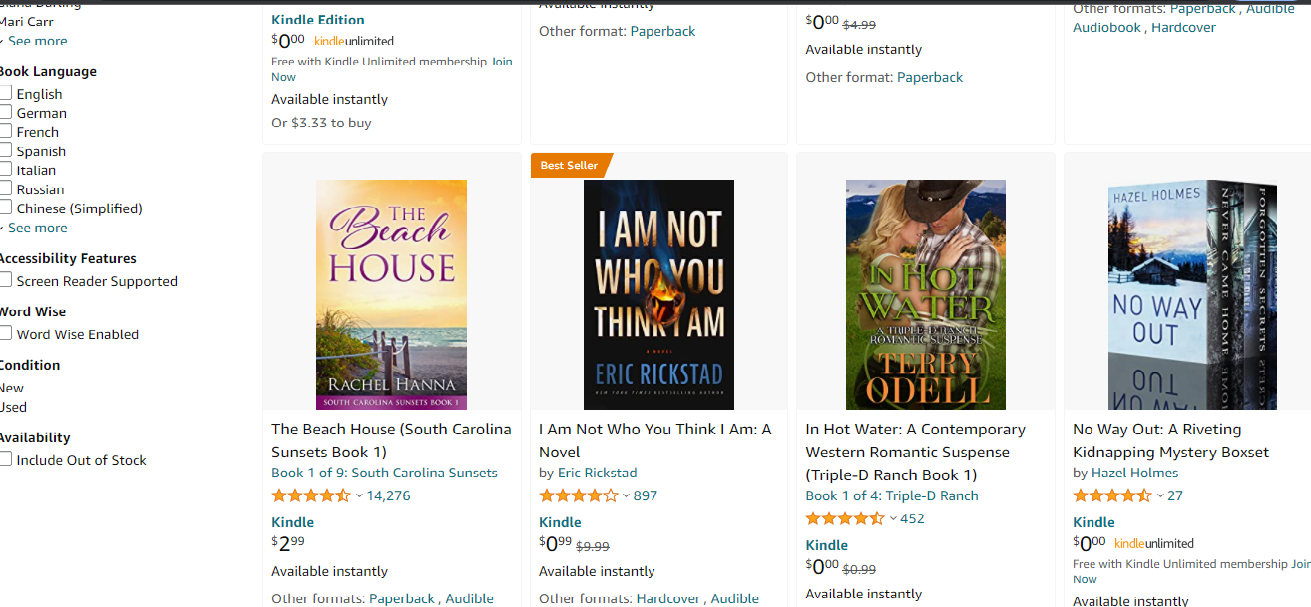 In 2007, Amazon had launched a platform, Kindle, for book lovers around the world. Kindle provides you with millions of books of various genres for free and paid access. With ebooks, Kindle allows its readers to read e-magazines e-journals of renowned personalities around the globe. It supports Amazon's proprietary formats, including AZW, AZW3, MOBI. With Amazon Kindle, a massive book library is now in your pocket that saves space and weight on your shoulder.
What is an EPUB file?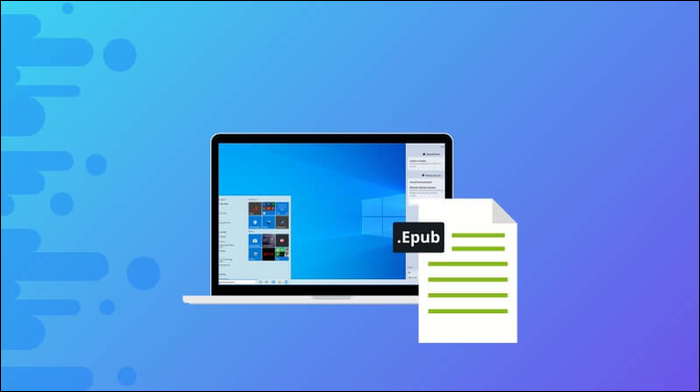 Epub is a popular file format that is available with an epub file extension for users to store ebooks and other kinds of content. The file format can save words, fonts, content series, metadata, images. The plus point is it can display on 3.5" Screen size, relatively small but mobile screen friendly. It's the favorite file format among e-readers globally. 
Publishers and authors prefer the format for to its flexibility and portability. It helps to customize the ebooks that ensure the development of interactivity among the readers. It's the main reason publishers and authors use epub format for their ebooks, journals, and digital files. In the present scenario, major ebooks applications support the epub format. 
Amazon Kindle supports its proprietary formats, but your favorite books are in an epub format that Kindle cannot access. What can you do? The solution is here. In the following part, we will show you how you can convert epub to MOBI so that you can read books and enjoy the content. 
Effective Methods to Read Epub format on Kindle
It's easy to use to access millions of ebooks, and the massive online library makes it the best-trusted platform among readers. Adding the learning and reading enthusiasm, let us show you how Kindle epub is accessible and converted to MOBI. 
We will unveil the best methods to convert epub to Mobi using Epubor Ultimate and Calibre. Let's begin! 
Epubor Ultimate: Convert EPUB format to MOBI
If you are looking for a converter that can allow you to convert epub to Mobi format to access your favorite classic on Kindle, you can second on Epubor Ultimate. The most trusted brand among the readers, Epubor Ultimate, offers decryption and conversion of various formats that are Kindle and other ebook applications friendly. Its easy-to-use functionality allows users to use it with dexterity. The efficient tool Epubor Ultimate decrypt and convert Kindle, Adobe, Sony, Kobo, Google E-books etc., and helps readers to convert files to Mobi, epub, and pdf without compromising the quality. It's available for Windows and Mac. 
Software with many benefits, it's a best friend for booklovers who often convert files to other formats. 
How to Convert EPUB files to MOBI using Epubor Ultimate: Easiest steps for Windows
With Epubor Ultimate, you can read  Kindle epub effortlessly. Let's see how it'll help you to access the Kindle classics. 
Step 1: Install the software to the Windows
Price: Its Lifetime license costs $49.99/1 PC, $54.99/1 MAC.
Compatibility: Windows and Mac
Download the latest version of Epubor Ultimate from its official website
Step 2: Open the interface
Once the installation process is complete, open its interface.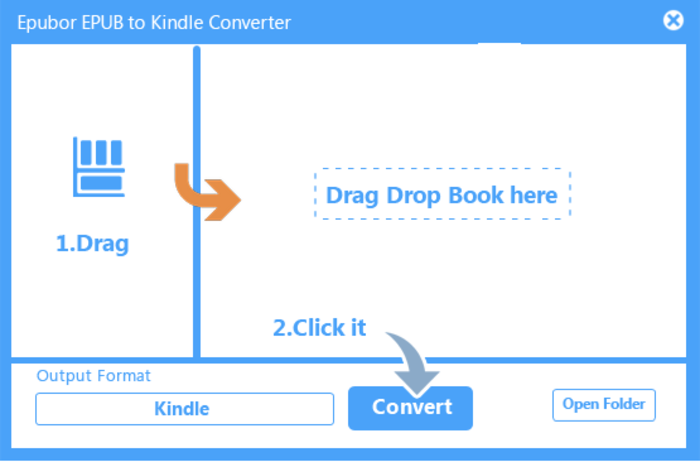 Step 3: Drag and drop the epub files
Once open the main interface, drag and drop your epub files.
Step 4: Click on the Convert button.
After dragging and dropping epub files to the main interface, you'll get the button Convert to MOBI. Click on it. 
Wait for a few minutes, and your MOBI file is ready to access. 
Once the file is converted to MOBI, you can send it to Kindle and enjoy the reading. 
Note: The software also allows you to convert DRM-protected epub files to MOBI seamlessly. Further, it can restore DRM-protected Kobo, Book, Adobe, and Google Playbooks without any hassle. 
For Mac Users: 
For the Mac users to convert epub to MOBI files, you need to follow simple steps. They are:
Step 1: Download and launch the software to your Mac device
Price: Its Lifetime license costs $49.99/1 PC, $54.99/1 MAC.
Compatibility: Windows and Mac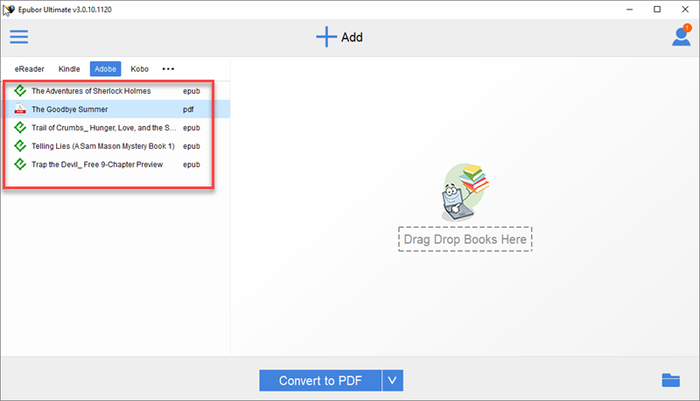 Step 2: Check the epub books
After the installation, check whether the epub books are located in the default folder or not. If they're there, the software will automatically detect and upload them. 
Step 3: Remove the DRM 
To remove the DRM, drag all your epub books from the right to the main interface, and DRM will be removed. You can notice the word Decrypt means books are now decrypt-free.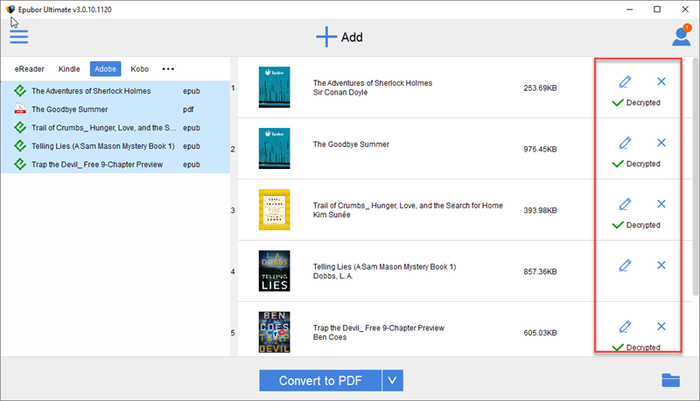 Tips: The software removes the DRM protection from the Epub files during conversion, and it follows both processes simultaneously.
Step 4: Click on the Convert button.
After removing decryption, select the MOBI as output format and click on the Convert to MOBI button. The software will start the process immediately, taking the possible quickest time. 
Once finished, send the file to Kindle and start reading. 
What are the benefits Epubor ultimate offers to its users? 
If you're a book lover and don't want to spend much time on software operation and conversion, Epubor ultimate could be your best pick. Let us show you the advantages: 
It can convert the files to eBook apps-friendly formats so that without trouble, readers can convert files.
It can decrypt the DRM-protected files and quickly convert them to other formats.
It preserves 100% original content quality after the conversion.
Before conversion, you can edit epub metadata, including book cover, title, author, language, date, publisher, introduction, and others.
The interface is simple; thus, readers feel easy to use whenever they required
The drag and drop option encourage beginners to use Epubor ultimate.
Calibre: Convert the Epub format to Mobi format
Calibre can be your e-mail book manager. It's open-source software that can manage your e-mail book collection, download digital books, share and backup your library. 
How to convert Epub format to MOBI format? 
If you want to convert Kindle epub to MOBI format, follow the below steps. 
Step 1: Install Calibre and open it
After the installation, open the interface and click on Add Books button

Step 2: Select the file
Tap the file from your saved folder on your PC. In Calibre, you can see the book list at the top.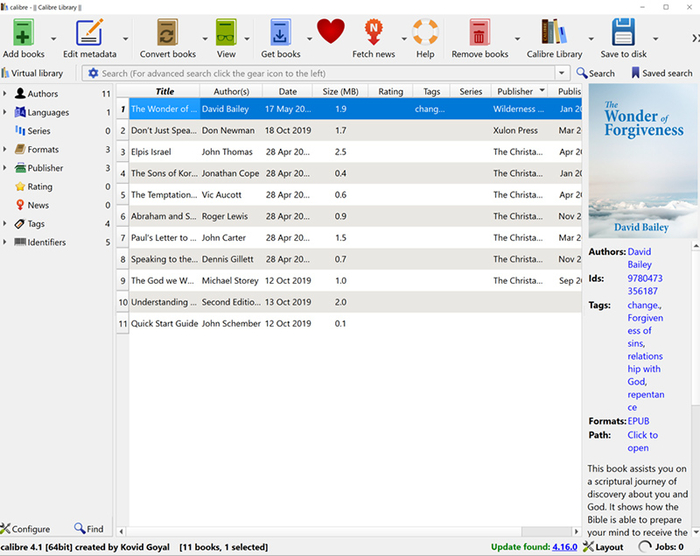 Step 3: Click on the convert button
At the top of the application window, the Convert books button is there; click on

Step 4: Select output format
Once you click on the convert book button, it'll open the output format drop-down menu window, click on MOBI, click on the Ok button.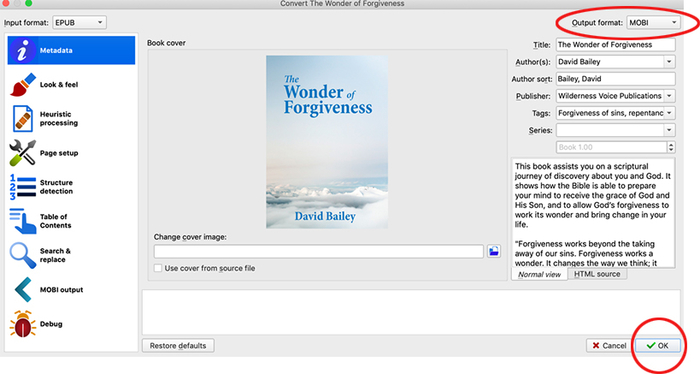 It'll take time to convert the epub files to MOBI. Once finished, you can check. 

 To transfer the file to Kindle, you need to plug it into your computer and send the file to Kindle. 
What are the disadvantages of using Calibre? 
Its design is old-fashioned, and beginners with new technology and latest devices feel uncomfortable using it
If you wrongly double click on books, it'll save in the library automatically end with similar books multiple times 
There's no customize option for the users
The interface is dull
Final words 
Book lovers worldwide prefer easy-going software that helps them convert files with proficiency. If you're equipped with the latest technology and device, you must check in with intelligent software like Epubor Ultimate. You can decrypt the Kindle epub files, convert them to E-book application-friendly formats, and customize them as per users' preferences. Convert your Kindle epub files with Epubor Ultimate, save your time, and let your mind gather more knowledge reading Kindle. 
Price: Its Lifetime license costs $49.99/1 PC, $54.99/1 MAC.
Compatibility: Windows and Mac
No more content