You might be thinking that nobody talks about Microsoft Office 2010 in 2022, but we do. Many people and organizations still use Office 2010 in 2022 due to its user interface, tools, and ease of use. Moreover, another reason to love MS Office 2010 is its built-in photo editor.
Still, in 2022, MS Office 2010 doesn't look outdated; that's why it is on almost every third computer. If you are a user of MS Office 2010 and lost its product key, relax! You won't have to repurchase it.
Follow these easy methods to find Microsoft Office 2010 product key in 2022:
6 Easy Ways To Find Microsoft Office 2010 Product Key
Find Microsoft Office 2010 Product Key Via Easeus Key Finder
One of the easiest ways to find an office product key is using the EaseUS key finder. It is the best and most budget-friendly tool available that can take your burden off. The best part about EaseUS is that it recovers the lost Office key and backups all the keys on your PC. This way, you won't have to worry about forgetting keys or keeping them safe in a folder.
Price: It starts $19.95/Monthly.
Compatibility: Windows 11/10/8.1/8/7/Server
EaseUS can also recover your Office 2010 product key from a dead HDD. If you encounter an issue during the process, EaseUS technical assistance is at your service 24/7. You can contact them on their website through live chat or email.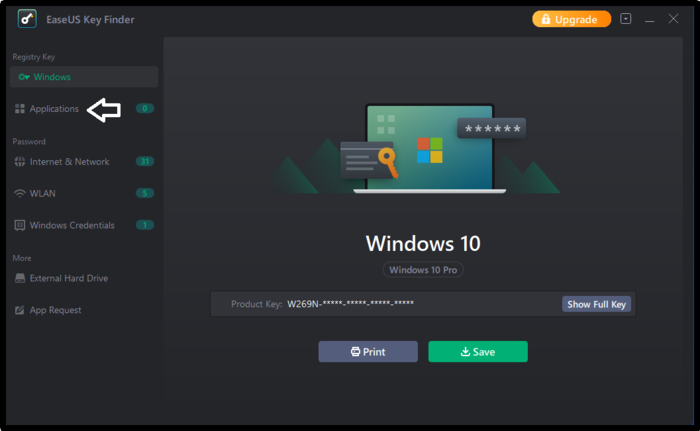 Here is how to recover keys with EaseUS:
Step 1: Download and install EaseUS Key Finder on your computer.
Step 2: Launch EaseUS Key Finder and select Windows under the Registry Key tab.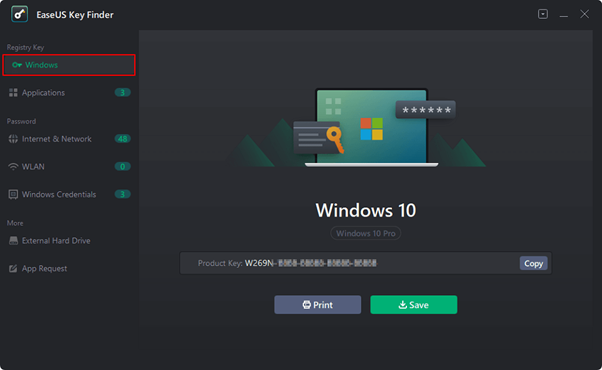 Step 3: Check the product of the Windows on the right side. Hit the Copy option to copy the product key.
Note: You can also save or print the product key.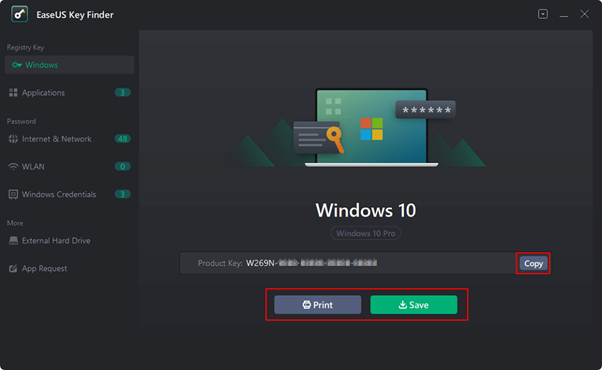 Find Office 2010 Product Key In The Email
Whenever you buy a Microsoft product, you receive an email with all of its credentials. Try to remember the days when you purchased the key, and check the emails you are received that week. You will find the key inside the email.
Check the spam, archived, or junk folder to confirm if you can't find the email.
Find Office 2010 Key At The Back Of CD/DVD Cover
If you purchased the software MS Office from a Microsoft store, the license key is always on the package cover. However, if you bought a CD/DVD, the key is usually on the reverse side of the disc cover.
Find Office 2010 Key From The Registry
Windows registry is responsible for backup all the license keys of the software installed on the PC. Likewise, it also backs up the MS Office 2010 key. To access the key, you have to:
Hit the Win+R button to launch the Run box
Press Enter after typing Regedit into the search box. You'll be able to open the Registry Editor window after you click on "OK."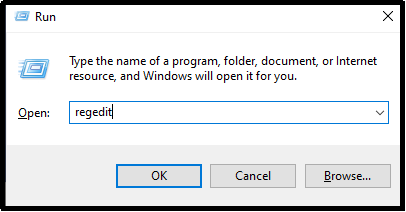 Click on "HKEY_LOCAL_MACHINE\SOFTWARE\Microsoft\Office\ 15.0\Registration" and then press Enter. You will see your MS Office license key within some seconds.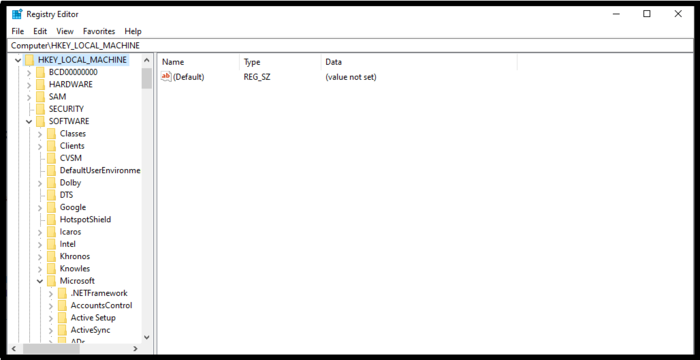 In some versions of Windows, the registry editor is encrypted. So, you might not be able to retrieve the key.
Find Office 2010 Key By Contacting Microsoft Support
Microsoft has one of the best chat and email support systems of any IT company globally. You can contact them through email and explain your problem. On the other hand, they will ask you to prove that you bought the product. In such a case, the command prompt will help you. You need to follow these steps: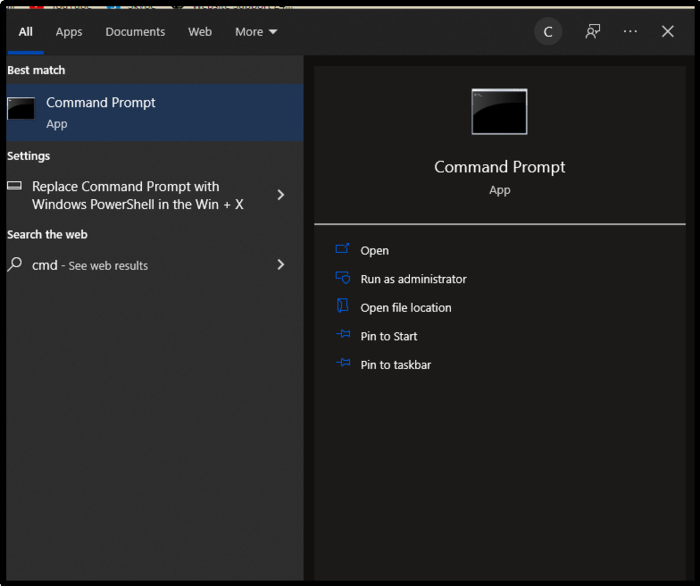 In the cmd, copy-paste the following code "cscript "C:\Program Files\Microsoft Office\Office14\OSPP.VBS" /dstatus"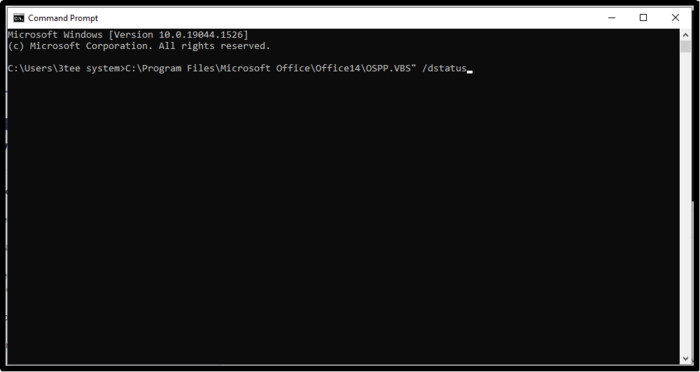 The following CMD command will show the last five digits of your MS Office key.
Remember that this code will only work if the Office software is installed in the C drive.
Now, as you have the last five digits of your MS Office software, you can provide it to the Microsoft agents and assure them that you have bought the product. Soon they will help you with your problem.
Find Office 2010 Key Using Windows Store
If you have downloaded MS Office 2010 using the Windows Store, your product key is backed up and saved in your Microsoft account. You have to:
Open the Microsoft store from your PC
Click on library
Find the MS office software from all the installed programs
Once you have found it, click on its details, and you will find your product key right in front of you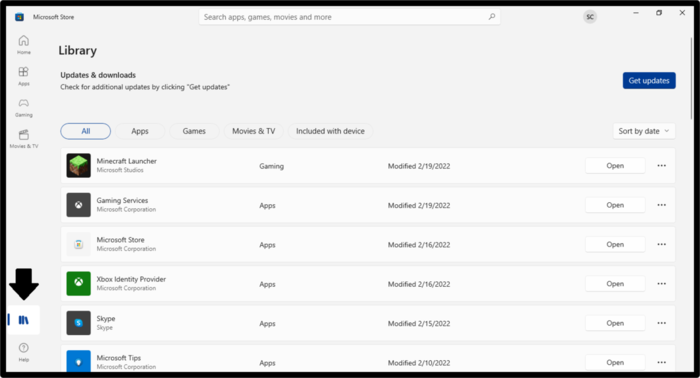 Conclusion
We went through 6 of the easiest and guaranteed methods to find the Microsoft office 2010 product key in 2022. One of them is undoubtedly going to work for you. Moreover, if you don't want to get into trouble, we suggest you backup all your keys using EaseUS. If you have already lost your keys, use EaseUS to recover them.
So, now sit back, relax and lift the coffee cup because you didn't have to repurchase the product key.
Price: It starts $19.95/Monthly.
Compatibility: Windows 11/10/8.1/8/7/Server
No more content