You can't install, reinstall, or activate Adobe Acrobat (9/X/XI Pro) or other versions of Acrobat without the serial number. If you need to reinstall or move Adobe Acrobat to a new machine but can't locate the serial number, this can be a pain. Take it easy, though. The serial number is stored in your Windows Registry as long as Adobe Acrobat is installed on your machine. If you want to find the serial number for Adobe Acrobat on your computer, you have a few choices.
4 Ways to Find Adobe Product Key
The Adobe application set can only be used properly if you have an activated license. However, some individuals have difficulties obtaining their serial numbers.
This might be aggravating, especially if you need to activate your Adobe programs quickly to complete a project or accomplish office work. Time for worrying is over as we are going to show you the best methods to find your Adobe key.
We'll go over the best ways to find your Adobe serial number/code in today's how-to guide, as we'll be covering a wide range of scenarios to ensure that your issue is resolved.
Please be sure you locate the precise circumstance described in this tutorial, and then carefully follow the instructions outlined to avoid any problems.
1. Find Adobe Product Key via EaseUS Key Finder
Using a specialist product key finder application is the easiest and quickest way to locate an Adobe Premiere Product Key. EaseUS Key Finder is the most dependable tool for quickly and easily locating a lost Premiere key. This straightforward program is simple to use and does not necessitate any prior technical knowledge. In only a few simple clicks, you can acquire whatever key numbers you want from healthy or dead PCs. You may use this software to find product keys for Windows, games, Office, Adobe software, and other programs.
Price: It starts $19.95/Monthly.
Compatibility: Windows 11/10/8.1/8/7/Server
The software is easy to use. Follow these two simple procedures to quickly locate the product key for your installed Adobe software.
Step 1. Select Application from the Registry Key drop-down menu.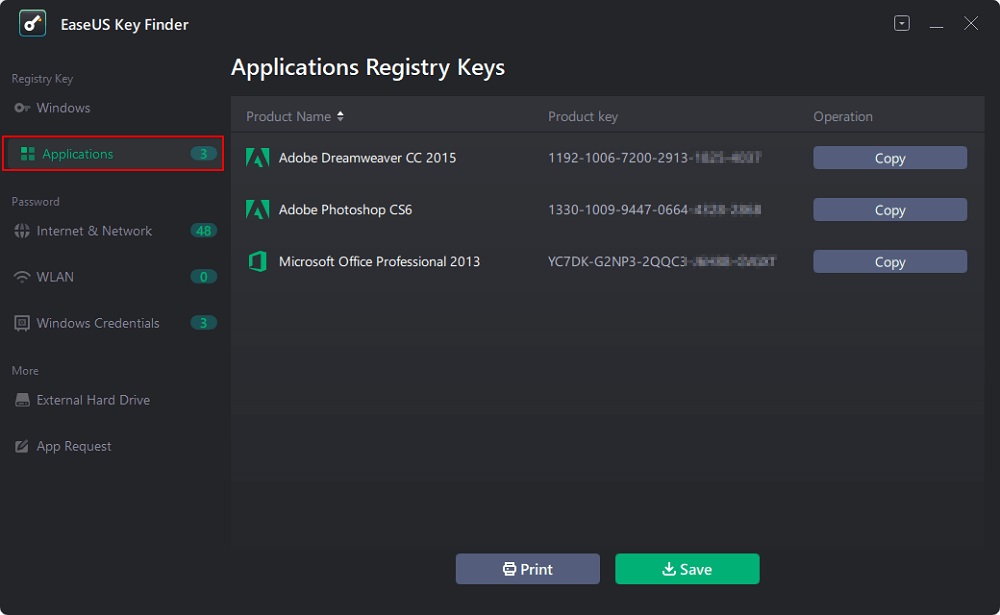 Step 2. On the right panel, look at the Applications Registry Keys. EaseUS Key Finder displays all of the installed software's keys. Copy the serial numbers you want to use. You can also click Print or Save.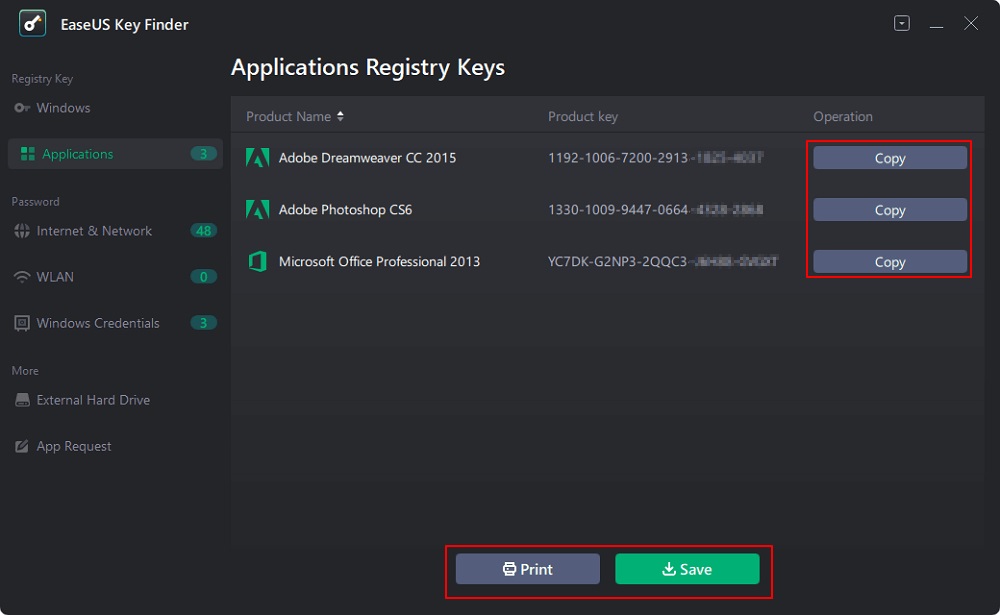 2. Find Adobe Product Key in Registry
Find Adobe product key in Registry
As we have discussed at the beginning of this article, the serial number is maintained in the system registry as long as the authentic Adobe Acrobat is installed. As a result, you can manually search for the serial number in the Windows Registry.
Step 1:To access the Run window, press Win + R, type Regedit, then click OK.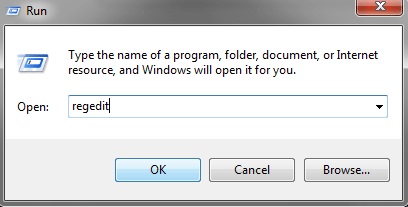 Step 2:If prompted, confirm the User Account Control.
Step 3: The Registry Editor is launched. Navigate to HKEY LOCAL MACHINE -> SOFTWARE -> Adobe -> Adobe Acrobat -> 9.0 -> Registration in HKEY LOCAL MACHINE -> SOFTWARE -> Adobe -> Adobe Acrobat -> 9.0 -> Registration. The serial number is located in the right pane.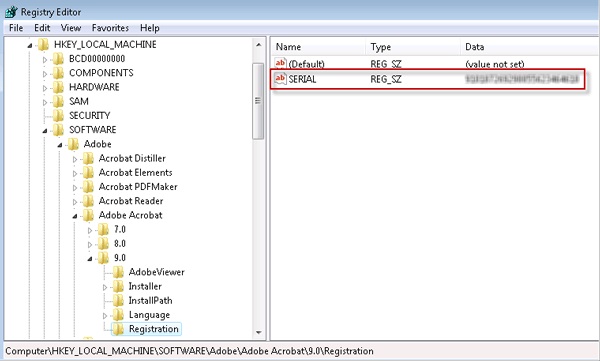 Tips: Navigate to HKEY LOCAL MACHINE -> SOFTWARE -> Wow6432Node -> Adobe -> Adobe Acrobat -> 9.0 -> Registration if your Windows version is 64-bit.
Step 4:However, instead of the valid serial number that you can use to install Adobe Acrobat, you can see a series of encrypted numbers. To decrypt the serial number, you'll need to employ a product key generator.
3. Find the Adobe Product Key by Visiting the Adobe Licensing Site
Your Adobe Buying Programs clients' account information is available on the Adobe Licensing Website. It allows you to look for serial numbers, view purchase histories, track orders, edit or add account contacts and information, check for upgrades, merge accounts, and download software.
Step 1:Use your Adobe-registered email address to log in to the Adobe Licensing Website.
Step 2:To find Adobe Premiere Product Key, go to the licensing tab and select the option to retrieve serial numbers.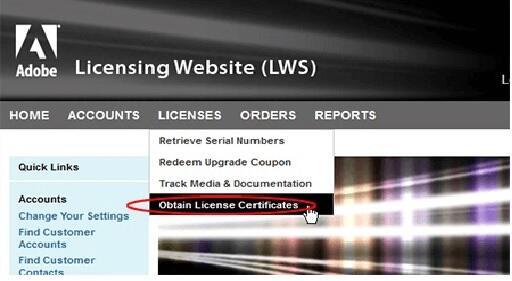 4. Find the Adobe Product Key by Checking the Product Box
The serial number present on the product box or the disc sleeve can be used to find the Adobe Premiere Product Key. A 24-digit numeric code is your product key or serial number.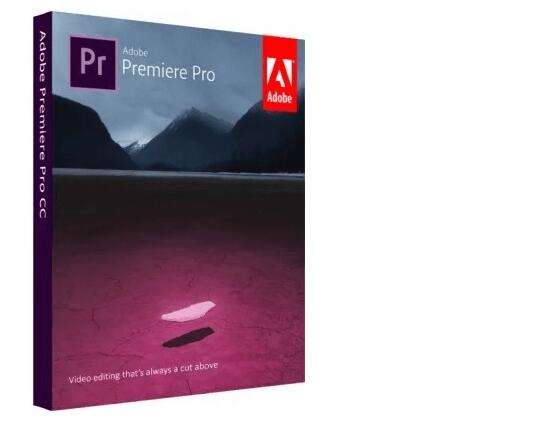 Conclusion
To summarise everything we've already covered, we've demonstrated how to retrieve lost product keys. The application can be restarted with the help of the product key. It also ensures that the installed program is lawful and approved. It also updates itself whenever a new version is released. The solutions outlined above will surely come in handy if you have forgotten or lost your product key.
EaseUS Key Finder is a third-party tool that we recommend. This utility can be used to recover a lost product key. It has the ability to store and export serial numbers with ease. Before purchasing, you can download and use this utility for free. Download it right now and enjoy its incredible features.
No more content