If you've not cleaned your PC for a long time, the chances are that it might have stored duplicate data, hampering the overall performance of the system.
Thanks to the best duplicate finders, you can now efficiently declutter all the same files, images, and other extra data in your system to free up space in a few minutes. After thorough research and testing, we found Easy Duplicate file finder the best option to save you from hours of effort in cleaning your PC.  
This article unveils the Easy Duplicate File Finder, including its compatibility and features, making it the best pick over all other options. 
Easy Duplicate File Finder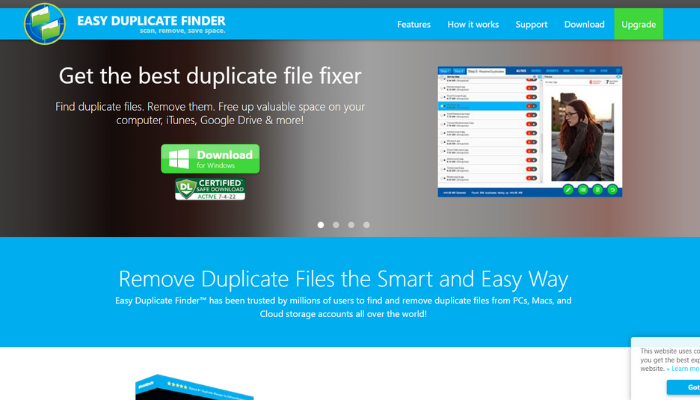 Since copying the data from one disk to the other is often a hassle, it's best to look for duplicate files in every disk and folder. So, cut the hassle and install the Easy Duplicate Finder that comes with an efficient algorithm system to search for the files with similar names, creation dates, and the data inside.
Another impressive feature of the tool is its CRM checksum that works well for nearly all types of content, including multimedia images, videos, photos, documents, PDFs and audios, etc. This tool can scan duplicate or clone items anywhere from Windows Media, Google Drive, iTunes, and iPhoto, to cloud storage. 
Surprisingly, Easy Duplicate File Finder has made a breakthrough by launching a new version of its lineup. Featuring the OS Catalina and Sur support system, EDF 7 has brought more ease for Mac users with its faster scanning and lesser memory consumption.
Designed to perfection, both versions of the Easy Duplicate File Finder are compatible with all versions of the Windows operating system, including Windows XP, Vista, 7, 8, 10, and Mac. 
Price: Its single computer license charges $59.95/year.
Compatibility: Windows

Easy Duplicate Finder Review
Main features of Easy Duplicate File Finder:
Go through this quick breakdown of some of the most impressive features of Easy Duplicate Finder. 
For your ease, the software features different scanning modes to choose between files, iTunes, and other options. 
The tool has made previewing files more straightforward than ever to cross-check all the files in just a few clicks. 
Easy duplicate finder guarantees 100% accuracy when it comes to eliminating all duplicate files with 100% accuracy. 
It lets you delete files from other cloud storage accounts, including Dropbox and Google drive. 
Easy Duplicate File runs the scan for all types of multimedia, including JPEG, PDFs, Docs, MP4, MP3, PNG, etc. 
It offers complete control to the end-users and allows you to recover deleted files easily with just a click on the ''undo" button. 
The scan rate of the software is amazingly faster than other software. Also, it can scan the files in two similar folders by compressing them simultaneously. 
Not only duplicate files, but the software also works for scanning similar contacts and emails. 
Once the duplicate files get deleted, you can quickly check the results in the storage feed. 
More than ten file scan modes are available on the Easy Duplicate File Finder. 
In addition to all other features, EDF 7, the latest version of Easy Duplicate File Finder, has OS Catalina for a faster scan rate. 
Price:
While Easy Duplicate File Finder is not free software, you'll have to pay for this premium software to access all the handy features available.
For the time being, it offers the option of a free trial which later upgrades to four-tier pricing to purchase the yearly subscription of the software. Per their official website, the price for the software ranges from 59.95 to 269.95 dollars per year. 
Pros:
Safest third-party application. 
Faster scan rate.
Easy user interface.
It features a Walkthrough wizard for scanning clone items.
Emergency recovery is available.
Quick preview of files.
Cons:
It has a Limited free version. 
EDF 7 features fewer scan modes. 
EDF 5 consumes extra memory. 
Compatibility
Designed to perfection, both versions of the Easy Duplicate File Finder are compatible with all versions of the Windows operating system, including Windows XP, Vista, 7, 8, 10, and Mac. 
How to Use Duplicate File Finder to Find & Remove Duplicate Files
Speaking of ease, deleting multiple duplicate files with Easy Duplicate File Finder is not a battle of nerves. All you've to do is install the software on your computer and launch it. Once done, follow the below-mentioned steps to use the duplicate finder to delete identical items in just a few clicks: 
Step 1. Set the Scan Mode
Launch the Easy Duplicate Finder and set it to scan the entire hard drive or SSD using File Search mode.
Step 2. Scan to Search for the Duplicate Files
Wait for a few minutes to complete the scan. Depending on how many files you have on your computer, the Scan process could take a little while.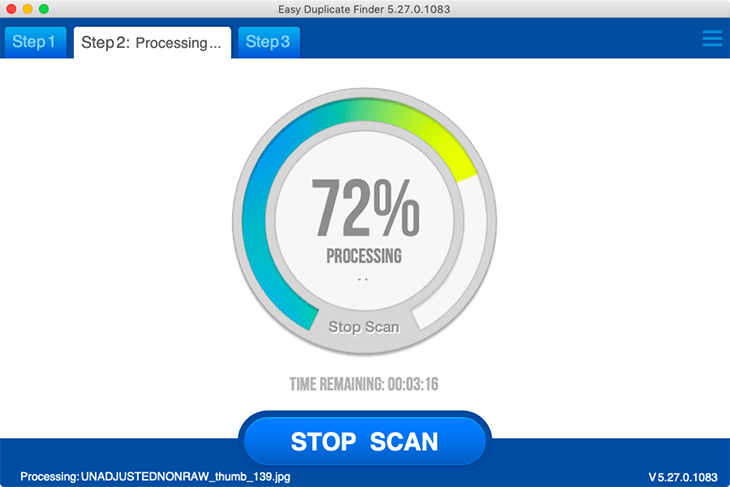 Step 3. Review Results
After the scan is complete, the identical files data will appear on the screen. Review the app's results for identical files, including audio, video, documents and more.
Step 4. Remove Duplicate Files
Easy Duplicate Finder automatically suggests which files you should delete, you can click a button to automatically move duplicate files to the Trash or set file management preferences to delete only certain files.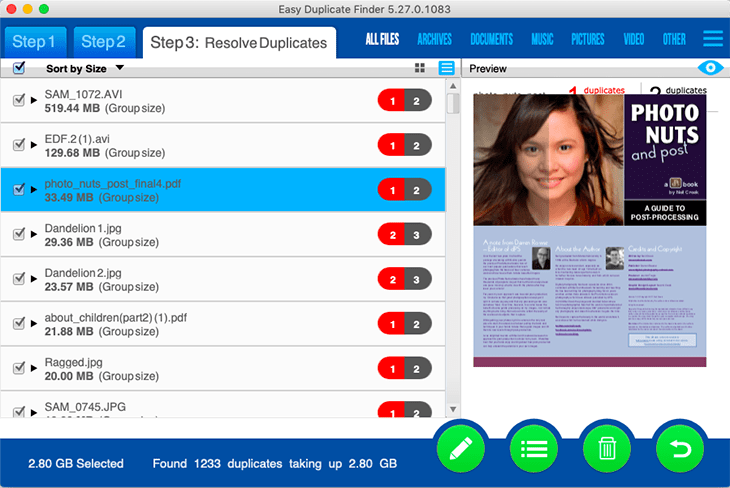 *If you accidentally delete a file that you didn't wish to, don't panic! Easy Duplicate Finder comes with a handy "Undo" feature, which will recover files that were mistakenly removed.
 Part 3. Sum Up
With helpful filters and high-end CRM checksum, Easy Duplicate File Finder makes deleting duplicate data on a PC a piece of cake. A plethora of scanning options, complete ease, and top-notch customer support are available to help you thoroughly.
In short, it's your all-in-one tool to eliminate duplicate data that can be a threat to your PC later. Although it has a lot of perks to offer, its outdated and complex interface may give you a hard time browsing through the different options.
Price: Its single computer license charges $59.95/year.
Compatibility: Windows
No more content