DRM-protected Kindle books purchased on Amazon can only be read either on Kindle Reader or maybe an authorized Kindle App. Most ebook readers, such as the Nook, do not support reading your purchased Kindle books. Amazon uses DRM-based copy-protection methods to safeguard Kindle ebooks from illegal downloading, but the DRM system limits your choices as a user.
You can't, for example, make backups of Kindle books you already have, and you can't change DRM-protected ebooks into some other electronic forms such as EPUB or PDF that could be accessed using non-Amazon applications. This article will provide you with a simple method to convert DRM-protected Kindle books to PDF format.
How to Convert DRM Protected Kindle Books to PDF Format 
Epubor Ultimate for Windows or Mac is the simplest way to remove DRM from eBooks and export them to another format. Epubor Ultimate is a feature-rich ebook service for all sorts of readers, yet the only full ebook software that allows you to back up acquired ebooks and read ebooks on any gadget or application without constraints.
Price: Its Lifetime license costs $49.99/1 PC, $54.99/1 MAC.
Compatibility: Windows and Mac
Key Features
●     Eliminates DRM from eBooks.
The finest ebook DRM removing program is Epubor Ultimate. It can remove DRM from ebooks bought from marketplaces like Amazon, Kobo, Google Play, Barnes and Noble, and others. The DRM removal software has a success record of 99 percent, which is far greater than rival tools.
Kindle DRM, Kobo DRM, Adobe Adept DRM, and Nook DRM are all compatible DRM types.
●     Convert ebooks to various formats
It can export ebooks to Epub, PDF, Mobi, AZW3, or TXT with unaltered resolution and remove DRM from them. Epubor Ultimate uses its converter core, allowing extremely rapid conversion speeds. You could access your ebooks on your preferred reading software or eReaders and smartphones and tablets after they've been converted.
●     User-friendly interface
The tidy and straightforward interface of Epubor Ultimate will astound you when you first access it. It will recognize and show the ebooks you acquired via reading applications on the left side. Drag the ebooks towards the right side to remove the DRM. Finding where your ebooks are saved on your system would save you time. The acquired ebooks will be detected if you connect your Kindle and Kobo eReader to your pc.
●     Epubor Ultimate makes editing ebook information a breeze
Epubor Ultimate also proves helpful when it pertains to modifying ebook metadata, including the book's cover, title, or author. It could be used as a metadata modifier if you are unhappy with the data provided.
●     Customer service is available around the clock
Epubor provides a variety of ways for clients to contact their customer care to obtain help as quickly as possible.
You may either open a live conversation with Epubor technical assistance in the lower right corner or send an email to [email protected]
Steps to use the Epubor Ultimate to Convert DRM Protected Kindle Books to PDF Format
Step 1: To begin, get the Epubor Ultimate software on your device. 
Step 2: Start Epubor Ultimate. To remove DRM, drag the kindle books from the left side towards the right.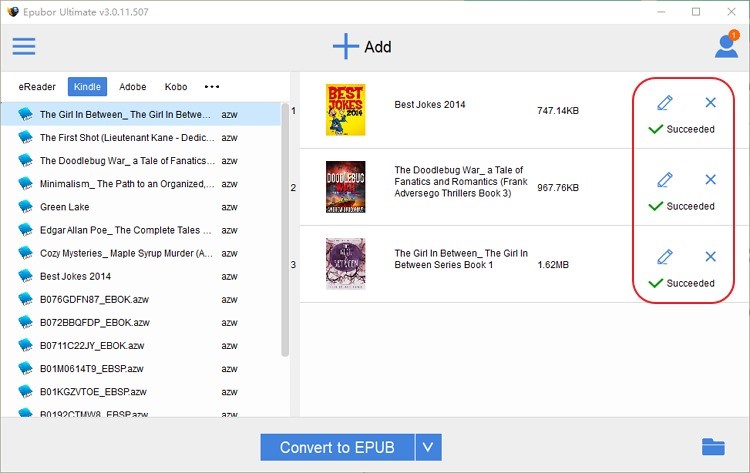 Step 3: Choose a format for the output.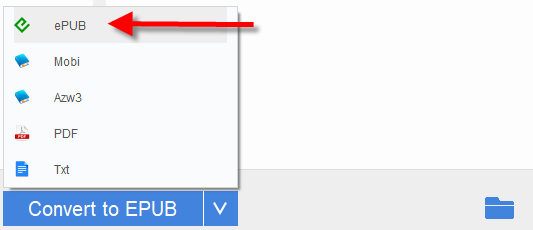 Step 4: To start the conversion, select "Convert to..."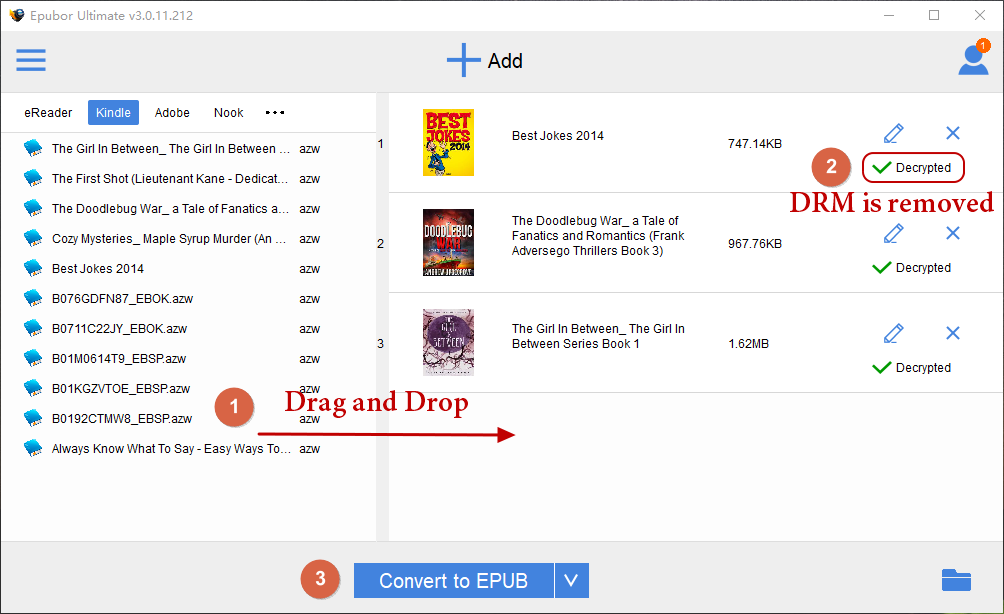 Step 5: To locate your transformed DRM-free ebooks, select the folder icon in the lower right corner.
Wrapping Up
Epubor Ultimate Converter is another shop for recovering, converting, and altering ebook metadata. It has a lot of essential functions and a nice and clean UI to go with it. The conversion is quick, and you can finish your task with fewer steps. It is, without a doubt, one of the finest.
The essence of eliminating Kindle DRM is to use your personal purchases, which is why you must sign in to your Amazon profile or KSN to use this tool. All of them are connected to your Amazon account. You may download your books to various devices, back them up, or share them with friends, among other things. However, no reselling!
Price: Its Lifetime license costs $49.99/1 PC, $54.99/1 MAC.
Compatibility: Windows and Mac
No more content