The EPUB (Electronic Publication) format is used with the extension. epub and is a digital book. This format is easy to read but cannot be printed. An ePub to PDF converter is a tool that facilitates the conversion of ebooks into PDF documents. Although ePub files can only be read on eReader software that supports them, PDF files are far more universal, compact, and versatile and can thus be seen on almost any device. PDF documents are easier to edit, compress, lock/protect and are more valuable than ePub documents. This guide offers a few software regarded as the best EPUB to PDF converters on the market.
How to Convert DRM EPUB to PDF
Epubor Software is a well-known software development firm that offers a wide range of software services and products. Epubor Ultimate is one of their well-known DRM removers and ebook converters. DRM, or Digital Rights Management, is a digital footprint intended to prevent piracy of Ebook content.
Epubor Ultimate removes DRM from ebooks, converts them to different formats, and provides an easily accessible library. As a result, it creates a secure library where you can keep all your cherished pages filled with poignant memories. You can store a backup in this manner and never worry about losing anything.
Key Features:
Editing support for metadata.
Search the library.
Comprehensive user guide.
Simple user interface.
Input formats supported: EPUB, PDF, AZW, AZW1, AZW3, AZW4, Mobi, PRC, TPZ, Topaz, TXT, and HTML.
Output formats supported: EPUB, Mobi, and PDF (Common and large font sizes).
Price: Its Lifetime license costs $49.99/1 PC, $54.99/1 MAC.
Compatibility: Windows and Mac
eBooks purchased through Amazon Kindle, Barnes & Noble Nook, Kobo, Google Play, Lulu, Smashwords, Fictionwise, and Sony are all supported by Epubor Ultimate Converter.
Convert DRM EPUB to PDF step-by-step guide:
Step 1: Launch Epubor Ultimate.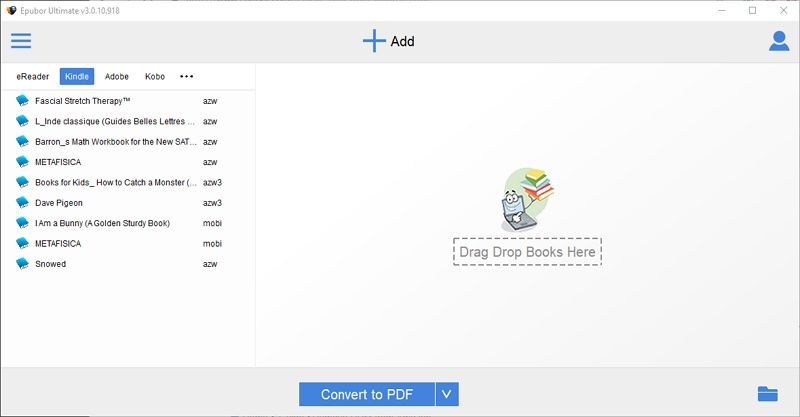 Step 2: To remove eBook DRM, drag and drop ebooks from the left to right column, and the DRM will be successfully removed.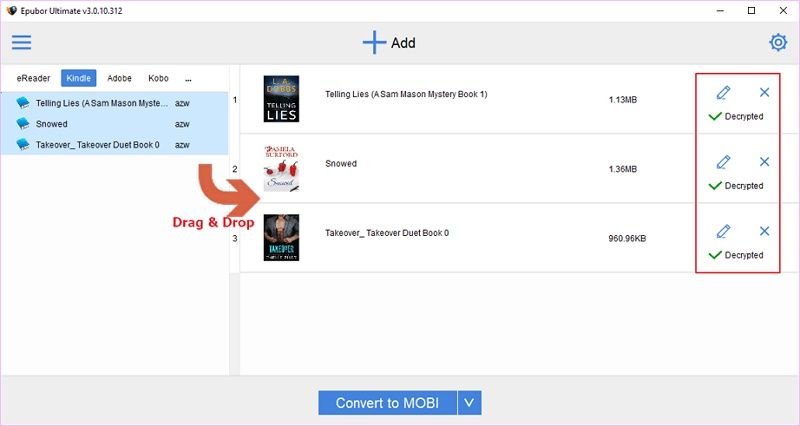 Step 3: Once all eBooks have been decrypted, the DRM-free eBooks must be converted to PDF. It's a simple step that you can efficiently complete with Epubor Ultimate.
The conversion button is located in the center. Choose "PDF" as the output format, then click the "Convert to PDF" button to begin the conversion.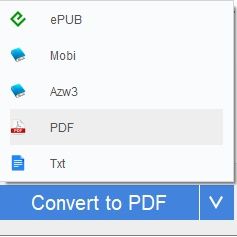 When all books have been converted to pdf, the word "Success" will appear at the bottom of each converted eBook. Click on the output folder icon in the lower right corner to find the converted books.

Method 2: Wondershare PDFelement Pro
We present the useful program PDFelement Pro. This software's key advantage is that it allows you to edit PDF files without interruption. It was once said to be superior to Adobe products. You may convert a PDF file to Word, PowerPoint, Excel, and other formats. This app requires no additional technical skills to use. It has clear instructions and a more user-friendly layout to appeal to all users. With this software, you can convert DRM EPUB to PDF in minutes.
Step-by-step guide:
Step 1: Import EPUB File to the program.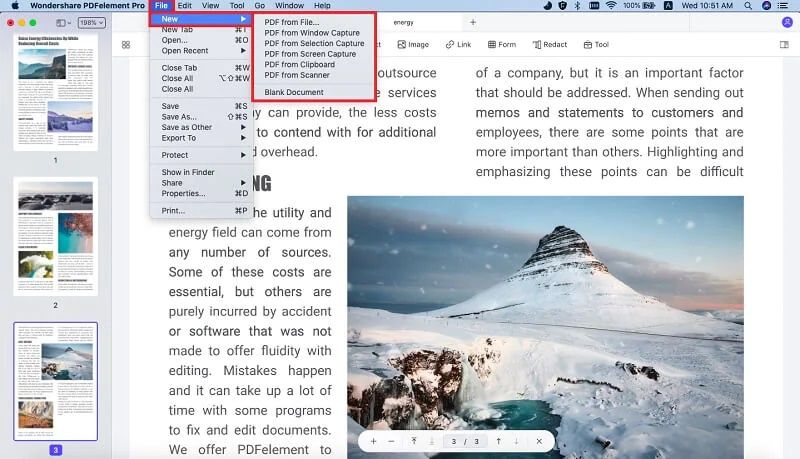 Step 2: Edit the DRM EPUB.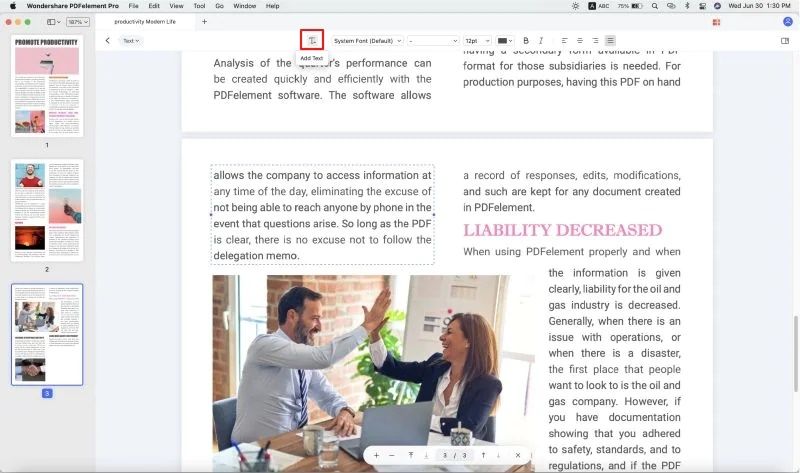 Step 3: Save EPUB DRM to PDF
This is the last step. You must save all of your previous actions to give your work a finishing touch. To keep the EPUB file in PDF Format, open the "File" menu and select "Save as." The file can be stored and given a new name whenever you like.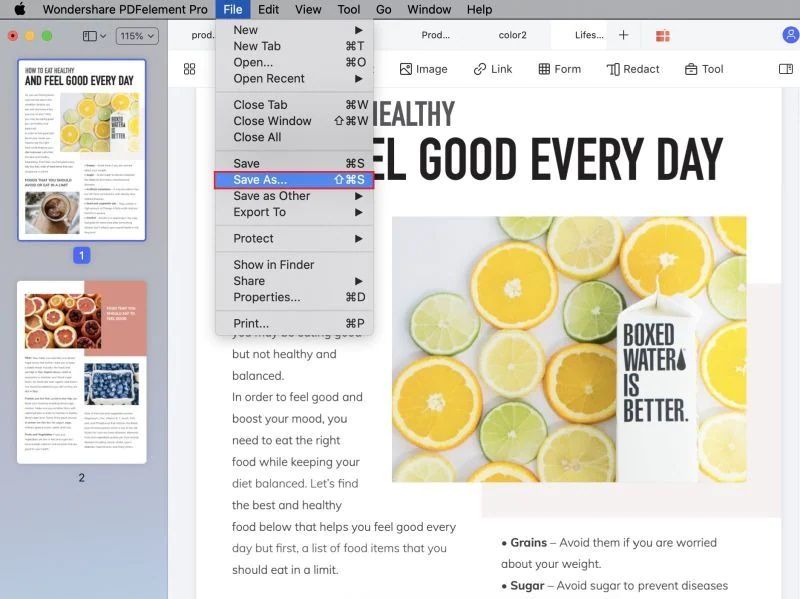 Method 3: Requiem
Unfortunately, the programs mentioned above will not assist you in removing DRM from books purchased from the iBookstore. We're all aware that books purchased from the iBookstore are protected by Apple's proprietary Fairplay DRM. So, how do you deal with iBooks DRM epub if you want to convert them to pdf and read them on platforms other than iOS? After browsing the Internet, I discovered a tool called Requiem that can remove iBooks DRM. You can give it a shot.
Step-by-step-guide:
Step 1: Start Requiem and follow the instructions to remove the Apple Fairplay DRM.

Step 2: After successfully removing DRM from iBooks epub, you can continue converting DRM-free epub to pdf with Epubor ultimate converter. If your epub books are DRM-free, you will save time.
Sum Up
If you want to quickly and effortlessly convert DRM ePub files to PDF files, the best DRM ePub to PDF converter is a must-have application. This article has discussed several tools that have been shown to deliver a complete and reliable DRM EPUB to the PDF conversion procedure. Using Epubor Ultimate, you may avoid the time-consuming and arduous effort of filtering through many programs. It is far more user-friendly than the other tools. It is the ideal option for people who are unfamiliar with computer technology. It also saves time and increases efficiency.
Price: Its Lifetime license costs $49.99/1 PC, $54.99/1 MAC.
Compatibility: Windows and Mac
No more content