Everyone in the twenty-first century loves Instagram. Day after day, you'll uncover a plethora of lovely films uploaded by your friends and Instagram influencers. However, strange things like the Instagram video, not uploading, and the video looks like a pixelated mess occur regularly when you submit our video. Why?
The main cause is the huge video file size. Every video greater than the required size will be compressed by Instagram. In addition, Instagram's bad video compression algorithm is a nightmare for 4K UHD and other high-definition videos.
Fortunately, we can prevent these problems by reducing Instagram videos and compressing them ourselves. We'll show you two simple ways to get there in this post. After reading this article, you should be able to post huge videos to Instagram without sacrificing quality.
How to Compress a Video for Instagram via WinX HD Video Converter Deluxe
WinX HD Video Converter Deluxe takes your 4K/HD video converting speed to new heights by allowing multiple CPU cores to encode and decode videos using QSV and CUDA/NVENC at the same time. It allows you to quickly download and convert HD/Ultra HD videos and edit, trim, combine crop, and subtitle videos.
WinX HD Video Converter Deluxe is an all-in-one video software that functions as an HD video converter, slideshow maker, video editor, and YouTube online video downloader. It supports 320 video and 50 audio codecs, allowing you to convert any video without using a third-party program. Additionally, it enables the downloading of videos from over 300 different websites. You can either download the video or convert it in real-time.
WinX HD Video Converter Deluxe is the most reliable Instagram video compressor. It will compress SD, HD, and 4K video to the highest quality possible for Instagram feeds stories and IGTV.
It processes videos at 47x real-time fast speed thanks to the Level-3 hardware acceleration technology.
Features:
Compress huge 4K/HD videos to fit within the Instagram size limit by up to 90% without sacrificing quality.
Long videos can be cut into 60-second segments, resolutions can be reduced, codecs can be changed, and frame rates can be changed, among other things.
Convert videos to Instagram MOV and MP4 (and 420+ other formats) with ease.
Resize videos to 1.91:1, 1:1, 4:5, or other aspect ratios for Instagram.
Add subtitles to the video after extracting audio/snapshot from it.
Make presentations using your photos.
Price: It costs $24.95/3-month, $49.95/Annual, and $51.95/Lifetime. 
Compatibility: Windows and Mac
Steps to compress a video for Instagram
Step 1: Add the video source. Launch the Instagram video compressor, then pick the source video you want to compress for Instagram by clicking the "+Video" button at the top. It allows you to batch compress many videos at once.
Step 2: Choose an output format. An Output Profile window appears immediately when your movie has loaded. To convert videos to MP4, go to "General Profiles" > "MP4 Video (h264+aac)" > "OK," for example, MKV to MP4. Of course, because Instagram recommends.mp4 and.mov video formats, you can also select "MOV Video" as the output option.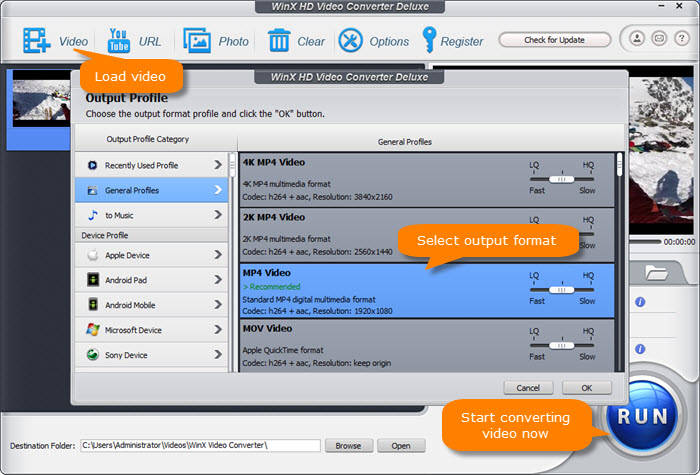 Step 3: Reduce the size of your videos on Instagram. To change the parameters settings, click the gear-shaped Setting icon. Change the resolution, frame rate, bitrate, aspect ratio, and other settings using the drop-down menus.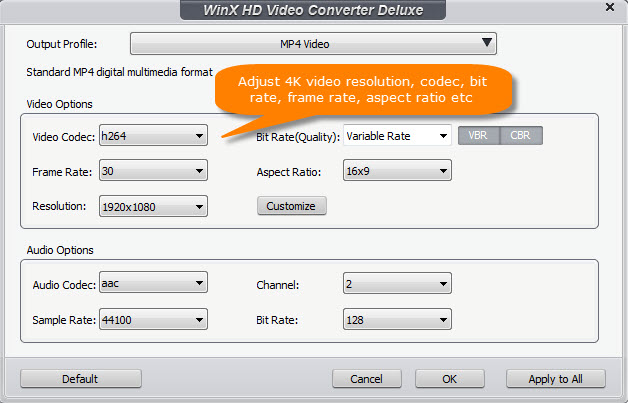 Step 4: Compress video for Instagram now!
Returning to the main interface, you may enable Use High-Quality Engine and Deinterlacing to improve the output video quality and the Intel/NVIDIA Hardware Accelerator option to compress HD or 4K movies faster for Instagram. Then, to begin lowering the file size for Instagram feed, story, or IGTV, click the "RUN" button. After that, you can upload the high-resolution video to Instagram without sacrificing quality.
How to Compress a Video for Instagram Online
Reducing the video size for Instagram on your browser is the most convenient method. Fortunately, several web applications are created specifically for this purpose. You do not need to download or register to use these tools. You have to upload your video, make a few tweaks to the parameters, and hit the create button. They do, however, have several drawbacks. Pop-up advertising and links to unfamiliar websites are already major issues.
If you prefer to compress your Instagram video in your browser, we recommend Freeconvert.
Step-by-step guide
Step 1: Select the original Instagram video file for uploading to the online tool by pressing the Choose Files button.
Step 2: As the output video file format, select MP4.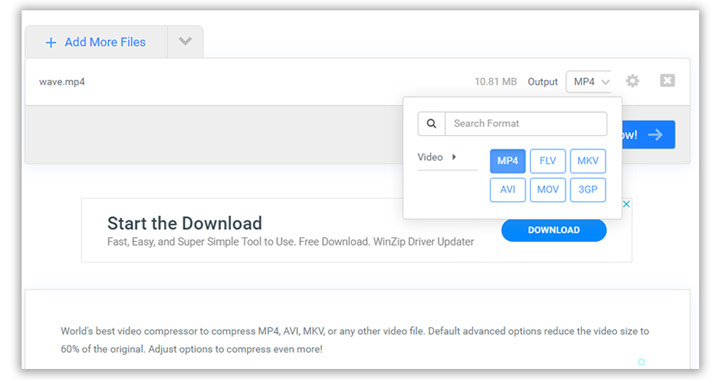 Step 3: To get to the Advanced Options screen, use the tool button.
Step 4: Choose H264 as the video codec.
Step 5: Select the Compression Method from the drop-down menu. For example, to decrease or increase the size of a file, select Target a file size and then drag the cursor left or right on the Select Target Size bar below.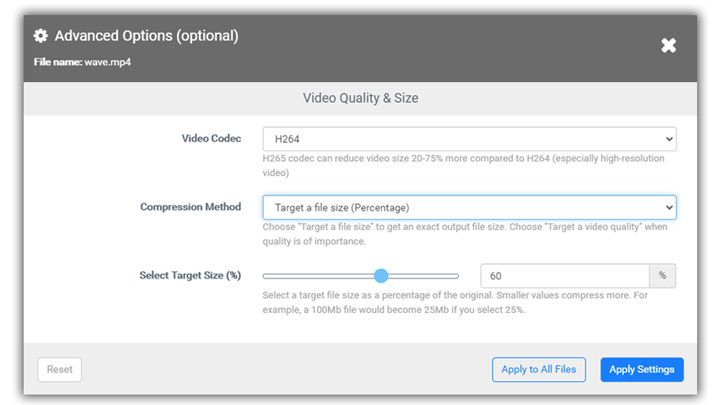 Step 6: Apply the setting by pressing the Apply button. To compress Instagram video online, click Compress Now.
Wrapping Up
We went over two approaches for compressing videos for Instagram in depth. We strongly advise you to select WinX HD Video Converter Deluxe over the other. WinX HD Video Converter Deluxe functions as a complete Instagram software since it not only compresses videos for Instagram without sacrificing quality but also provides trimming, cropping, conversion, and download.
Price: It costs $24.95/3-month, $49.95/Annual, and $51.95/Lifetime. 
Compatibility: Windows and Mac
No more content