Occasionally while browsing through your Twitter account, either for personal or business purposes, you come across some profound creative and immersive video content that you just can't resist downloading.
Unlike sharing videos and saving images, which are quite easy to do with just a few clicks from your PC, downloading video content from Twitter will require a reliable Twitter video downloader. Identical to YouTube, Facebook, and other video downloaders, Twitter video downloaders help you download videos to your computer directly. 
Having the option to download videos with just a few clicks from Twitter can be rejuvenating and in this guide, we present you with the best Twitter video downloaders for your Windows and Mac PC. Let's get right into it and see what makes them exceptional.
Part 1. The 2 Best Twitter Video Downloader for Windows
Part 2. The 2 Best Twitter Video Downloader for Mac
Part 3. Which Twitter Video Downloader is Best For You?
The 2 Best Twitter Video Downloader For Windows
In this part, we'll be considering two of the best Twitter video downloaders for Windows users. 
1. 4K Video Downloader
An easy, swift, powerful, affordable, and 100% genuine software for downloading videos from the internet or social networks. 
4K Video Downloader is a comprehensive desktop tool in the range of five different 4K Download Programs. It's a multi-platform download administrator that is utilized for downloading videos and audio from renowned video sites such as YouTube, Twitter, TikTok, Flickr, etc.
It allows you to download channels and captions and supports MP4, FLV, MKV, 3GP, and MP3 format and quality. All downloads are processed smoothly without quality loss and are available in multiple languages.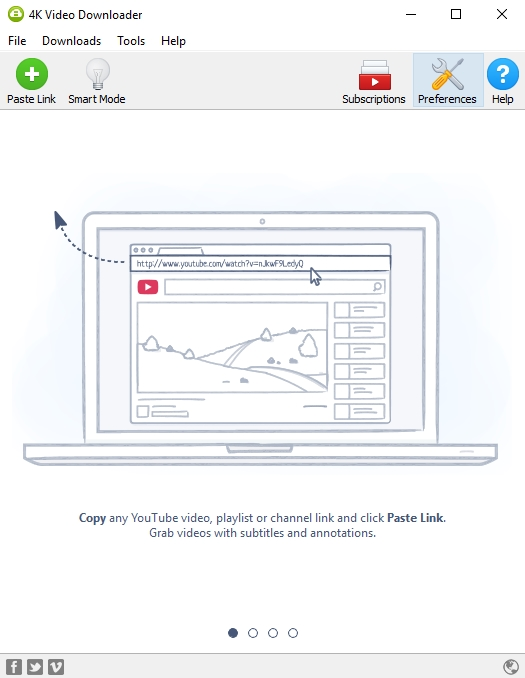 Pros
Download videos in 4K quality, even up to 8K quality.
Possesses a Smart mode feature to automatically apply preference settings to subsequent downloads.
It enables the downloads of 3D and virtual reality videos.
It includes annotations and subtitles from over 50 languages along with the videos.
Cons
The free version is restricted to a few downloads and features.
The free version is prone to clutter such as ads.
The tool isn't available on mobile platforms.
Price:  It starts at $15.00/year.
Compatibility: Windows
2. EaseUS Video Downloader
A versatile, reliable, and easy-to-use video downloader for Windows PC that offers the possibility to download videos and access them while offline. 
EaseUS Video Downloader is an exquisite application that allows you to download videos from more than 1,000 videos websites such as YouTube, Twitter, Instagram, Facebook, TikTok, CBS, Twitch, Dailymotion, SoundCloud, Bilibili, etc., by inputting the video URL into its download box.
The aesthetic dark-themed GUI of the EaseUS Video Downloader features one-click access to its significant functions without you going through different menus. It provides shortcut access to some major websites and also grants alternatives to include new shortcuts based on your preference. It supports the conversion of videos to MP3 in qualities including 320kbps, 25 kbps, and 128 kbps for offline access when you're not connected to the internet.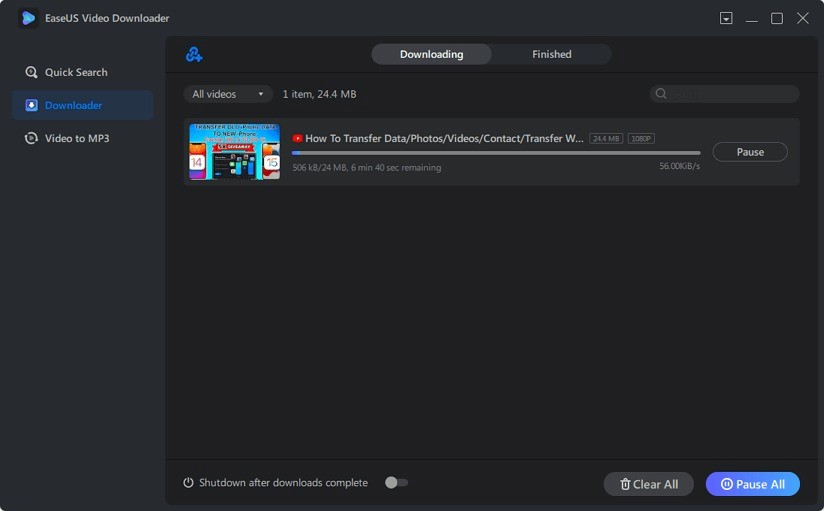 Pros:
Downloads videos in HD/4k and 8k quality.
Smooth user interface for quick accessibility.
It enables bulk download of video/audio content.
Cons:
It offers the download of only 5 items in the free trial.
It is used by Windows users only.
Price: Its Windows version starts at $23.95/month for 3 PCs, its Mac version starts at $39.95/month for 3 machines.
Compatibility: Windows and Mac
The 2 Best Twitter Video Downloader for Mac
In this section, we'll be considering two of the best Twitter Video Downloaders for Mac users.
1. iTube HD Video Downloader
A 3X fast trusted, and effective video downloader for Mac users. It downloads HD videos from over 10,000 video-sharing websites such as YouTube, Twitter, Vimeo, Facebook, Dailymotion, and more on your Mac computers.
 The iTube HD video downloader is a personal use software and can download videos in higher qualities including 4K UHD, 4K, 120P, 1080P, 720P, 480P, 30P, etc. Also, it is capable of recording and converting videos to MP3 formats in high quality. Additionally, iTube HD Video Downloader has a Private Mode feature that provides you with a password-secured folder for protecting your downloads.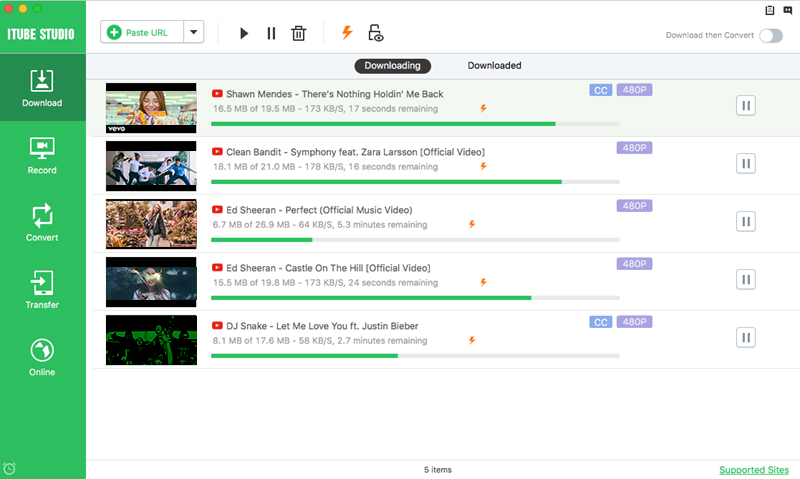 Pros
Supports high-quality video downloads.
Provides Turbo Mode for quick downloads.
Supports the conversion of videos into different formats.
Maintains screen recordings in their original quality.
Cons
The video conversion mode is quite slow in some cases.
There are sometimes lags in screen recordings due to the low frame rate.
The Turbo mode is a little slow.
Price: Its Windows version starts at $19.00/year for 1 PC, its Mac version starts at $24.95/year for 1 Mac.
Compatibility: Windows and Mac
2. MP3Studio
A brand-new unique, flexible, and high-quality video converter. MP3Studio is a versatile and gratis tool that enables you to save all your favorite content on Twitter without hassle.
Its intuitive interface allows you to download your preferable videos via link copy-pasting, leaving the whole process utterly painless. Better yet, there are loads of formats at your disposal to convert the original video you are into while downloading them. It also supports batch conversion of videos in 1080p quality.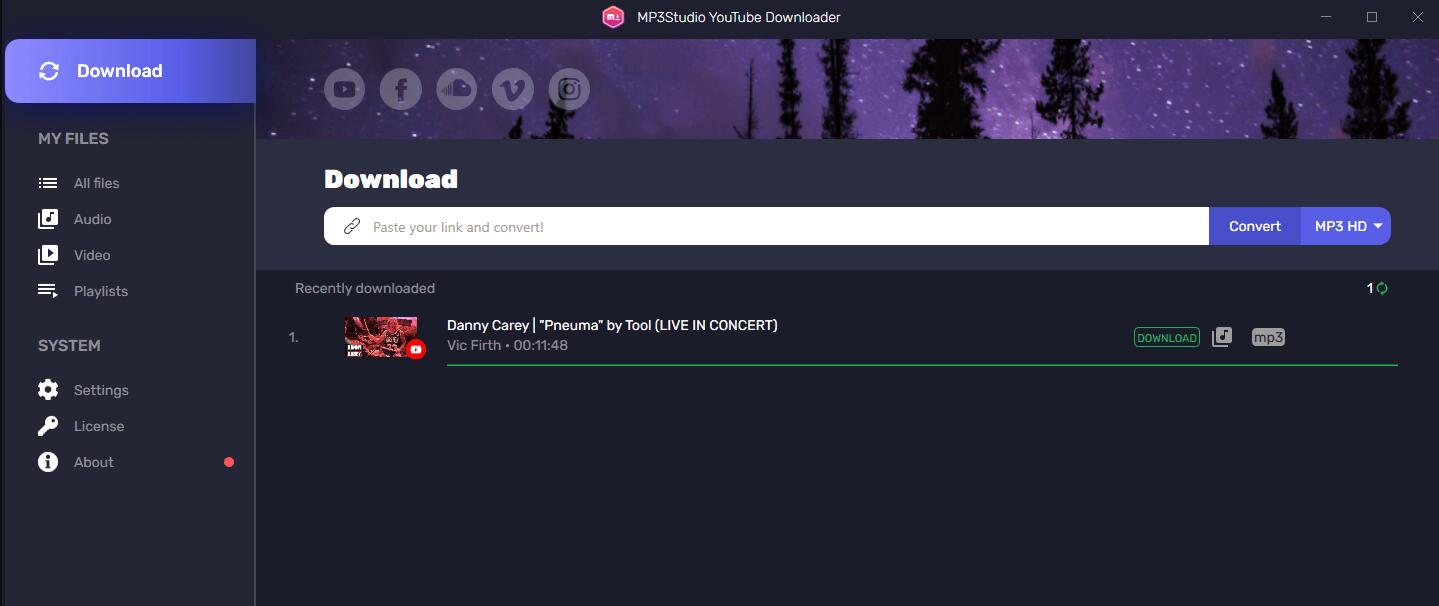 Pros:
You are allowed to grab numerous songs as MP3Studio owns no data caps. 
Free from viruses and other threats
Wide Range of Platform Support
Comprehensive Format Selection
Cons:
You are not allowed to upload 99 files at once.
You can not convert videos with 4K, or 8K quality
 
Which Twitter Video Downloader is Best For You?
There are varieties of video downloaders software and selecting the right one that can guarantee the utmost satisfaction might prove somewhat difficult. Here, we list some important factors you need to consider when selecting a Twitter video Downloader software for better decision-making. 
Download speed and ease of use.
Software compatibility and support system.
Embedded features and GUI.
The quality of video downloads.
No more content