It is very common that we always enjoy movies, songs, and books online, whether on the computer, smartphone, tablet, or other devices. And sometimes, we would like to download these resources to our devices for offline reading, watching, and listening. However, it may not always be as smooth as we think because some files are protected by DRM, which is the abbreviation of Digital Right Management. DRM is designed to prevent the files from being misused or used illegally. If a file is encrypted by DRM, you can't open it directly. You need the remove them before using the file. It sounds like a difficult task to remove the DRM in digital files. But thankfully, we still have some practical tools to remove DRM, and you can use them with confidence because it is legal to do that.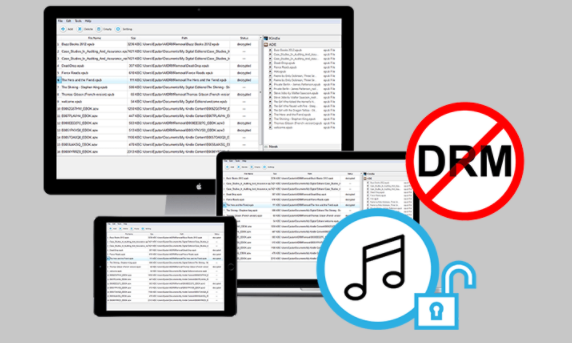 In this post, we find and test the 5 best DRM removal software used for Windows and Mac. Each software has its features which are worth our try. They can be used for different types of files. Now, let's look at them in detail.
3.Sidify Apple Music Converter
4.Aimersoft DRM Media Converter
Software 1: Epubor Ultimate
Compatibility: Windows & Mac
The first tool that we have to mention is the Epubor Ultimate, a perfect tool used to remove audible DRM and ebook DRM. Besides this, it can be used to convert audible AA/AAX to MP3 or M4B with a significantly faster speed, and it can convert between different formats. Very easy to operate, the Epubor Ultimate can decrypt and remove DRM in files with just one click. "Works just perfectly. I didn't imagine that I can convert the DRMed eBooks to the format I want so easily. Thank you guys." This is a description from one of its users. So this software is worth your try. 
Price: Its Lifetime license costs $49.99/1 PC, $54.99/1 MAC.
Compatibility: Windows and Mac
Step-by-step Guide:
Step 1: Download and launch the Epubor Ultimate.
Step 2:Remove DRM in Kindle books.
On the left side of the interface, you can see some options, including "eReader", "Kindle", "Adobe", "Kobe" and some others. Select the "Kindle" button. In the displaying items, find the target you want to remove DRM. Drag it into the right side. The DRM will be removed automatically.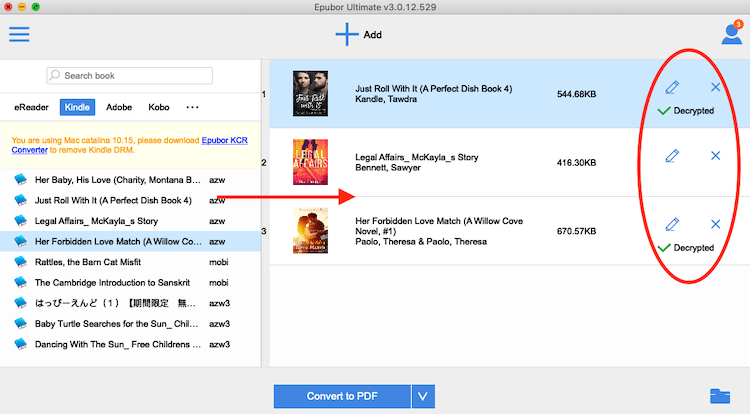 If you want to remove DRM or convert the format of other files that don't belong to any option, you can click the "Add" button. 
Software 2: DRmare MV4 Converter
Compatibility: Windows & Mac

DRmare MV4 Converter is a reliable professional video converter that can be applied to Windows and Mac. Using this software, you are enabled to remove any DRM in MV4 videos without any quality loss. What's more, it owns the function to change standard video format into MP4, MOV, AVI, etc. 
Software 3: Sidify Apple Music Converter
Compatibility: Windows & Mac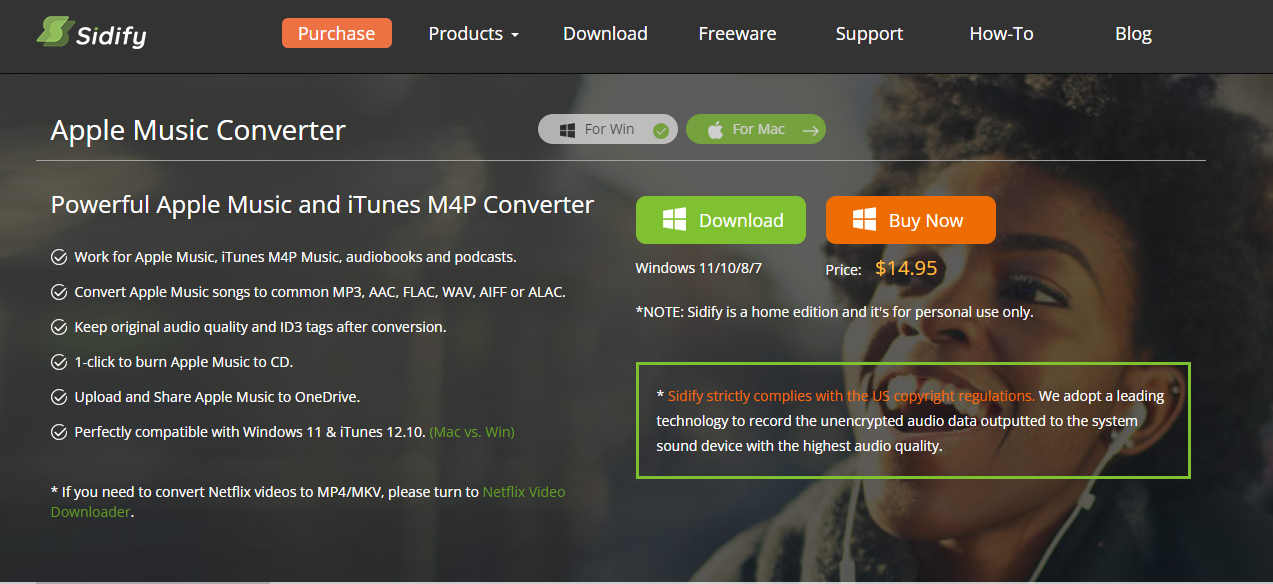 The Sidify Apple Music Converter is a powerful music converter that has a high rating in removing DRM in music. Compatible with both for Windows and Mac, the Apple Music Converter also converts music to nay format like MP3, AAC, WAV, etc. Using advanced ID tag identification technology, it can save the original ID3 tag even after the conversion, like title, artist, track number, etc.
Software 4: Aimersoft DRM Media Converter
Compatibility: Windows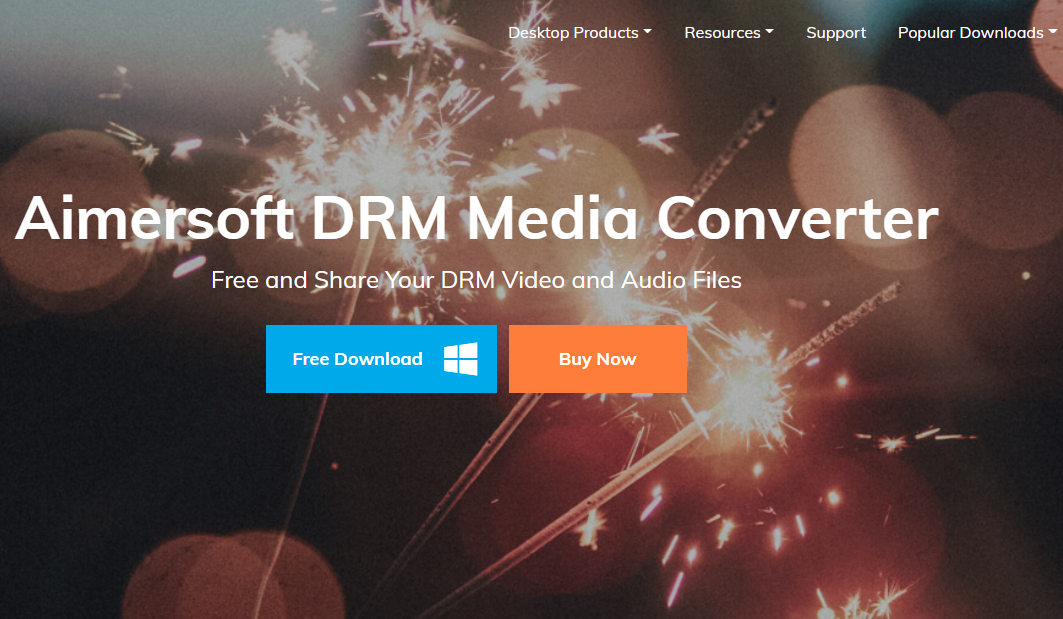 The Aimersoft DRM Media Converter is DRM removal that can decrypt DRM from any music and video except iTunes with a high speed. You can share your videos and kinds of music on any device. Besides, it can convert your media files into various formats.
The software is compatible with many different input formats, output formats, and output devices. You can choose according to your convenience and preference.
But one thing you need to pay attention to is that this software is only restricted to the Windows system.
Software 5: Any eBook/Audible Converter
Compatibility: Windows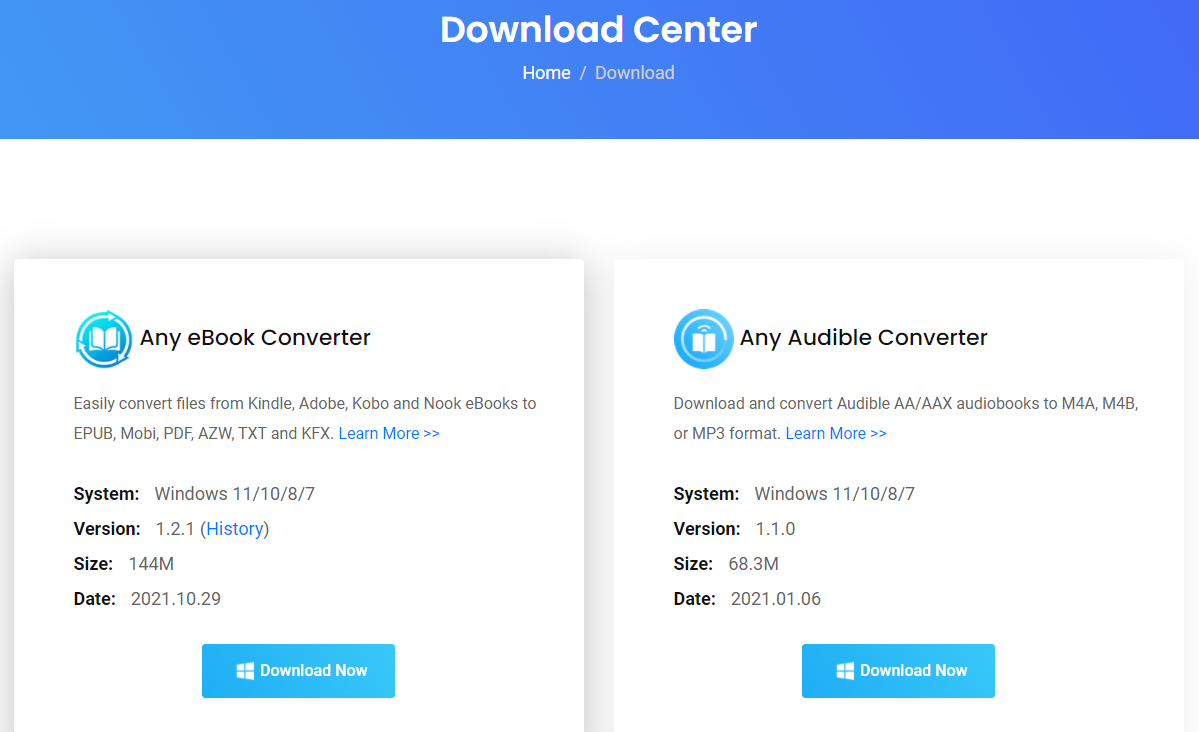 The Any eBook/Audible Converter has two different editions. One is for eBook conversion, and the other is for audio. With a simple interface, both software can effectively and easily remove DRM from ebook or audios in just a few clicks. 
The Any eBook Converter has the function to convert your eBooks into various formats, like EPUB, Mobi, PDF, etc. 
The Any Audible Converter can effortlessly download and convert Audible AA/AAX audiobooks to M4A, M4B, or MP3 format, which is very convenient to use.
This tool is only applied to the Windows system.
Sum Up
Of course, there is still much other software that can remove DRM in digital formats. You can try and find them in further experience. If you want to find a freeway, you can try some free software. The Epubor Ultimate is worth trying among all the software listed above while converting eBook formats. As for music and audio converter, you can choose according to your devices.
Price: Its Lifetime license costs $49.99/1 PC, $54.99/1 MAC.
Compatibility: Windows and Mac
No more content