The Android emulator for Windows has made the job more accessible than ever by providing every single facility of your limited screen Android phone on your desktop, from gamers to Android app developers. These Android emulators have been designed in such a way that they can mimic the full features, functions, and operating systems on your desktop. So that from texting to running any app available on the Google play store, you can do anything on this virtual android device that your phone does for you.
Gamers can bypass the limitation of playing games on the phone by having complete control of the keyboard and mouse of the PC with the big screen without battery life botheration while enjoying multiple games at a time. On the other hand, the app developers can quickly try virtual testing of their application on an Android emulator for windows by simply changing the device profile of the emulator instead of switching to a different physical device for real-time testing.
Top 15 Android Emulators for Windows
Even though there are unlimited options available in the market when it comes to Android Emulator for Windows, here you go with the top 15 list of suggestions to narrow down your search.
1. Android studio emulator

Android studio emulator has an Android Virtual Device (AVD), which is in-built in the emulator. This free emulator has a development console feature by default for Android. It has multiple features and means that help the developers to assemble many apps or games for the Android platform.
Pros
● This free, powerful, and robust software has great code tips with built-in emulators.
● It is Google's upheld Android ide with a perfect layout designer, log-cat, and keyboard shortcut features.
● This feature-packed emulator helps in faster coding with quick interaction.
Cons
● It consumes a lot of memory on your PC.
● The setup and installation process is quite complicated.
2. BlueStack

BlueStack is one of the most prominent Android emulators for Windows. It is loaded with outstanding attributes for game lovers, from the Key Mapping tool for having personalized control plans to Instance Manager for developing numerous emulator instances to run many games at a time.
Pros
● The free emulator has an Eco-Mode feature to decrease resource consumption during running demanding games.
● Safest emulator with certified GDPR compliance.
● It is the lightest, quickest and perfect for high-end gaming with more than 500 million gamer communities.
Cons
● Limitation in accessing Google play stores app.
● Performance gets down with underpowered PCs and requires a minimum of 4GB RAM to work well.
3. LD Player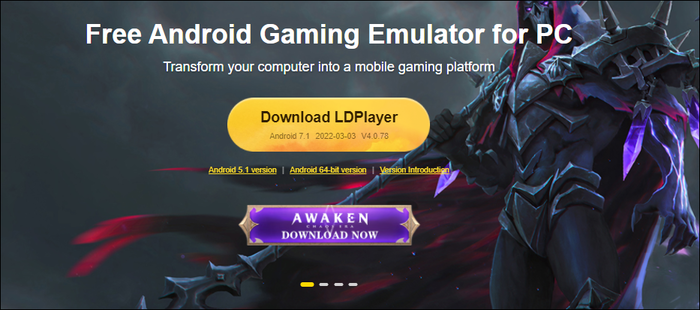 LD player is a light weighted emulator that is running Android Nougat 7.1. It has game-driven features, including high FPS, graphical support, macros, multi-instance, and keyboard mapping control.
Pros
● It gets effective updates to enhance compatibility.
● It has achieved the flawlessness of Free Fire and Mobile legends.
● Device restriction on Moonlight Sculptor has been fixed.
Cons
● Limited access to Windows.
● Fewer features as compared to other emulators.
4. Nox Player

Nox is another lightweight Android emulator for game lovers. You can play any game from Justice League to PUBG while mapping the keyboard, gamepad, and mouse keys. For mapping shortcuts or right swapping, you can also use keys of the keywords as gestures.
Pros
● Customize your CPU & RAM usage to make the most out of your game.
● There is a script recording feature, and it runs Android 9.
● Play multiple games simultaneously without hardware controller support.
Cons
● It comes with lots of unwanted software that is not easy to delete.
● Vulnerable to security with suspicious unknown files.
5. GameLoop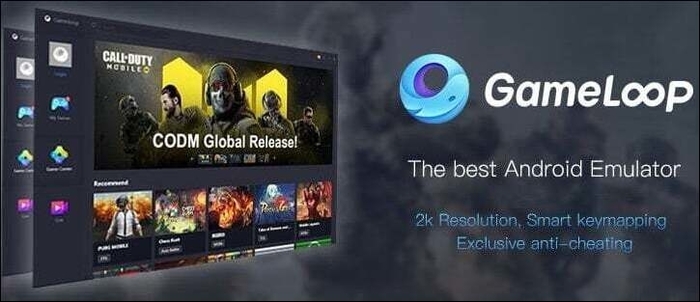 GameLoop is one of the most popular game-oriented emulators, and it is better known as Tencent Gaming Buddy. It is also known as the official emulator for gamers, and this emulator is an official partner of PUBG and Call of Duty.
Pros
● Perfect integration in keyboard and mouse.
● Flawless performance in the gaming experience.
● Good collection of new titles.
Cons
● Not suitable for development or productivity testing.
● Gaming-related apps don't run on it.
6. Andy
Andy is a great emulator to run both the apps and games with equal compatibility. The window version of this app is free. You can have complete Android access through its interface, including root access, productivity apps, games, and launchers.
Pros
● Well-balanced emulator with apps' and games' running performance.
● It Supports PlayStation and Xbox controllers.
● Heart storage capacity and it lets your phone act as a joystick.
Cons
● The APK file is not supported.
● Sometimes the installation and setting up issues have been raised.
7. Memu

The Memu is one of the games-focused Android emulators for Windows PC. It provides support to AMD and Intel chips and dedicated and integrated graphics.
Pros
● A virtualization option has been provided.
● Packed up with keyboard settings & keyboard mapping option to give a fast gaming experience.
Cons
● Best performed only on high-end PCs.
● It can't be used for development testing purposes.
8. Genymotion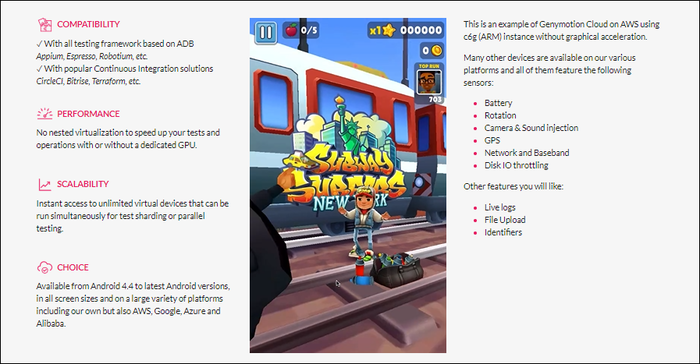 Genymotion is the best emulator for development purposes. It gives liberty to the developers to test apps in the broadest range of a variety of virtual devices, including different versions of Android.
Pros
● Compatible with Android Studio & Android SDK.
● Works in both macOS & Linux along with Windows.
● Lots of developer-friendly features.
Cons
● Virtual Box installation is a must.
● Not suitable for gaming.
9. ARChon

ARChon is a very light weighted emulator since it runs on ChromeOS, and it is the perfect software to run any Android app on ChromeOS. This emulator works with all operating systems while providing support to the latest Android system.
Pros
● Suitable for both the application and games.
● Perfect for productivity apps.
● Due to the best interaction with Chrome, running any Android app on a PC is easy.
Cons
● Not suitable for hardcore gaming.
● Occasional updates with minimum developer support.
10. PrimeOS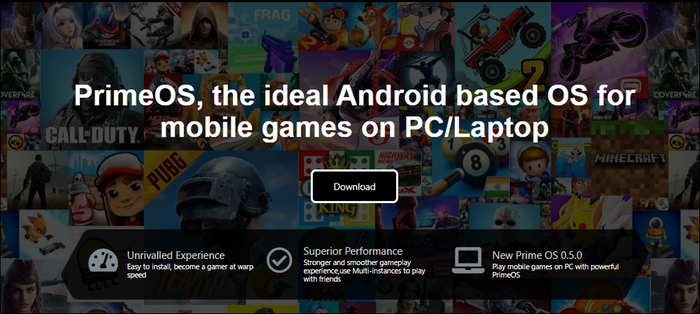 PrimeOS emulator is a perfect fusion combination of Android and PC, and it gives you the easiest and simplest access to several Android applications. For an excellent gaming experience, this emulator marges the Android ecosystem with a system interface.
Pros
● Provide dual boot support with a single click.
● Compared to the Windows budget system, this emulator is high in performance.
● Keyboard mapping, multi-window support is there with a user-friendly interface.
Cons
● Not good for graphically enriched games.
● Un Updated Google play service & lots of ads.
11. KOPlayer
KOPlayer is a free, lightweight emulator that provides a lag-free excellent gaming experience. With the most effortless installation, you can set up any Android device in this app.
Pros
● Keyboard mapping and gamepad supports are there.
● Built-in video recording feature to record your favorite videos and can share your gameplay with friends.
● Inbuilt Google play store gives you easy access to any app.
Cons
● Buggy uninstallation difficulty with freezing issue.
● Lack of customization options.
12. MuMu

MuMu is a good gaming emulator made by NetEase. With the recent update in the English language, this Android emulator for Windows 10 gives excellent performance with decent boot time and enough features.
Pros
● The Beta version is available for low-end computers.
● You can download games of your choice.
● Lesser ads.
Cons
● Basic level limited features & require internet for installation.
● English version availability is limited to window users only.
13. PhoenixOS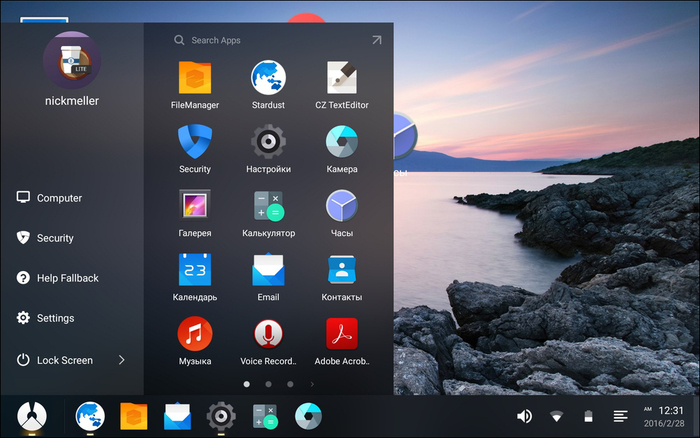 PhoenixOS is a perfect emulator for gaming and productivity purposes with its easy, user-friendly interface. It runs Android 7.1, and it is quite capable of running high dedication games with high speed.
Pros
● Multifunction support features for gamers.
● Best for low-end PCs where games run at 30+FPS.
● Google play store service is there.
Cons
● Frequent ads' appearance.
● Availability is limited to Windows only.
14. Remix OS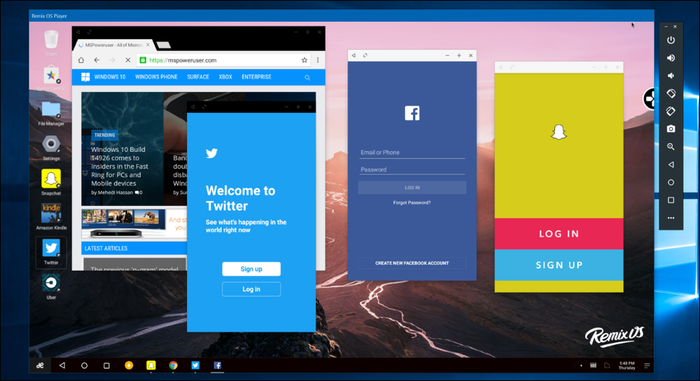 Remix OS is a bit old emulator for PC by Jide as compared to the latest emulators available in the market. With a user-friendly application and simple installation, this emulator runs Android Marshmallow.
Pros
● Packed up with game-friendly features with the customizable toolbar and multiple games running features at a time.
● Clean emulator & best for best as a productivity tool.
● The download builds from Sourceforge.
Cons
● It needed to be installed on separate partitions.
● Average in performance.
15. BlissOS
BlissOS is an android emulator that works for PCs through virtual machines. Otherwise, you can also run it on your computer through a USB stick, and it is an ad-free open-source software.
Pros
● It runs Android Oreo.
● It has Substratum Theme Engine Support.
● Beta version runs on Android 9 Pie.
Cons
● Infected by bugs and errors that can not be fixed easily.
● Compatibility limitation with Apple products.
Final Tips
Suppose you are confused about picking out the best Android Emulator for Windows for either your development testing or hardcore gaming purposes. In that case, you have to go by your specific need and requirement. Android Studio and Genymotion have come first in position for any of your app or game development purposes. Bluestacks and NoxPlayer will serve both your game and productivity purposes, then, on the other hand, Memu and Gameloop are all set to rock your gaming world.
No more content