Our Verdict 
Duplicate Photos Fixer Pro is an ideal and easy-to-use tool that makes cleaning off duplicate photos just a breeze. It's compatible with almost every OS and platform, covering Windows, Mac, iPhone, and Android.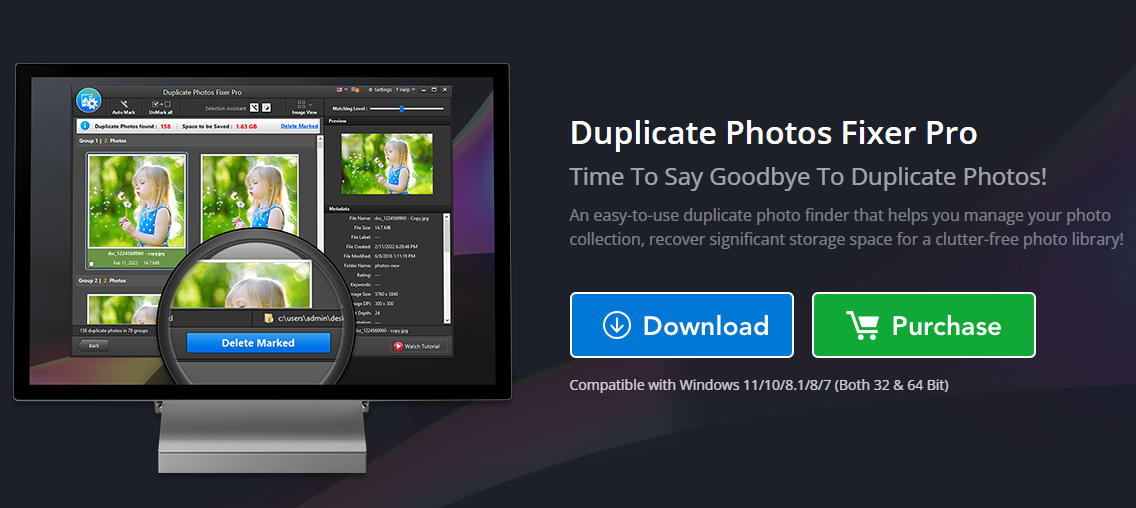 Better yet, It supports external storage devices, allowing you to remove duplicate photos on both your PC and external devices. The software also performs a fairly quick scan to locate identical and similar images on your devices.
| Parameter | Score(10 Points) |
| --- | --- |
| Finding duplicate photos | 9.5 |
| Overall Performance | 9.5 |
| Organized photo collection | 9.0 |
| Features | 9.5 |
| Pricing | 9.0 |
| Interface | 9.0 |
| Support | 9.5 |
In this in-depth Duplicate Photos Fixer Pro review, we'll offer you its main features, pricing, alternatives, and other elements you need to ponder for an ultimate choice. 


Start from$39.95

Table of contents
Parte 1. Duplicate Photos Fixer Pro: Main Features
Parte 2. Duplicate Photos Fixer Pro: Pricing
Parte 3. Duplicate Photos Fixer Pro: Speed 
Parte 4. How to use Duplicate Photos Fixer Pro
Parte 5. Duplicate Photos Fixer Pro: Alternative software
Parte 6. Final verdict

Main Features
1. User-Interface
Duplicate Photos Fixer Pro for Windows has an intuitive and well-organized interface that even a novice will get accustomed to its functions apace. You can directly select the folder you wish to scan in the below section of the window. Also, you can easily choose which device you prefer to scan by clicking Scan Computer or Scan Google Drive.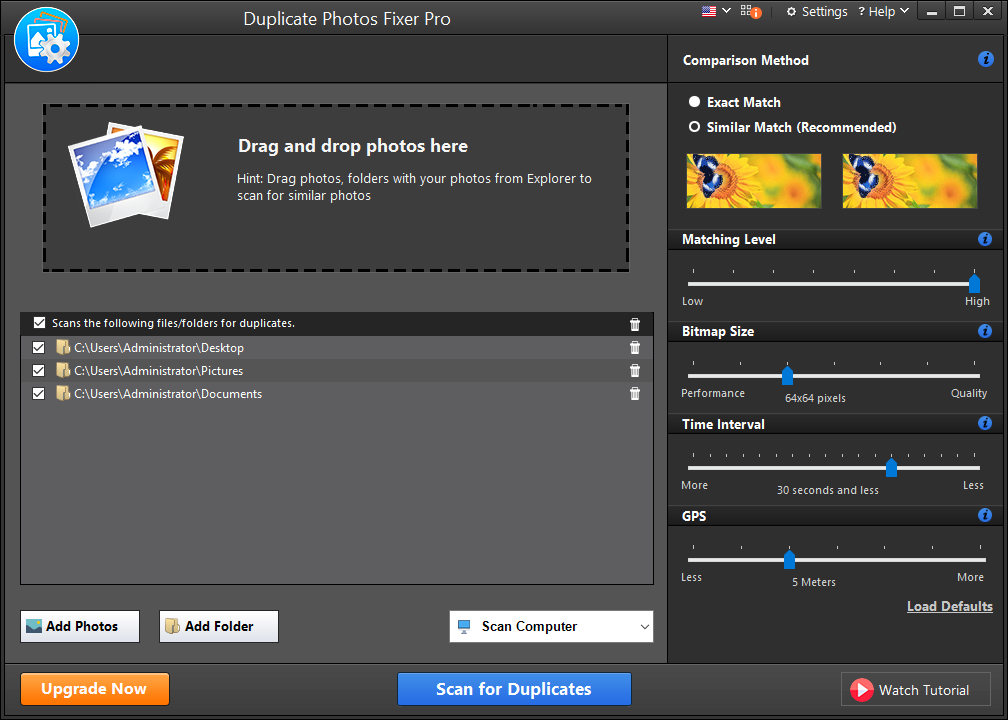 Once the scanning process is done, you'll be navigated to a different window, where you can preview the results, alter the matching level, select "Image View or Detailed view", and choose "Selection Assistant".
2. Quick Scan Process
Duplicate Photos Fixer Pro performs a fairly quick scanning to locate duplicate photos on your device. The process is utterly automated and the utility will sort the identical or similar pictures into the groups once they are detected.
You can check the images' thumbnails to clean them off manually. Also, an 'Auto Mark' feature is available to mark all duplicate photos in every group except one.
3. Both Internal and External Storage Devices Are Supported
Most duplicate photo finders can help you find the identical images on your PC and diverse drives. But what if you want to obliterate all the duplicate photos that are located on your external hard disk? Don't get panic. Duplicate Photos Fixer supports both internal and external storage devices and saves you from the laborious process of manually finding the same images.
4. Convenient Comparison Method
Duplicate Photos Fixer Pro has a convenient comparison method that enables you to choose either "Exact Match" or "Similar Match."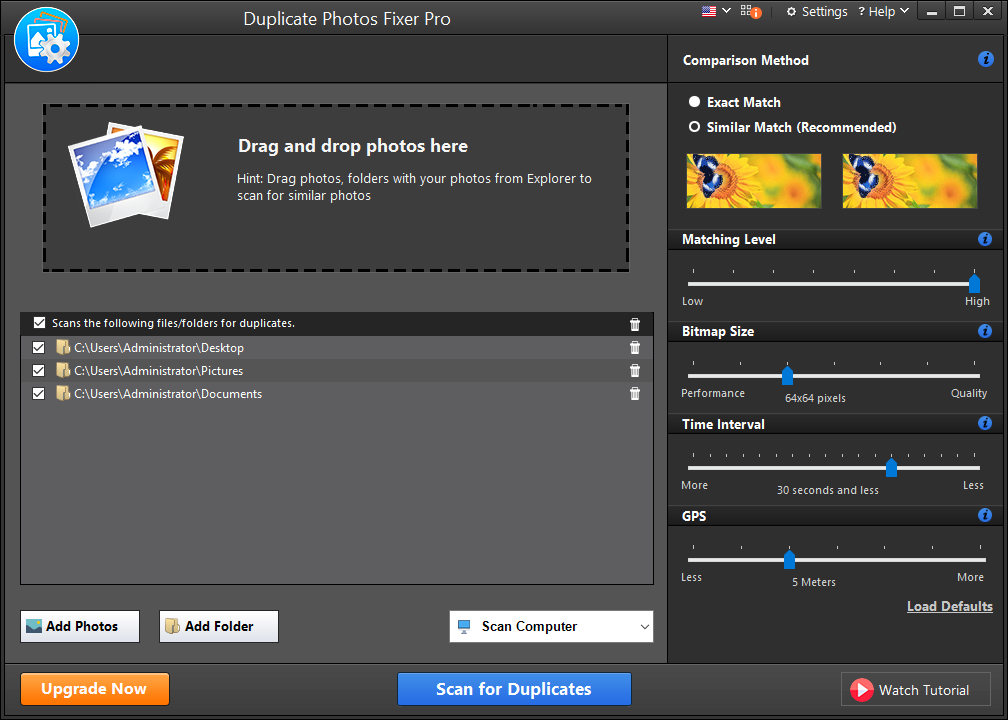 5. Trouble-Free Photo Recovery
There are times when you clean off some vital photos by mistake as you delete hundreds of images from your devices. In this case, you can utilize Recycle Bin that Duplicate Photos Fixer Pro features, where you can locate all the accidentally removed images and recover them without any hassle.
Note: This feature is unavailable if you are on a mobile phone. So be more thorough when deciding which images you want to remove on your phone.
6. Support Multiple Languages
Multitudes of languages are supported in this software, including English, Danish, French, Chinese, and so much more.
Pricing 
Duplicate Photos Fixer Pro offers both free and paid versions. With its free version, you can clean up to 15 duplicates, and then you can choose to purchase the premium or the paid version. 
As for the paid version, the price is merely $39.95, which is totally reasonable considering its multitudes of powerful and exclusive features.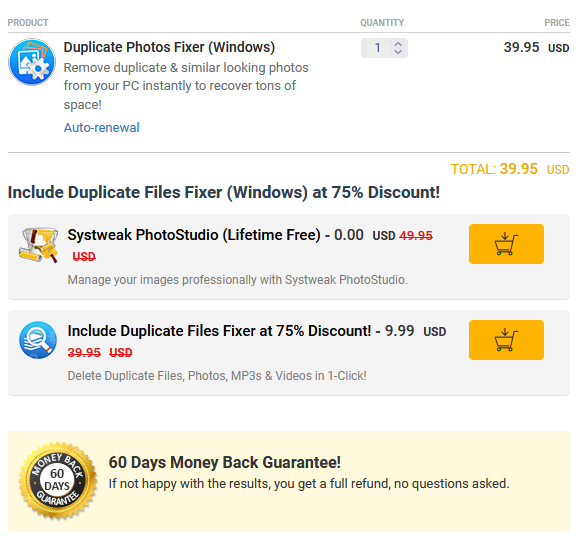 The company also provides a 100% risk-free money-back guarantee in case the software can not completely satisfy you. So you don't have to be concerned about the withdrawing money issue.
Speed 
Except for accuracy, speed is another core parameter you want to consider when opting for a duplicate photo finder. Due to its filters and matching criteria, Duplicate Photos Fixer Pro enables you to locate hundreds of images in seconds.
Step-by-Step Guide on How to Use Duplicate Photos Fixer Pro
This section will guide you on using Duplicate Photos Fixer Pro to locate all the duplicate photos smoothly. Here's how to use it: 
Step 1: Download and install the utility on your device. (Here, we take the Windows PC for example) 
Step 2: Select" Add Photos" or "Add Folder" as per your need. You can also use the drag & drop feature to make the process quick and seamless.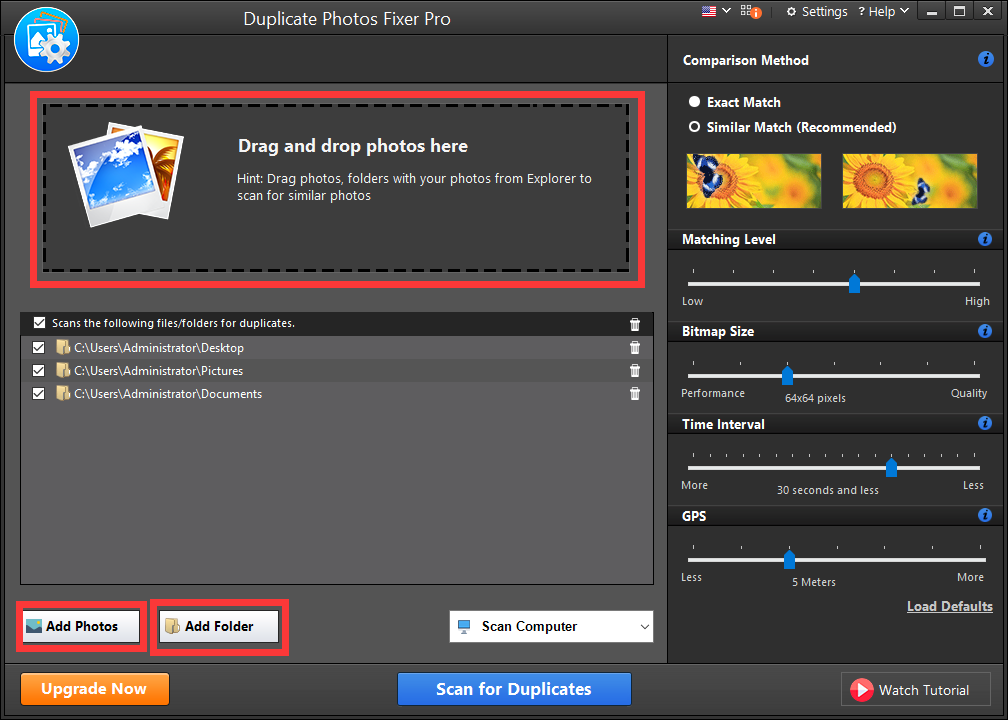 Step 3: After you finish the addition of the folder(or the photo), click on" Scan for Duplicates" to initiate the scanning process. 
Step 4: Once the scanning process is completed, you'll be taken to another screen, where you can get a complete Preview of all the detected identical and similar images.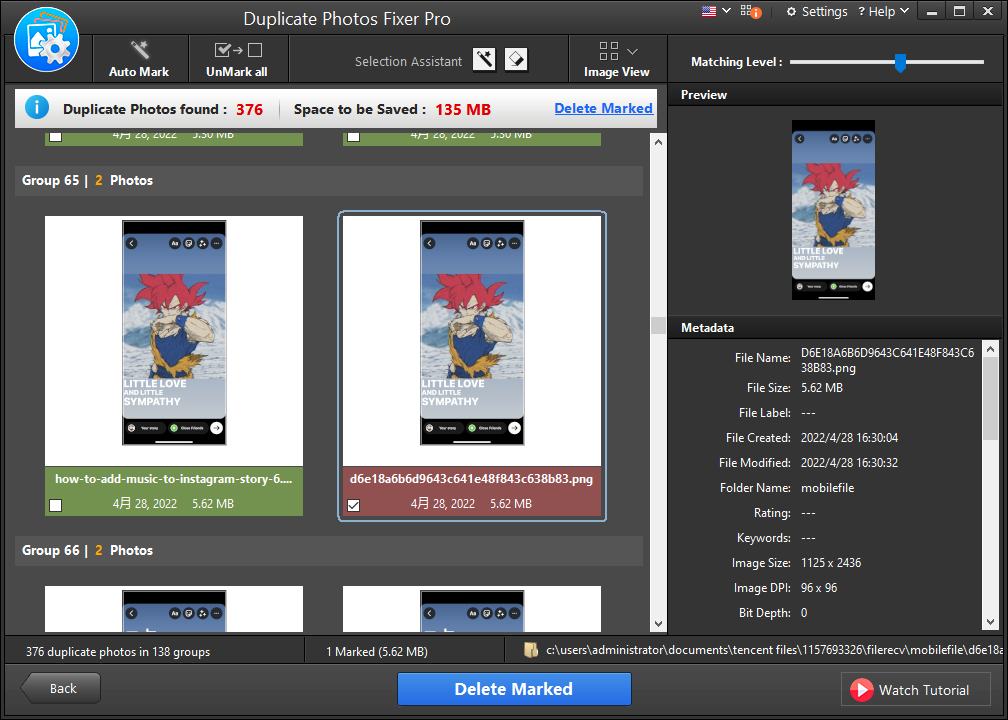 Alternative Software
There are loads of alternatives to Duplicate Photos Fixer Pro out there. We don't pretend that any application is right for every user, so you might want to check this chart and see how Photos Fixer Pro stands up to these rival solutions.
Parameter
Duplicate Photos Fixer Pro
Ashisoft Duplicate Photo Finder
Duplicate Files Fixer
Pricing

Start from $39.95

Buy Now

Start from $35.4

Visit Site

Start from $39.95

Visit Site
Finding Duplicate Photos
9.5
9.0
9.0
For Google Drive

Group-wise results
Quick Scan


Supports External Storage Device

Locate Similar Photos
Support
Windows, Mac, Android and iPhone
Windows 11/10/8.1/8/7/Vista/XP
Windows 11/10/8.1/8/7
Final verdict
Duplicate Photos Fixer Pro is an ultimate utility to smoothly locate all the duplicate and similar photos, saving valuable space on your different devices. With this powerful software, you are allowed to swiftly scan identical images on your PC and external hard drive, removing all the unnecessary images within a couple of clicks. Its intuitive interface is friendly even for a totally new user. And what underlies the simple face is its potent and intelligent algorithm that contains a bunch of effective categorization and scanning methods.
More than that, you are able to delete the same photos via setting a host of parameters to identify exact & similar pics precisely. If you are searching for a top-notch duplicate photo finder, do give this utility a spin.
Should I buy Duplicate Photos Fixer Pro
Expert's Rating: 

Pros
Filters for accurate identification of clone pics.
Enables you to preview & mark photos in batch.
Support external hard drive.
For Google drive.
Compatible with Windows, Mac, iPhone and Android.

Pros
Only 15 dupes available with the free version.
Our Verdict
Duplicate Photos Fixer Pro is the ultimate tool that can help you remove duplicate photos from your various devices.


Start from$39.95


Start from$39.95
FAQ
Is Duplicate Photos Fixer Pro safe?

Yes. Duplicate Photos Fixer Pro is 100% safe to use.
What is the limitation of the Duplicate Photos Fixer Pro free version?

You are only allowed to clean 15 duplicates via the free version.
How much it'll cost to purchase a Duplicate Photos Fixer Pro?

For now, the price of Duplicate Photos Fixer Pro is $39.95.
Duplicate Photos Fixer Pro

Start from$39.95
60 Days Money Back Guarantee