Apple classified iBooks and Amazon Kindle, and both provide a comfortable corner to access books from across the globe. Though both offer a cozy corner for book lovers, from access to free books to buying classics from in-app purchases, Kindle made the difference by creating a massive library that contains 750,000 copies in its library. On the other hand, the iBook library store only 60,000+ books for Apple readers. Kindle is, therefore, marked its own establishment, and readers prefer to read on the Kindle platform. 
As iBook has a lesser collection and readers prefer Kindle, there is a way to access kindle books on iBook. In the next part of the blog, we will show you how to read kindle books in iBooks so that you can read all the classics from various authors' acclaimed books across the world.  
iBook cannot access Kindle books for its structural layout that does not support Apple, and apple developed the format entirely different than Amazon Kindle. On top of that, Apple has separate devices to access iBooks, which help Apple store book formats. Here the rescue comes from an ebook converter Epubor Ultimate that assists you in converting kindle books into an iBook-friendly format so that readers can access the Kindle books on iBooks. If you have an iOS device and want to read world-class novels from famous authors worldwide, you must understand the tricks on how to read kindle books in iBooks. 
Before going to the conversion steps, let's learn about the software and its functionality to install it on your device and convert the kindle books into the iBook-friendly format for better access. 
Professional eBook Converter - Epubor Ultimate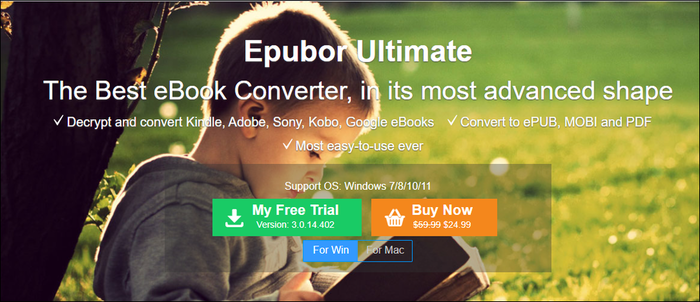 Kindle books are encrypted and cannot access from iBooks, so here is, Epubor Ultimate comes forward to assist you in converting the ebooks into an iBook-friendly format for your swift access. The ebook converter Epubor is equipped with the latest algorithm that supports various trendy ebook formats like Mobi, pdf, Epub, etc. The tool is available as the DRM removal functionality and makes encrypted ebooks unlock so that you can read them from any device sitting anywhere in the cozy corner. 
The book reading assistant Epubor offers an extensive features list that meets today's readers' demands. Let's roll out the features of the most advanced ebook converter Epubor Ultimate and understand its functionality: 
Key Features
The tool supports a large file format like Epub, Mobi, AZW3, AZW4, PRC, TPZ, PDF, and HTML for input and output.
It offers metadata modification to organize better the books you convert.
The batch conversion helps you to bulk convert with a 60x faster speed.
Its auto-detect device and loading books option allows you to access the books as per your book reading platform when connecting your device to the e-reader.
It supports several ebook platforms like Kindle Voyage, Kindle Paperwhite, Kindle Oasis, and Kobo. 
These features serve to convert Kindle books to an iBook-friendly format. If you go deep, you'll observe how the tool is much better than its competitors in converting ebooks to any other format. The tool, therefore, offers a comprehensive benefit list that includes:
It's compatible with Windows and Mac
It supports the books purchased from all the major platforms
You'll get a regular software update to run with the modern demand
Easy and simple interface
Supports drag and drop files for the conversion 
Thus, the tool is furnished with all the functions and benefits you're looking for reading a novel while you are inside the moving train and enjoying your reading with the journey. If the features and the functions stimulate you, let's move on to the next part and learn how to read kindle books in iBooks to read Kindle books in iBook.
Price: Its Lifetime license costs $49.99/1 PC, $54.99/1 MAC.
Compatibility: Windows and Mac
How to Convert Kindle ebooks to EPUB/PDF
To convert Kindle ebooks to Epub Or Pdf, you need to go through simple steps. Let's learn the process:
Step 1: Download Epubor ultimate
Install the software on your device and run the program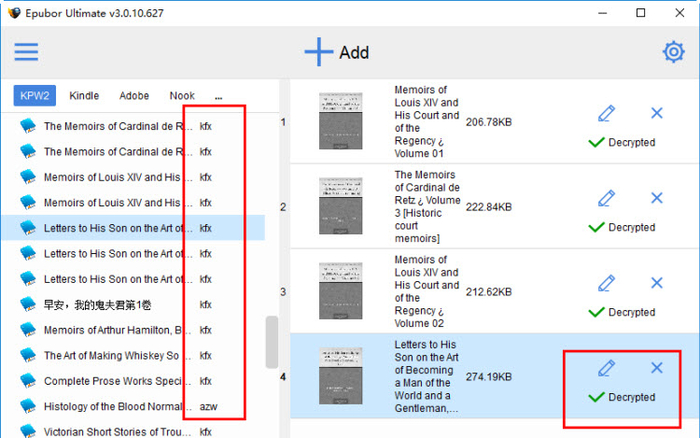 Step 2: Add Kindle ebooks to remove the DRM
Connect your device to a PC via USB if your Kindle books are on Kindle Oasis or Kindle Paperwhite. Once connected, it'll detect all the saved books on your device. You can drag and drop them to the main interface after listing them.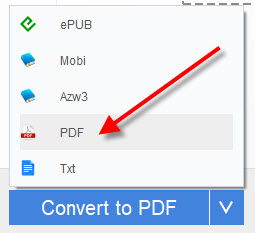 Step 3: Convert the DRM free Kindle ebook to PDF
The DRM was removed once the books were added to the main interface. Now you can select the format and click on PDF as the target format and click the button again to start the conversion process.
Pro tips: In this step, you can click Epub format as the target format before starting the process. Within the possible quickest time, all your ebooks are converted. 
The easy-to-follow steps encourage the non-tech-savvy readers to convert the kindle books to epub or pdf format after removing the DRM encryption. Once the process is done, you can read the kindle ebook classics in iBook with utmost comfort.
Sum Up
Ebooks are readily available on various digital platforms nowadays with several formats for easy access. Readers can prefer the media and the formats based on their device accessibility. But with Epubor Ultimate software, you can eliminate the format accessibility issue and convert kindle books to any format that your device support. Thus we can conclude that once you learn how to read kindle books in iBooks, no barriers can stop you from accessing the extensive book library of Kindle and reading on iBook. After converting them to either pdf or epub to read in your iBook sitting on your cozy couch in the reading space at your home.
Price: Its Lifetime license costs $49.99/1 PC, $54.99/1 MAC.
Compatibility: Windows and Mac
No more content