Kindle has become a necessity for most book lovers. Since it can store as many books, its lightweight saves lots of space compared with traditional paper books. But for some cases, we may want to read these books on PCs, so how to achieve this? We all know that Kindle books can be read-only on the Amazon Kindle app. But fortunately, Amazon has offered some available ways to download and read these Kindle books on computers. Keep reading the passage, and we will teach you how to download books and provide two different but easy methods on how to read Kindle books on PC.
How to Download Books from Your Kindle Library
Actually, you can also download Kindle books from Amazon Kindle Library, but it is only restricted to the books you bought before. Now, look at the specific steps on how to download books from the Kindle library.
Step 1: Log in your Amazon account.

Use a web browser, like Google Chrome, Firefox, or other, to open the Amazon official website. Find and click the "Sign in" button on the top right corner and enter your Amazon account.
Step 2: Find your Kindle library.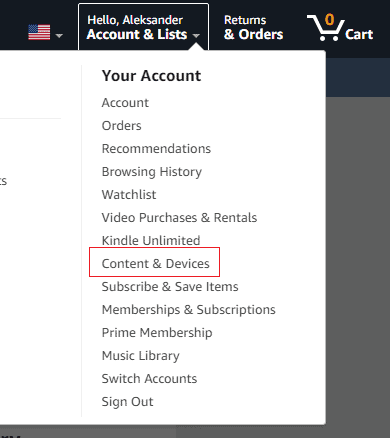 Move the mouse to the place where you signed in, and you will be shown a list of content. Locate to the "Content & Devices" and click it to see all the books you bought before. 
Step 3: Choose the books you want to download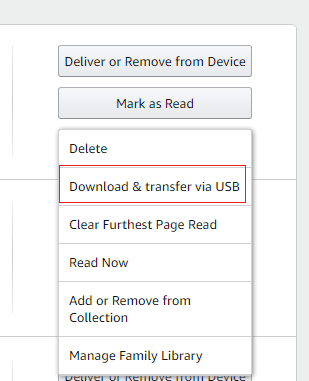 Find and choose the books you want to download, click the "more actions" button and choose "Download & transfer via USB". Select a place where you want to store the book and click "Download". Now you have saved the books into the place you want. 
Note: Some of the books are protected by DRM, you can refer to another passage about how to remove DRM. 
Here we want to introduce one of the most convenient tool which is called Epubor Ultimate. You can use software to remove DRM in the books that you bought from Amazon with just one simple click. What's more, the software can automatically scan your library and load all e-books that you bought from Kindle, Sony, Google, etc. Give it a try, and it will bring you an excellent using experience and save you a lot of time.
Price: Its Lifetime license costs $49.99/1 PC, $54.99/1 MAC.
Compatibility: Windows and Mac
How to Read Kindle Books on Computer - 2 Available Ways
If you want to read books on computers, it is possible to make it. As we mentioned before, Amazon provides ways to read Kindle books on computers. The first way is through using the Kindle PC app. The other way is to use Kindle Cloud Reader. Both methods are not complex. You can choose according to your convenience and preference . Now let's look at the steps in detail. 
Method 1: Use the Kindle PC APP
Kindle PC APP is a massive selection of ebooks, including novels, magazines, manga, audiobooks, etc. You can read some fragments of the books before deciding whether to buy. And you can read books you bought before on this website. 
Step 1: Sign in to your Amazon account and enter the Kindle app.
Step 2: Click "Download for PC & Mac" to download app on computer.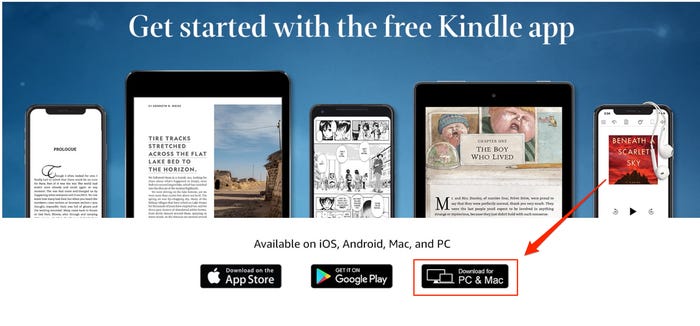 Step 3: When the installation is finished, open the app and enter your Amazon account and password.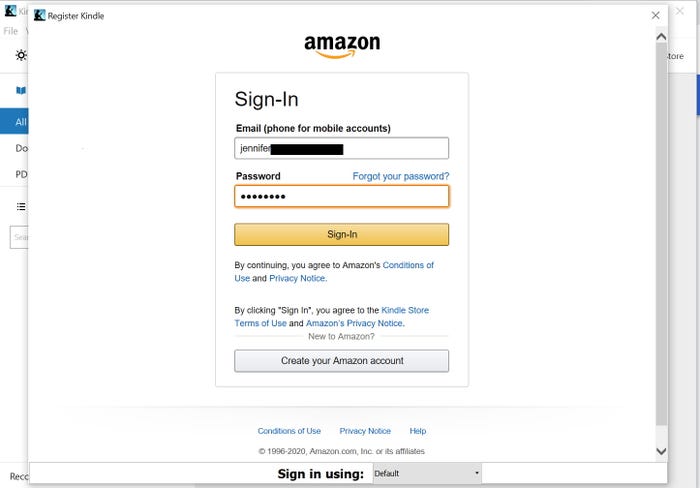 Step 4: After logging in, you can see your Kindle library. Double click the book you want to read, and you will read the book at ease on your computer.
Method 2: Use Kindle Cloud Reader
Kindle Cloud Reader is an Amazon e-book reader, which gives you access to all the books you bought with your Amazon account. 
Step 1: Visit your Kindle Cloud Reader website on a computer's browser. Sign in your Amazon account. 
Step 2: When you sign in successfully, all the books you bought will be displayed. Find the one you want to read and double click it, you can enjoy the book content on your computer.
Conclusion
Kindle book brings a lot of conveniences and enriches our lives. It also allows us to read on many different devices. We hope these tips can help you effectively while downloading and reading Kindle Books. Again, the Epubor Ultimate is a professional and practical way that is worth your try.
No more content