Usually, when we talk about wifi password recovery, people mistake it for being a hacking tool to get wifi passwords. However, it must be understood clearly that both are not the same thing. Recovering a password helps a user retrieve a password used earlier on the device. This password may be lost or forgotten, and there is no chance that you can see a password manually, so it calls for the need for a compelling application to do the job.
We believe that EaseUS Key Finder is a great tool to assist you in this regard on both Windows and Mac devices. Here we are bringing a few effective options both for Windows and MAC for your reference to recover your wifi password quickly.
Best Software for wifi Password Recovery
1. EaseUS Key Finder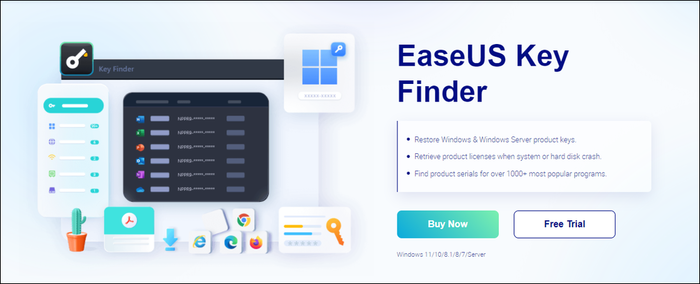 EaseUS Key Finder helps in easy retrieval of any product license and assists in easy wifi password recovery. Additionally, if you are looking for a restore of Windows and its server product keys, this software is just the thing you need. You can find anything from CD keys of Adobe, Windows, and many more, along with Product IDs and SQL servers. With this, you can seamlessly find browser accoy=unts, wifi codecs and important passwords with the help of this software.
Key Features:
It allows for easy recovery for saved wifi passwords, Web browsers on Edge, Firefox, Chrome and Internet Explorer.
It helps in an automatic login when the user forgets an already used password, and there is no need for backup for the same.
It also assists in recovering credentials on Windows if the user is switching to a new device.
It also helps recover serial numbers of more than 10K software.
There is an availability of 24/7 support from the technical team.
Price: It starts $19.95/Monthly.
Compatibility: Windows 11/10/8.1/8/7/Server
How to use:
Step 1: Download and install the EaseUS Key Finder.
Step 2: Open the software, and select "WLAN" on the left side.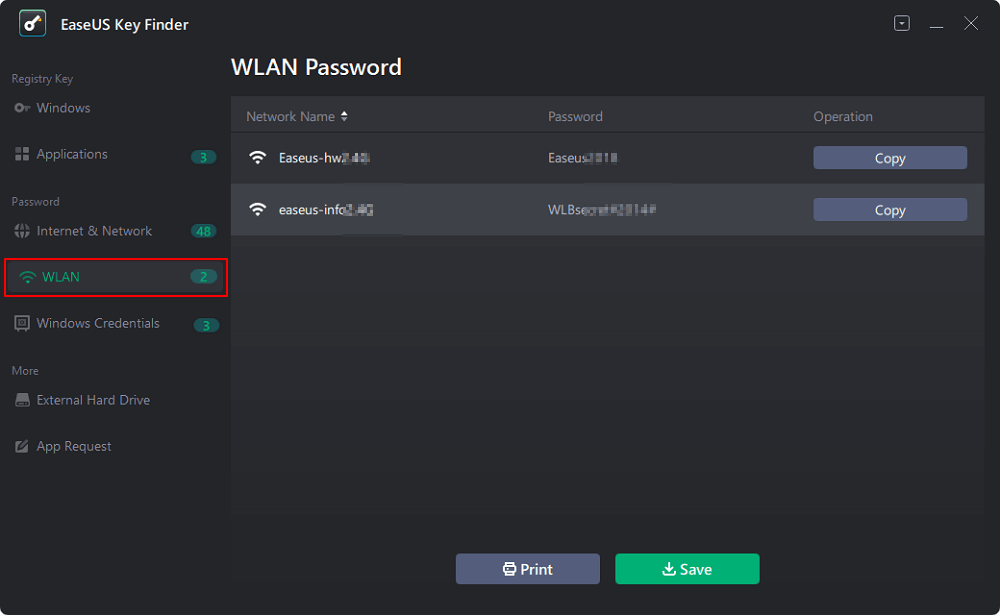 Step 3: Find your WiFi account, and you'll see the password next to your network name. You can click "Copy" to copy the WiFi code and immediately join your wireless network. You can also click the "Print" or "Save" button to back up all your WiFi networks addresses and passwords.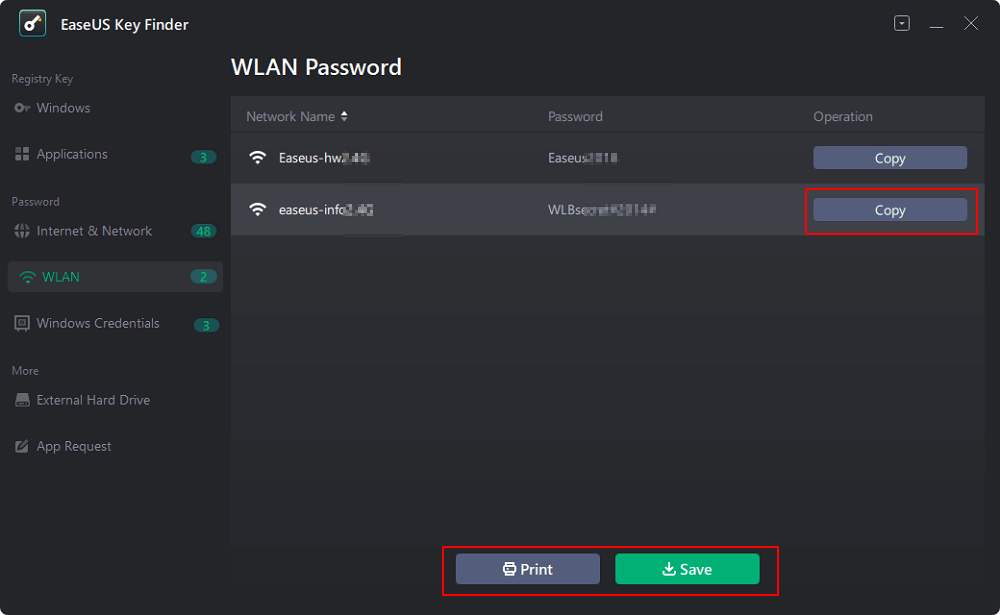 2. Cain & Abel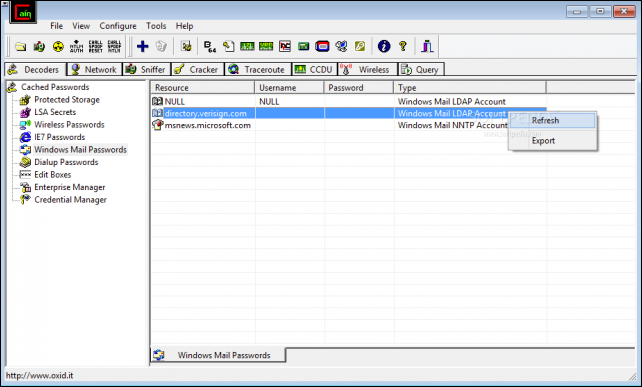 If you are looking for free wifi password recovery software, then Cain & Abel can be an option. It allows for a seamless recovery of passwords by using a dictionary to crack any encrypted passwords. Moreover, it assists the users in recovering any network keys on a wireless connection, reveals the boxes in the password, and uncovers any sort of cache passwords. All of this is done by adequately analyzing the routing service's protocols.
Pros
There are a lot of methods that can assist the user in a successful recovery of the wifi password.
You do not need any complicated steps for a simple password, so beginners can even use it.
It works well in coordination with Windows devices and old NT, including Windows 2000.
Cons
The user needs to install the software to recover the wifi password successfully.
The user has to download Rainbow tables that are appropriate for the software from any internet source.
Prices: Free
Compatibility:
A hard disk space of 10 MB is required.
It works well with MS Windows 2000, XP, 2003, and Vista operating systems.
Airscape and WinpcapPacket Driver.
3. RememBear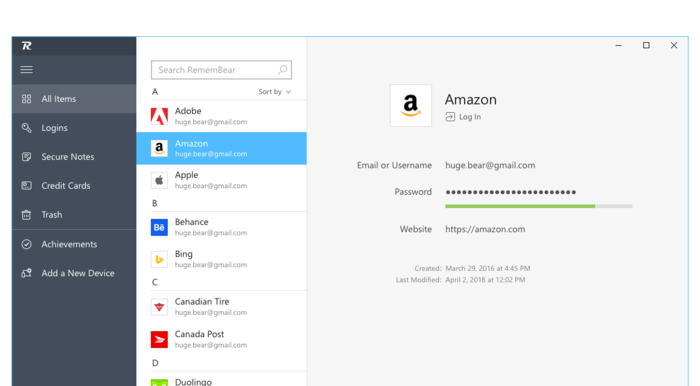 RememBear gives services in high quality for wifi password recovery services. There are many other utilities such as autofill for web forms, password generator, and credential storage in an unlimited format. Additionally, the users are delighted to find an exemplary user interface with a bear theme, and the software is quite affordable.
Pros
The plugins are available for Chrome, Safari and Firefox browsers.
There is an easy process for the recovery of the master password.
There is an availability of credential storage in an unlimited capacity.
Well supported on macOS, Windows, iOS and Android devices.
Cons
There is no support for live chat for the customers.
The import possibilities are few in this software.
Price:
Free Trial Version
Pro Version at $36 per year.
Compatibility:
It works very well with multiple smartphones, computers and tablets.
Comfortably works with Windows, Android, iOS and MacOS.
QR connectivity is available for Android devices.
Firefox and Chrome extensions are also available for this software.
4. AirSnort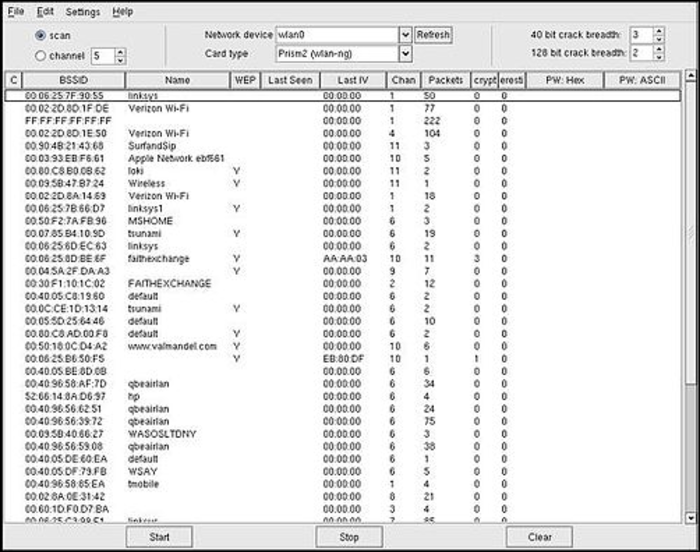 AirSnort is known for its decryption of WEP encryption, which also works for wifi password recovery. It works by monitoring transmissions passively. As soon as enough packets are collected while computing any encryption key, the software starts working. The software requires collecting an enormous amount of data before proceeding with the functionality.
Pros
It uses the decryption ability for a faster attack through WEP stream decryption, so it does not take hours instead minutes to complete the process.
It is compatible with Windows and Linux devices.
It is also available as an open-source online hosting provider and is free for any workstations.
Cons
Sometimes a few errors may occur while running this software.
There are no updates available for this software.
Price: Free and open-source
Compatibility
Available for Windows 95, 98, NT, 2000, XP server 2003, Unix and Linux systems.
Requires Cisco Aironet.
5. Disk Drill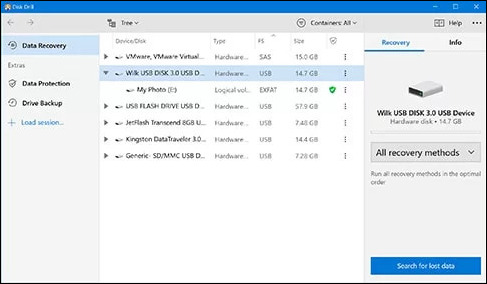 Disk Drill is a wifi password recovery software for Mac and is available in both paid and free versions. If you find it difficult to remember passwords of different wifi connections and like to note them in a text document, there may be a chance of deleting it accidentally. Then this software comes forward for your rescue to work seamlessly on Windows, iOS, Android and OSX. Along with wifi password recovery, it also supports more than 300 types of files that include ISO, ZIP, etc.
Pros
The scanning process is quite fast.
The user-friendly interface attracts beginners or new users.
The resume and pause process is quite simple and easy to use.
There is an option for recovery for RAW Drive as well.
Cons
Sometimes the software shows a diverse variety in recovery results as per the file.
There are no settings and preferences available for the users.
Price:
Basic version - Free
Pro Version - $89 as a one-time payment.
Compatibility:
Supports Windows, OSX, iOS and Android devices.
Conclusion
In the moments of emergency when you regret forgetting your wifi password, a wifi password recovery software or tool can prove to be helpful. We are sure that you will never have to face this problem again with EaseUs Key Finder software. With this, you will be able to access your valuable passwords very quickly and can thank us later for the suggestion.
Price: It starts $19.95/Monthly.
Compatibility: Windows 11/10/8.1/8/7/Server
No more content