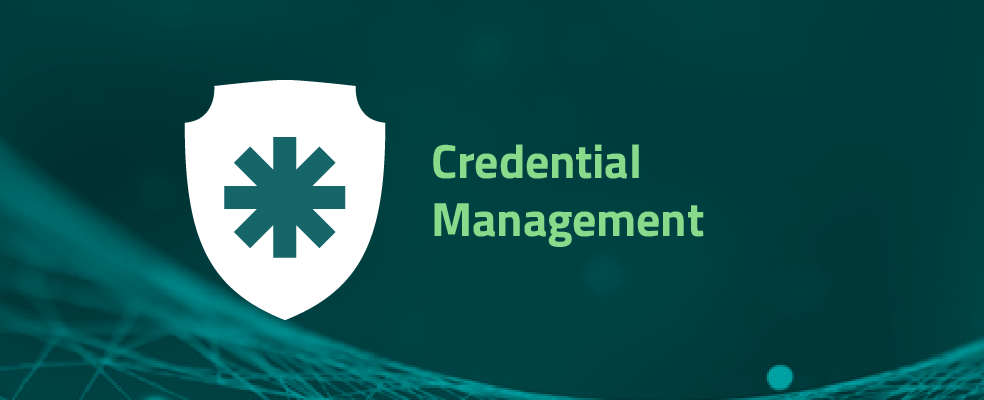 Credential management software has the ability to disseminate passwords in an isolated system, which eliminates technicians from knowing the credentials in use.
Human resource professionals, administrators, and individuals can use credential management tools to handle passwords, licenses, and badges simply and safely. Personal credential management systems and corporate credential management solutions are both available.
Top 5 Best Credential Management Software
1. N-able Passportal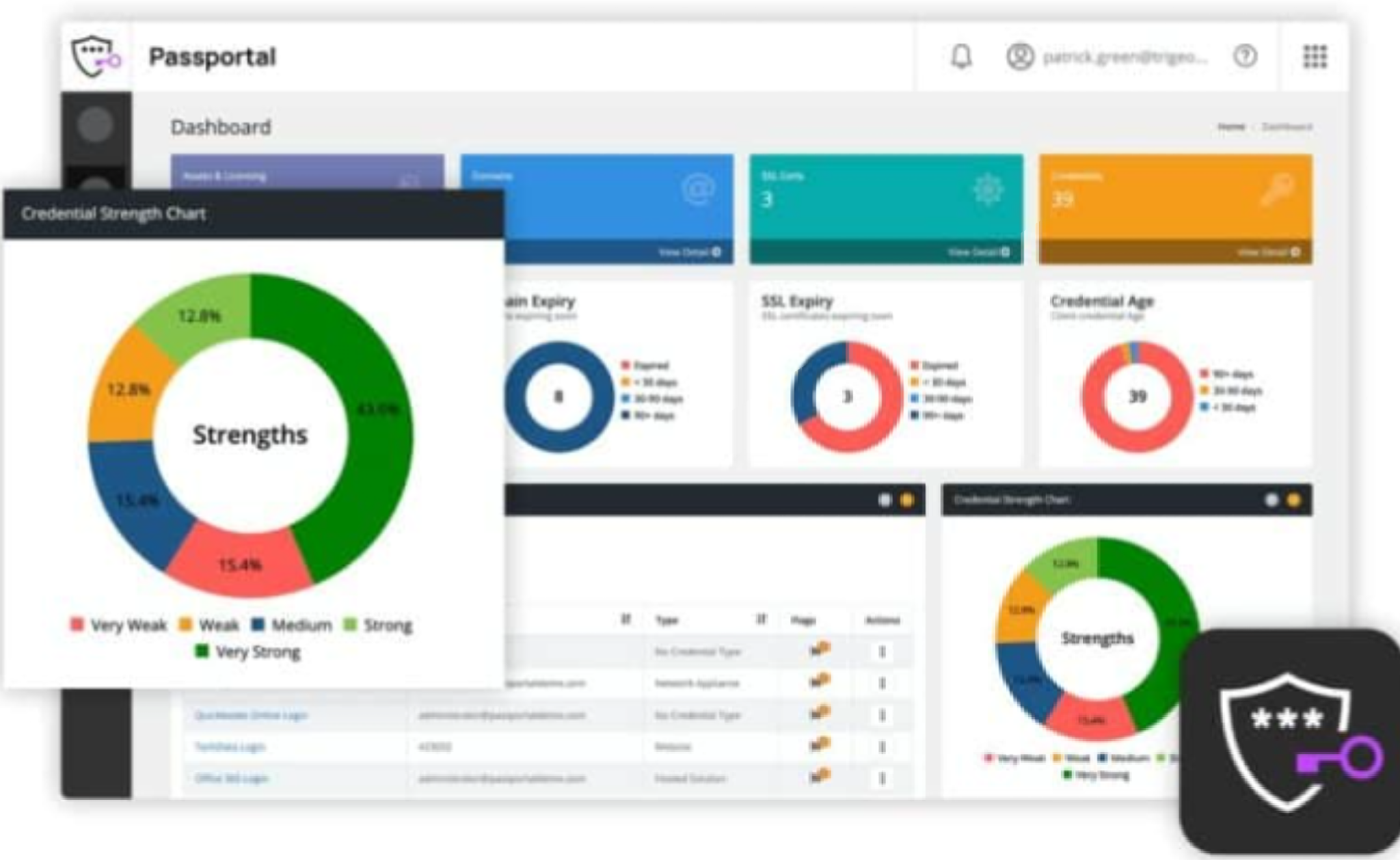 N-able passportal is a cloud-based credentials management solution that automatically identifies all of a platform's user profiles.
Features and Functions
● Developed with managed service operators in mind.
● Active Directory, as well as LDAP, are both supported.
● On-site and internet systems are available.
● Accounts for momentary access are created.
● Generator of passwords.
● Microsoft's Active Directory and LDAP-based permissions systems are supported.
● Generate temporary access profiles to provide operator access to the system without exposing actual credentials.
Editor's Suggestion: The tool consolidates all credential management functions for different sites and numerous businesses. Because the Passportal platform is cloud-based, it could be connected via a standard web application from anywhere. In addition, Passportal has no initial setup fees.
Click here to visit the site.
Pros:
● Can perform access evaluations to rapidly detect internal adjustments done over time.
● Facilitates compliance tracking to detect deficient passwords and enforce regulatory changes.
● Users produce their encryption method, which protects their data in the cloud from third-party access, such as Passportal itself.
Cons:
● The MSP/enterprise-specific solutions offered may not be beneficial to lesser networks.
2. Certifier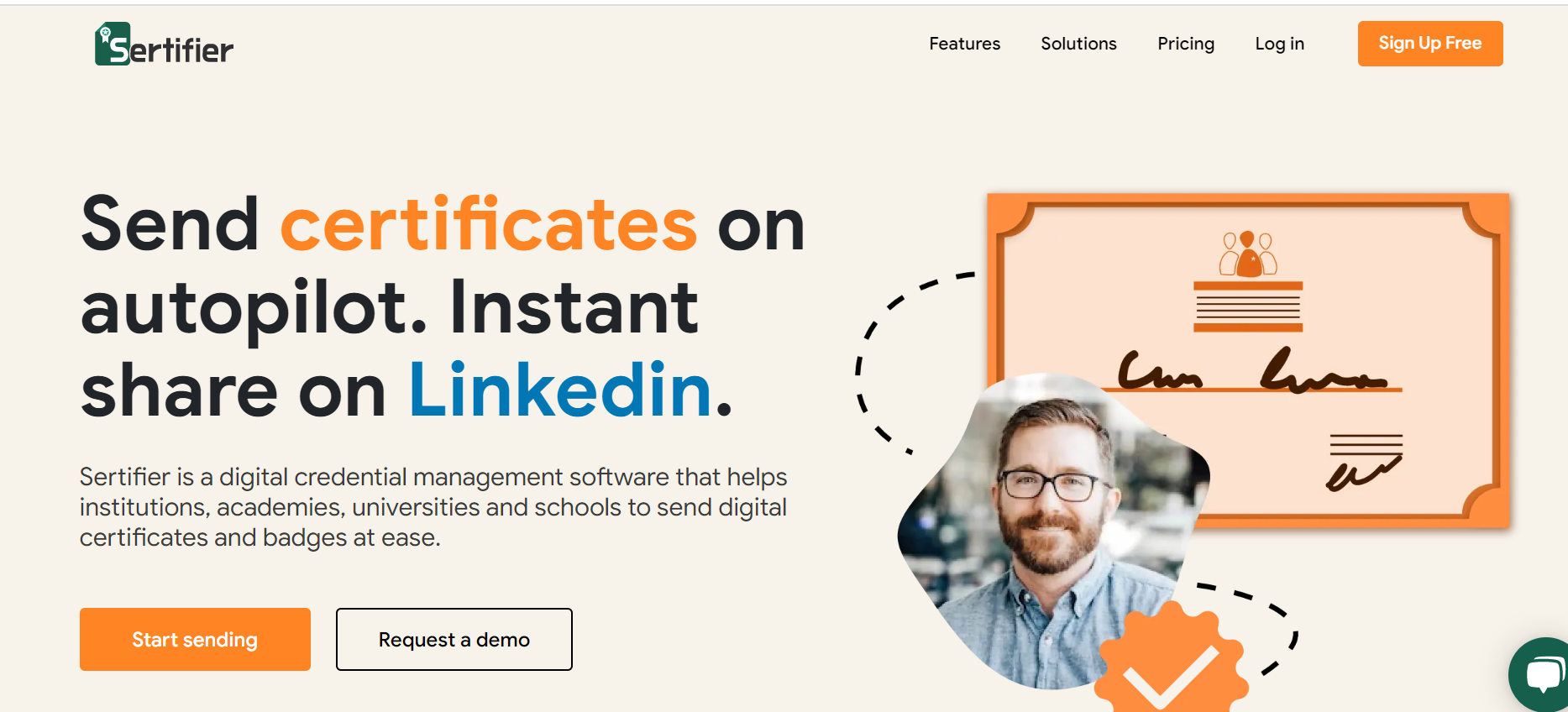 Sertifier is a simple and extensive credentials management software.
Features and Functions
● Consistent availability to users
● Integrates to remote systems and programs as needed.
● Clients can engage with a consolidated dashboard.
● A gateway is included to make access to third-party or client applications easier.
● Develop credentials easily, and you can keep track of them
● Create corporate credentials easily
Editor's Suggestion: The software is simple to use and effective, making it an excellent alternative for anyone searching for a trustworthy digital credentialing solution.
Click here to visit the site.
Pros:
● No tech-savvy users can use it without hassle
● Rock-solid support
● Very easy to use and understand
Cons:
● The interface needs to be improved
3. Credential Exchange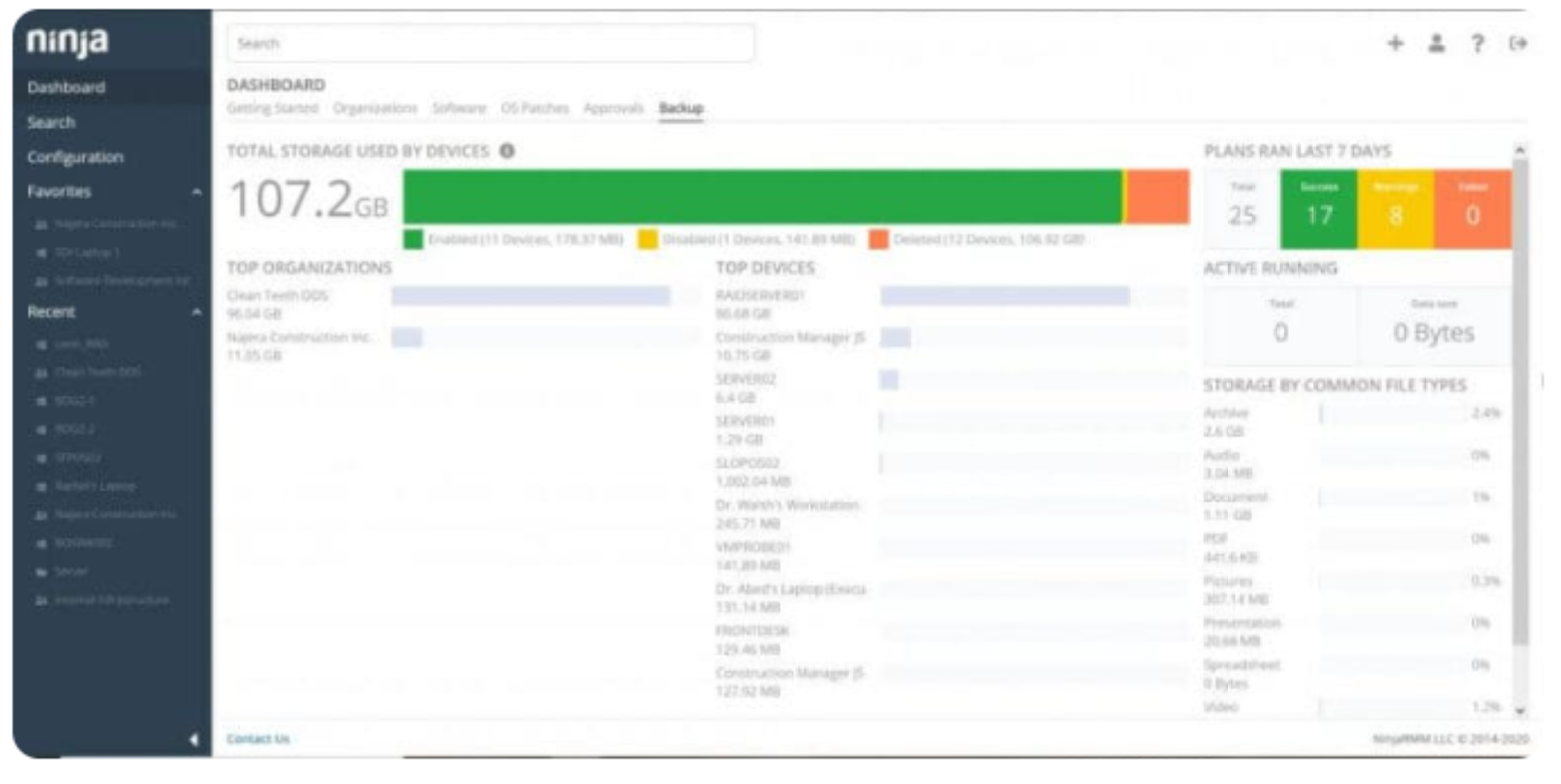 NinjaRMM Credential Exchange is a credentials management system that is incorporated into the internet-based NinjaRMM secure surveillance and management system.
Functions and Features
● Maintains client system accessibility.
● Transmission of sensitive credentials.
● Patch management is supported.
● Keep track of your activities.
● The NinjaRMM remote computer software is used to gain entry to endpoints.
Editor's Suggestion: NinjaRMM's automatic and manual program updates can be applied in mass or separately to any managed endpoint running On Windows or macOS. Accessibility to PCs operating Winds and macOS can be managed, and scripts can be launched even without the computer's user logging off.
Click here to visit the site.
Pros:
● Users may be monitored, and device inventories can be managed using the interface, which could be modified.
● Virtual accessibility with remote commands is built-in, allowing technicians to repair without starting a session.
● Packages with various pricing options are ideal for networks of different sizes.
Cons:
● Testing needs to be done over a longer length of time.
4. Dashlane Business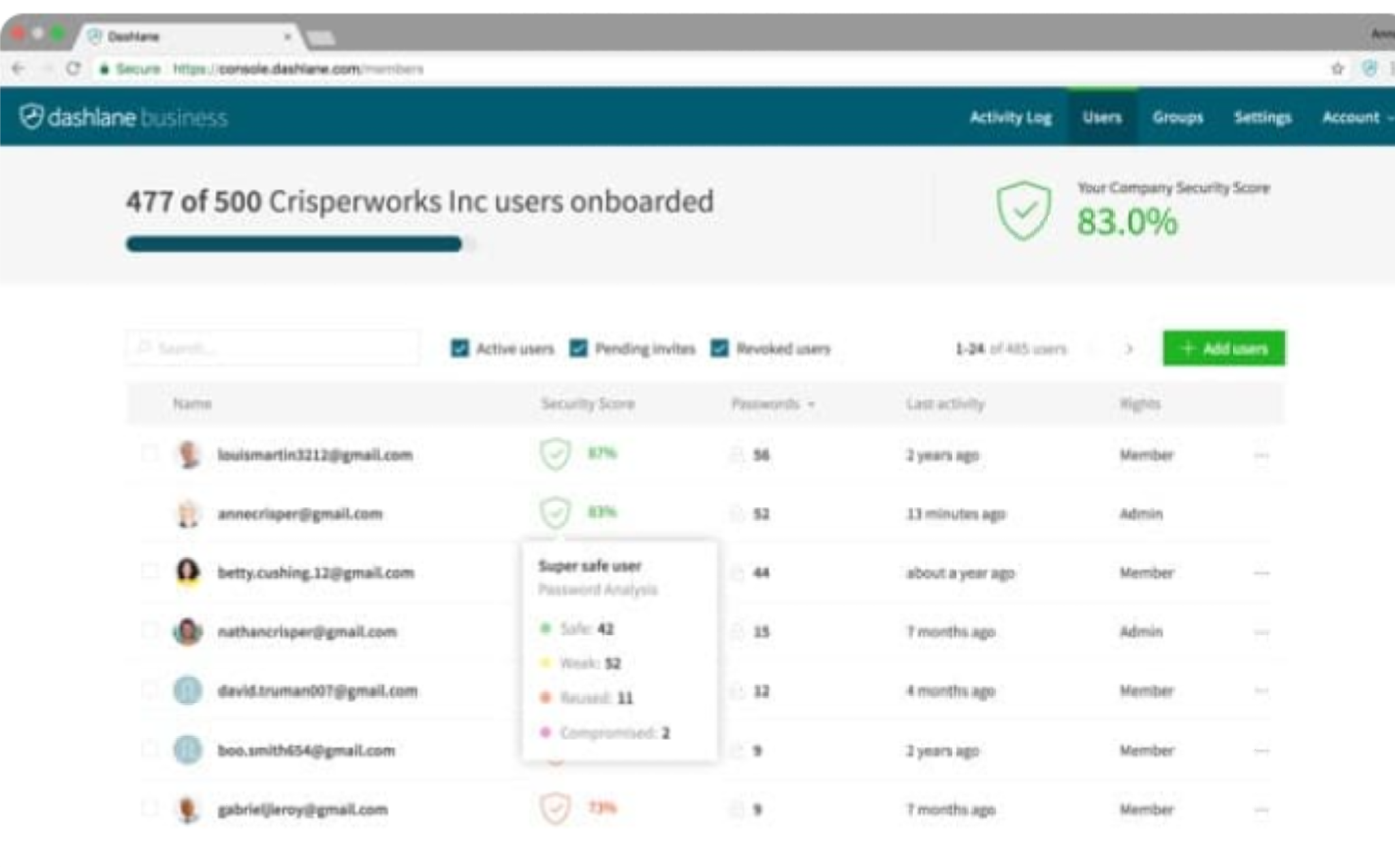 Dashlane business is an internet-based credentials management tool that enables users to access it for personal and corporate logins.
Features and Function
● It is cloud-based
● Encrypted credential vault
● Generator of passwords
● Each user that registers with the system is given their own vault space.
● A Dashlane program on the secured device interacts privately with the Dashlane server to autocomplete all login fields.
Editor's Suggestion: Should any attacker tactics be found, Dashlane Business incorporates a web defense mechanism that checks any visited website for malware and prohibits it from downloading into protected devices.
Click here to visit the site.
Pros:
● Cross-platform support is provided for Windows, Mac OS, iOS, and Android.
● Enables autofill for quick access to websites without copying and pasting.
● The integrated password creator makes creating new protected passwords a breeze.
Cons:
● Improved browser-based function support is required, as these frequent malfunction with updates from their makers.
5. Zoho Vault
Zoho Vault is a cloud-based password management solution that integrates on-site and cloud-based permissions systems and protected document backup.
Features and Functions
● Encrypted password storage
● On-premises and cloud-based resource credentials
● Linked credentials are an option.
● It's secured by AES encryption with a 256-bit key that can't be cracked.
Editor's Suggestion: Several on-site or cloud-based permission systems, such as Active Directory, Google Cloud, and Office 365, are synced with the management dashboard. This implies that Zoho Vault would constitute your main password management platform. You won't have to browse every user access system since modifications performed in Zoho Vault are automatically sent out.
Click here to visit the site.
Pros:
● Passwords are organized by service, making it simple for non-technical people to utilize
● Uses cloud storage to provide you access to your credentials from anywhere.
● Single individuals or groups can administer access control, ideal for wider environments.
Cons:
● A 30-day tryout would be preferable.
Conclusion
We hope you have learned about the tools to manage credentials as we have highlighted the top five credentials management software Out there. Passportal is an incredible tool to have at your disposal. The same goes for Zoho Vault, Dashlane business, NinjaRMM and sertifier. You can rest assured that your personal or corporate credentials are well protected with any of these tools.
No more content